Reef-World's Green Fins initiative is going through impressive global growth. As of September, the UN Environment programme is now active in 11 countries and counting! Each active country has its own individual circumstances and may face challenges unique to its local area. Yet, all Green Fins destinations are united in their commitment to protect coral reefs by promoting environmental best practice for marine tourism. What's more, we're all in this together. By learning from each other, everyone involved in Green Fins can find more effective ways of improving their sustainability. Next, in our journey around the Green Fins world, we pay a visit to the Philippines. In this post, we learn how the country is using the initiative to reduce negative environmental impacts on coral reefs as well as managing and preventing potential overtourism.
The Philippines is a popular diving destination for many thousands of divers. This is thanks to its 7,000+ islands and numerous coral reef systems. According to the Republic of the Philippines Department of Trade and Industry, 7.1 million tourists visited the Philippines in 2018. An ever-growing number of travellers now demand environmentally friendly practices and visitors to the Philippines are no exception. Boracay's 2018 closure, due to overtourism, demonstrates that maintaining environmental best practice is more important than ever.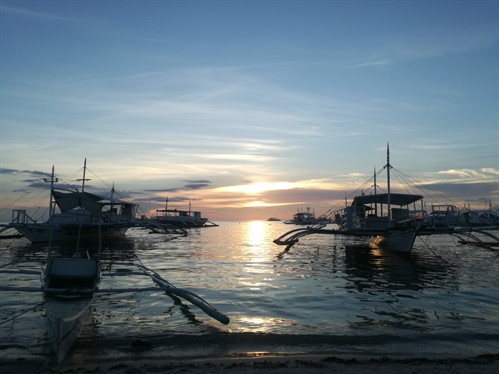 2010
For this reason, Green Fins has added huge value to the country's marine tourism industry since its inaugural implementation in Puerto Galera and Mabini in 2010. Green Fins Philippines is implemented by the Coastal and Marine Division (CMD) and regional offices under the Department of Environment and Natural Resources, Biodiversity Management Bureau (DENR-BMB). It also receives support from NGOs including Batangas Community Divers, The El Nido Foundation and Marine Conservation Philippines.
In the Philippines, Green Fins has been integrated into different parts of the institutional structure to help the government mitigate tourism threats. The Biodiversity Management Bureau (DENR-BMB) is interested in Green Fins for its value in coral reef protection. However, an alternative approach allows governments to use the programme as a tool to manage tourism more specifically. For example, Green Fins was previously under the Environment Management Bureau (EMB), who shared responsibility with the Philippine Commission on Sports Scuba Diving (PCSSD). The EMB and PCSSD particularly valued the way the initiative's environmental standards complemented PCSSD's existing safety guidelines.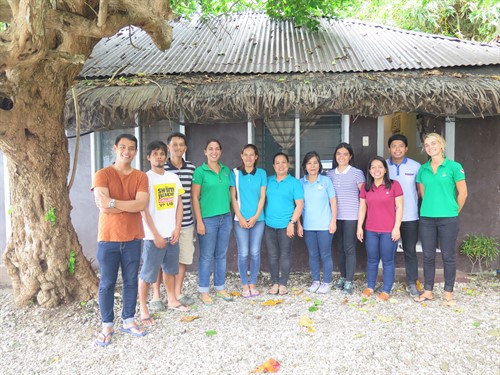 Reef-World, the international coordinator of Green Fins, helps develop the capacity of the Green Fins national teams. It also supports them in their strategic implementation of the initiative across their countries. Over the years, the marine conservation charity has helped organise and facilitate numerous training sessions. These help to build the knowledge and ability of Green Fins Assessors and Coordinators. They also support the development of the government institutional structure needed to run the initiative across the archipelago. With Green Fins active in so many sites around the country, these training sessions help the national team learn how to approach and mitigate the varied range of threats faced in different areas.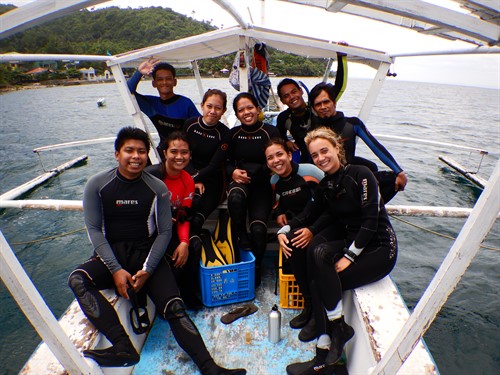 2011 & 2012
From its initial roots in Puerto Galera and Anilao, Green Fins expanded to Moalboal and Mactan in 2011. Malapascua and El Nido's dive and snorkel operators followed in 2012. The Green Fins Ambassador programme also first launched in the country in 2012. The sessions gave these carefully selected guides additional training in marine biology and ecology, environmental briefings and correcting damaging guest behaviour underwater. The training put them in prime position to champion sustainable diving practices among their peers. Not to mention championing local environmental activities in their communities!
2013
In 2013, Moalboal's very first dive guide accreditation seminar took place. A local ordinance required all dive guides to attend in order to be licensed to guide in the Municipal waters of Moalboal. The training included how guides could act as a positive role model for guests by following Green Fins guidelines.
2014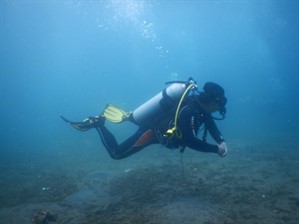 In 2014, the Ambassador programme gained momentum with new Ambassadors appointed in Malapascua. In the same year, Malapascua became the first Green Fins location to achieve 100% membership. That year, all 18 dive centres on the island at the time signed up to the programme.
Malapascua has been a great success story for Green Fins. Since the initiative came to the island in 2012, the industry has demonstrated passion and commitment to improving sustainability. The result has been negative impacts to its precious coral reefs reducing each year. The commitment to protecting Malapascua's reefs was also seen in a renewed spirit of collaboration between many groups of stakeholders in the creation of the Malapascua Marine Protection Fund (MMPF). This movement collected a small donation from each person diving with Malapascua's thresher sharks. The funds went towards mooring buoy programmes and patrols on Monad Shoal to protect the area from illegal fishing. The group eventually disbanded when the LGU took over responsibility for protection, as was always the aim.
"One thing that stands out to me is how Green Fins has given a platform for issues to be raised without it being seen as one business telling others what to do. When everyone feels they are working towards the same goals set by a separate body it works better!" says Matt Reed, Owner at Evolution Dive Resort (Philippines), which has been a Green Fins Top 10 Member since 2014.
Alongside the progress of Green Fins, the Philippines also developed other interventions. For example, in Puerto Galera, supporters of Green Fins came together with local government to halt a mooring buoy scheme that would have destroyed the only place in Puerto Galera where customers can see mandarin fish perform their nightly mating ritual. This is a great illustration of how a small but passionate community can work together to protect the environment they care so much about. Similarly, the LGU implemented caps to reduce the number of divers per day at local hotspot Balicasag Island. The aim was to minimise reef damage and create a more sustainable diving industry.
2015 & 2016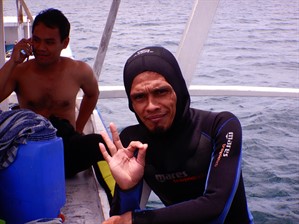 2015 saw Panglao welcomed to the Green Fins fold. Momentum didn't stop there. In 2016, Reef-World launched the first Green Fins Snorkel Assessor Training in El Nido. This was supported by the Department of Environment and Natural Resources (DENR), El Nido Local Government Unit, El Nido – Taytay Protected Area Office and The El Nido Foundation. This training built on existing dive assessment capacity in the region to reach the rapidly growing island-hopping tour industry. The Green Fins programme also became available to dive operators in Dauin; an area of Negros Oriental known for its muck diving. Reef-World also made great strides in understanding how to best communicate through language (and alphabet!) barriers. The charity created dedicated materials to appeal to tourists from the Chinese, Korean and Japanese markets.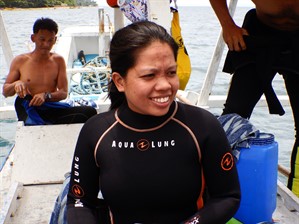 2016
By the end of 2016, the DENR launched its Coastal and Marine Ecosystems Management Program (CMEMP). This allowed them to pour resources into staff capacity building for improved management of marine and coastal resources. They integrated Green Fins into their outreach programme and formalised the programme nationally through the Technical Bulletin No. 2017-13. This provided the legal instrument and structure for regional and provincial governments across the country to begin implementing the international Green Fins environmental standards. This significant milestone for DENR and Reef-World allowed Green Fins to roll out on a national level.
Thanks to government collaboration with airports and other tourism sector partners, Green Fins posters are now also present in high traffic airports and ports. For example, Puerto Princesa and Dumaguete. These posters help educate tourists about what they should and shouldn't do when diving or snorkelling on coral reefs.
As Reef-World and the DENR work to develop systems for Green Fins implementation on current sites, we look forward to seeing where the initiative can expand to. By implementing these standards, in tourism hotspots and emerging destinations, we can help prevent overtourism happening in the first place.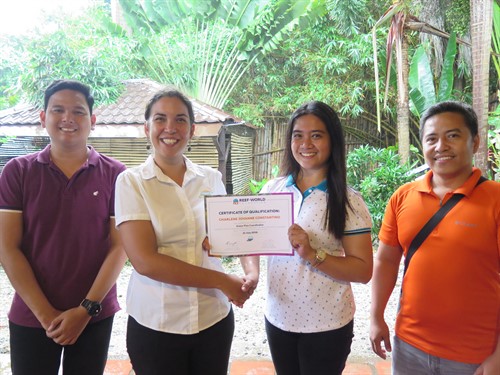 2020
The global COVID-19 pandemic was a challenge for the Green Fins Philippines team as travel restrictions put a halt to fieldwork. As a result, members were not able to go through their annual assessment and training process. In some locations, members were able to continue working with their assessor teams to conduct environmental activities such as cleanups. Despite fieldwork being unable to go ahead for much of this year, the national team kept working behind the scenes to secure the long term success of Green Fins. As you might imagine, there's a lot of work that goes into making the Green Fins initiative as effective as possible in each location; for example, by making sure its activities and goals are fully integrated into government programmes. We're pleased to see the Green Fins Philippines assessors haven't been deterred by the pandemic and remain dedicated to these efforts. The Green Fins Philippines teams will be doing all it can to reassess members as it is possible and safe to do so. 
---
You can find a list of active Green Fins operators in the Philippines here.
---
If your dive or snorkel operator is located in the Philippines and you'd like to join Green Fins, please email philippines@greenfins.net with a completed membership form.