In May 2016, The Reef-World Foundation launched the first Green Fins Snorkel Assessor Training programme in El Nido, Philippines. The programme was conducted with support and collaboration from the Department of Environment and Natural Resources (DENR), El Nido Local Government Unit, El Nido – Taytay Protected Area Office and not least, the local management team, The El Nido Foundation.
With a burgeoning island hopping/ snorkel tourism industry, El Nido is the perfect site to pilot the new programme. Following a 5 day workshop, five assessors and three coordinators were successfully certified and will be part of the growing team to provide support to the growing local marine tourism industry through environmental assessments, feedback and training. The new team conducted four snorkel tour operator assessments and held one training session in Tagalog which was attended by staff of eight different operators and reaching over 110 persons.
The new team is a very multi-sector group with participants from the El Nido-TayTay Protected Area Office, Community Environment and Natural Resources office, El Nido Coastal Resource Management, and Tourism offices and of course, staff from The El Nido Foundation. Bringing several branchs of local government together makes an incredibly strong team!
The team showed great enthusiasm for working with the tourism sector to protect El Nido's reefs and natural resources and will be carrying out assessments and training sessions over the next few months providing local environmental solutions and promoting conservation awareness across the town and Bacuit Bay!
Reef-World would like to say a special thank you to staff from DENR- Biodiversity Management Bureau and DENR Region 4B for joining, and adding significant value to the workshop.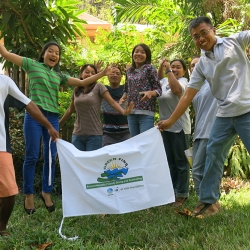 Green Fins awareness raising activities started in the Philippines in 2004 and the initiative was then officially launched in 2010. Green Fins Philippines is implemented by the Coastal and Marine Division under the Department of Environment and Natural Resources, Biodiversity Management Bureau (DENR-BMB) with support from NGOs including Batangas Community Divers, The El Nido Foundation and Marine Conservation Philippines.