Green Fins Certified Membership
Join the first independent network of certified dive and snorkel operators committed to protecting coral reefs and other marine ecosystems
Over 700 marine tourism operators have joined as Green Fins Certified Members, adopting the Green Fins Code of Conduct and improving their environmental impact over time. Join them today!
What is Green Fins certified membership?
Certified Members are marine tourism operators who have received an in-person assessment from a Green Fins assessor within the last 12 months. Assessors are local to the Green Fins national team in their country and receive formal training to be able to conduct assessments.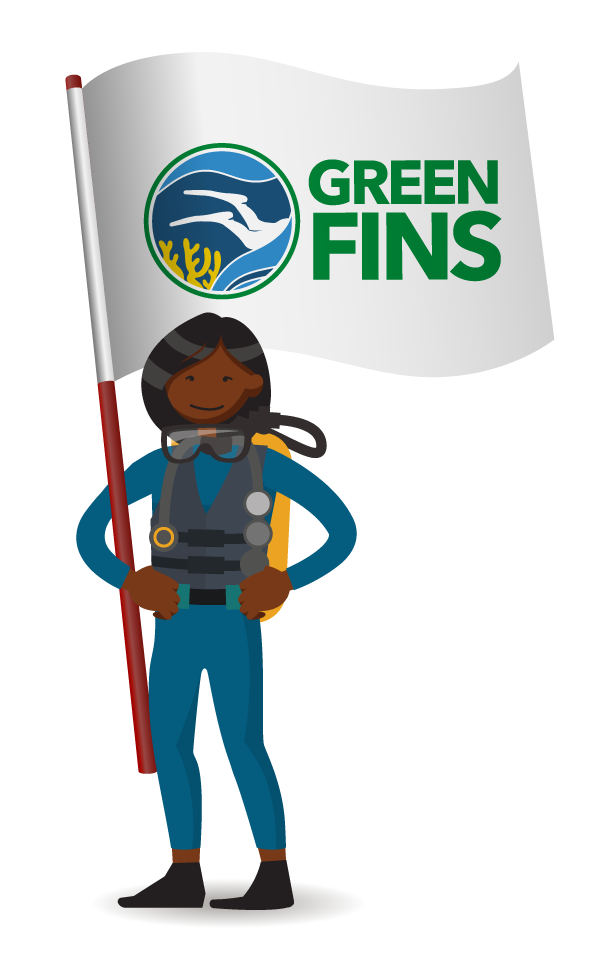 MADE POSSIBLE BY GREEN FINS HUB
The Green Fins Hub will host both Certified and Digital Members in one place, enabling operational staff to stay in touch with the Green Fins network and monitor and assist their operation's sustainability journey. Here are some of the features: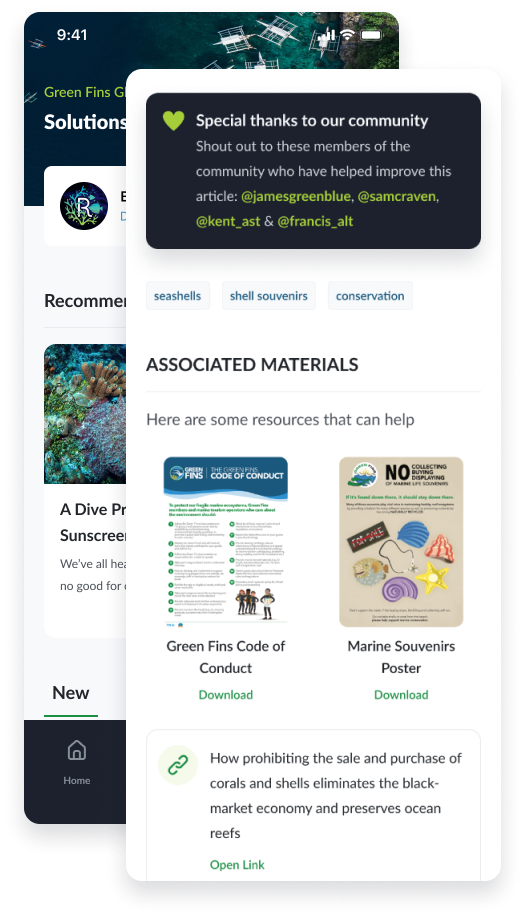 Solutions Library
Get access to proven environmental solutions to reduce impacts on underwater ecosystems, tried and tested by the Green Fins network over two decades.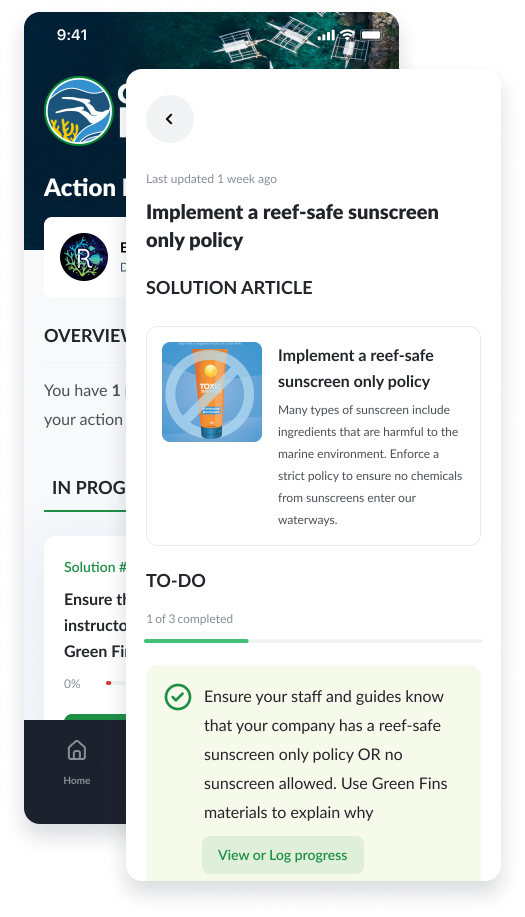 Action Plan Tracker
Receive an annual environmental action plan with set goals, as well as an advanced user interface that allows you to see your progress over time.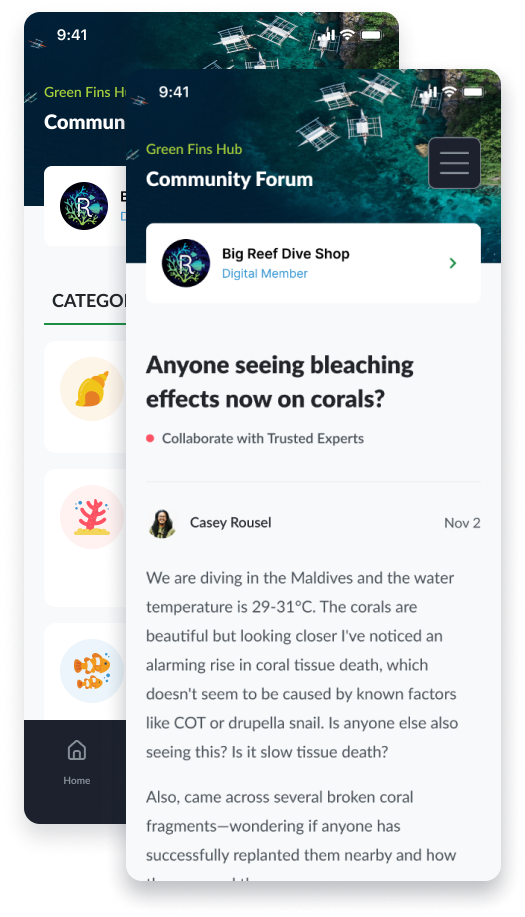 Community Forum
You're not on this journey alone. Get access to the exclusive Community Forum to discuss environmental issues and share lessons and ideas with like-minded operators, NGOs, Governments and industry partners from all over the world.
WHO CAN BE A CERTIFIED MEMBER?
If the country you operate in has an active assessor team then you could be able to receive certified membership – currently, these are:
You can find each country's team profile on the Find a Member page.
Are you a marine tourism operator without access to a Green Fins assessor?
Fear not!
How much does it cost?
Green Fins is a not-for-profit initiative, and operational costs are subsidised by national funds and grants. Certified Members are encouraged to pay what they can to support Green Fins efforts around the world – the contribution amount starts at $0 and is kept confidential. You will also need to cover the cost of up to two assessors for at least one diving or snorkelling excursion (with real guests present) per year, including travel and accommodation costs as necessary.
How does it work?
For operators wanting to become members in active Green Fins countries:
Owner or manager registers

a personal account for themselves on the Green Fins Hub.

Manager registers the operation in the Hub

by selecting 'Certified Member' when prompted.

The local Green Fins team will contact the manager

to schedule an assessment when the Member has guests.

Members will be assessed annually

and must show continued improvement to maintain active status.

On the assessment day:

In-person assessment carried out by trained Green Fins assessors 

Environmental training provided to all staff and crew (1 hour presentation)

Consultation with assessors to agree on 3 action points to improve environmental sustainability of the year of membership
Certified membership levels
Green Fins Certified Members are scored – based on the Green Fins Code of Conduct – out of 330. The lower the score, the lower the impact to the environment. Based on the results of their assessments, Certified Members are classed as Gold, Silver or Bronze by their environmental performance.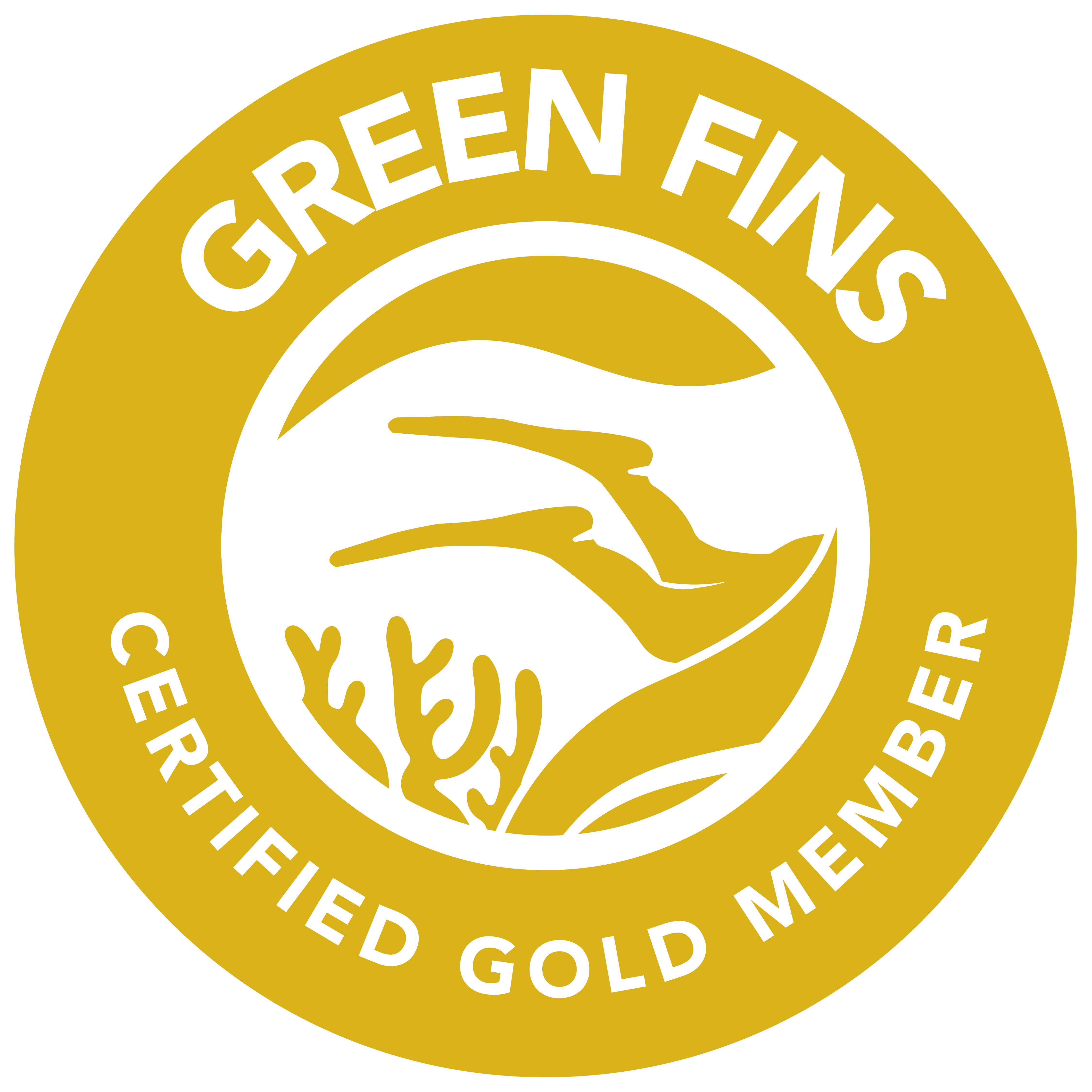 Certified Gold are members that scored 50 or less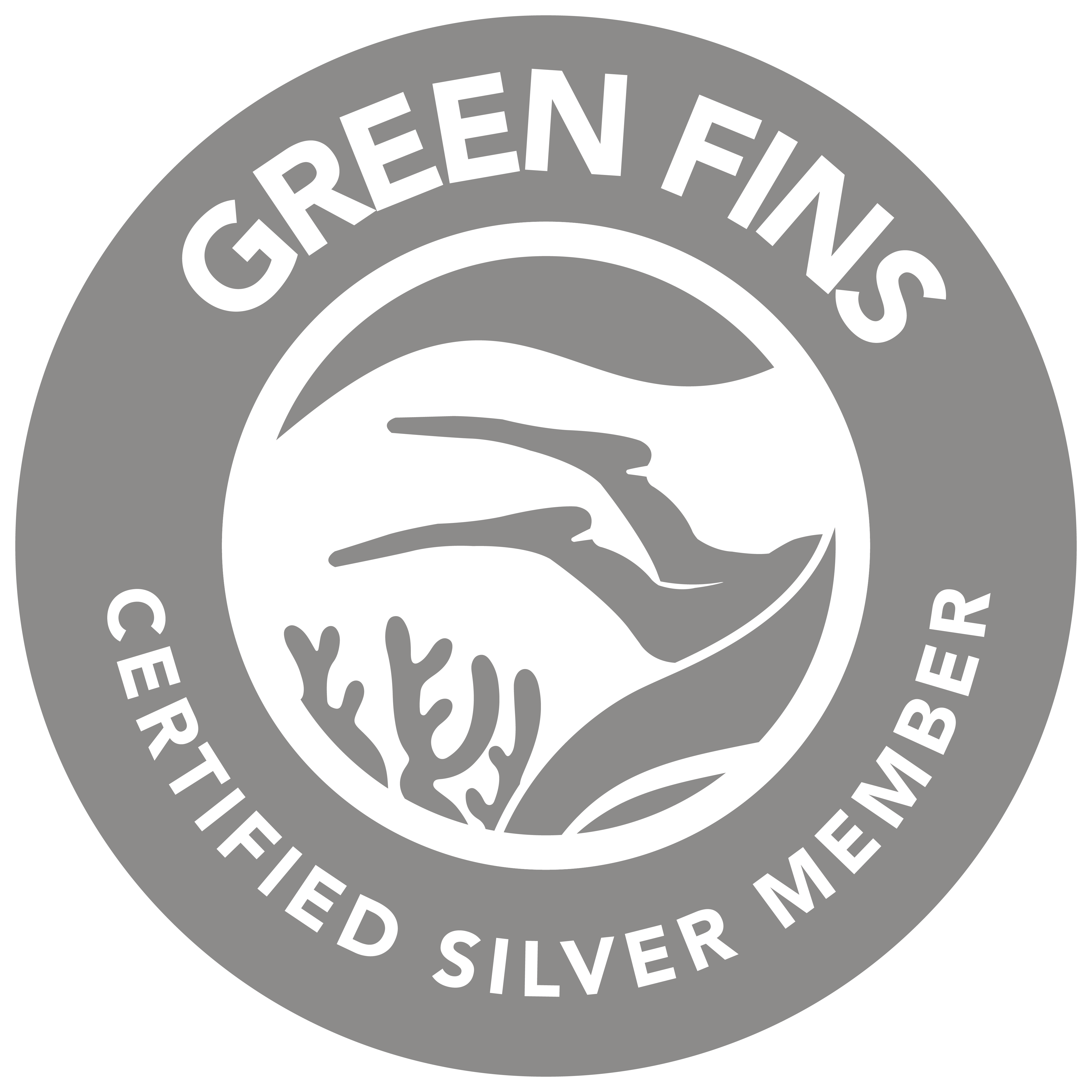 Certified Silver are members that scored 150 or less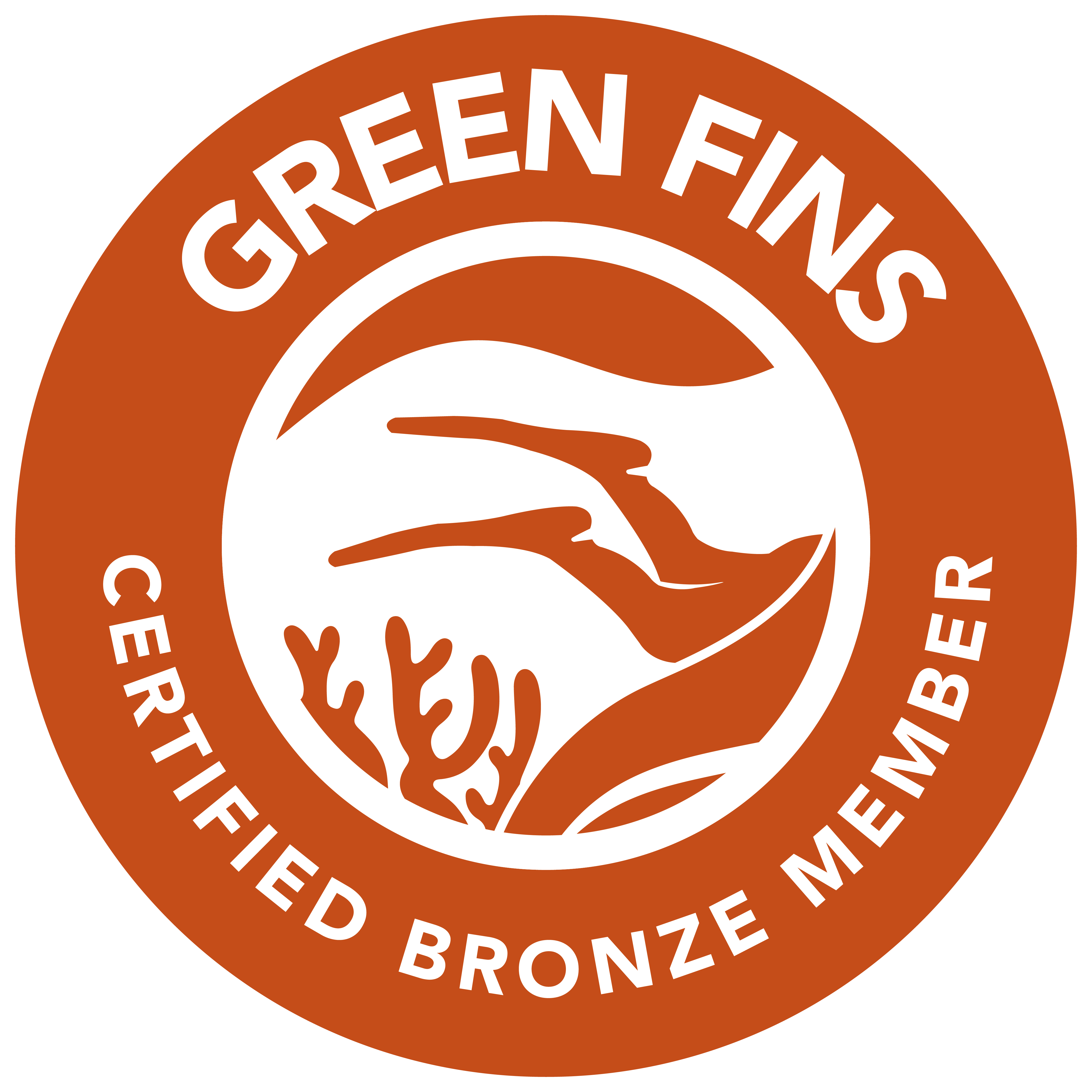 Certified Bronze are members that scored 200 or less
Operations that score 201 or higher are classed as Restricted Members and will need to be reassessed to receive membership benefits.
What are the benefits of being a Green Fins Member?
Testimonials
Hub Registration Faqs
Certified Membership FAQs