Green Fins HuB Guide
If you need help and cannot find the answer below, please make a post in the Hub Support category of the Community Forum or email [email protected].
Hub General
The Green Fins Hub is a global platform for all Green Fins Members to manage their environmental sustainability journey. Features include account management, an environmental action plan, a library of environmental solutions for marine tourism-related threats and the Green Fins Community Forum.
Green Fins Hub is intended for staff working at dive centres, snorkelling centres, or liveaboards that would like to become Green Fins Members.
To get started register a personal account for yourself or learn about Green Fins membership
An 'operation' is a single dive shop, snorkel company, or liveaboard vessel with physical premises in one location.
If the operation is part of a bigger group or chain that shares a common brand, each individual operation or liveaboard vessel must register separately.
Green Fins Hub has been built around operations, which is to say businesses that operate diving or snorkelling activities (often with guides/instructors, buildings, equipment, tanks, compressors, boats, engines, classrooms, kitchens, rinse tanks, showers, etc). The Green Fins assessment (for certified membership) system and self-evaluation (for digital membership) systems capture detailed operational information about these areas in order to take a snapshot of the environmental threats posed by that business both above and below water. This is then used to build an action plan effective for the remainder of that membership period (usually 12 months).
As a freelancer or dive instructor, you can speak with the operation owner/manager of the operation(s) where you work to encourage them to sign up their operation for Green Fins membership.

The Hub Manager can invite you as a Hub Teammate once they have completed the assessment (certified membership) / self-evaluation (digital membership) and agreed to implement an action plan. This will grant your Hub Personal Account access to the Green Fins Community Forum, Solutions Library and the ability to help each manager with their action plan. You can be a Hub Teammate of more than one operation and the Hub will keep track of any progress that you log for each operation independently.
For independent dive pros, we recommend that you complete the Green Fins Dive Guide e-Course and purchase the certificate to demonstrate course completion and supports vital work protecting the marine environment.
You can also encourage guests to complete the Green Fins Diver e-Course or go a step further and make it a requirement before joining you underwater.
If you are unsure, please email [email protected] and the Reef-World team will be able to provide specific direction.
Hub ADMIN
Log into Green Fins Hub – from the Home screen click on the Operation Card: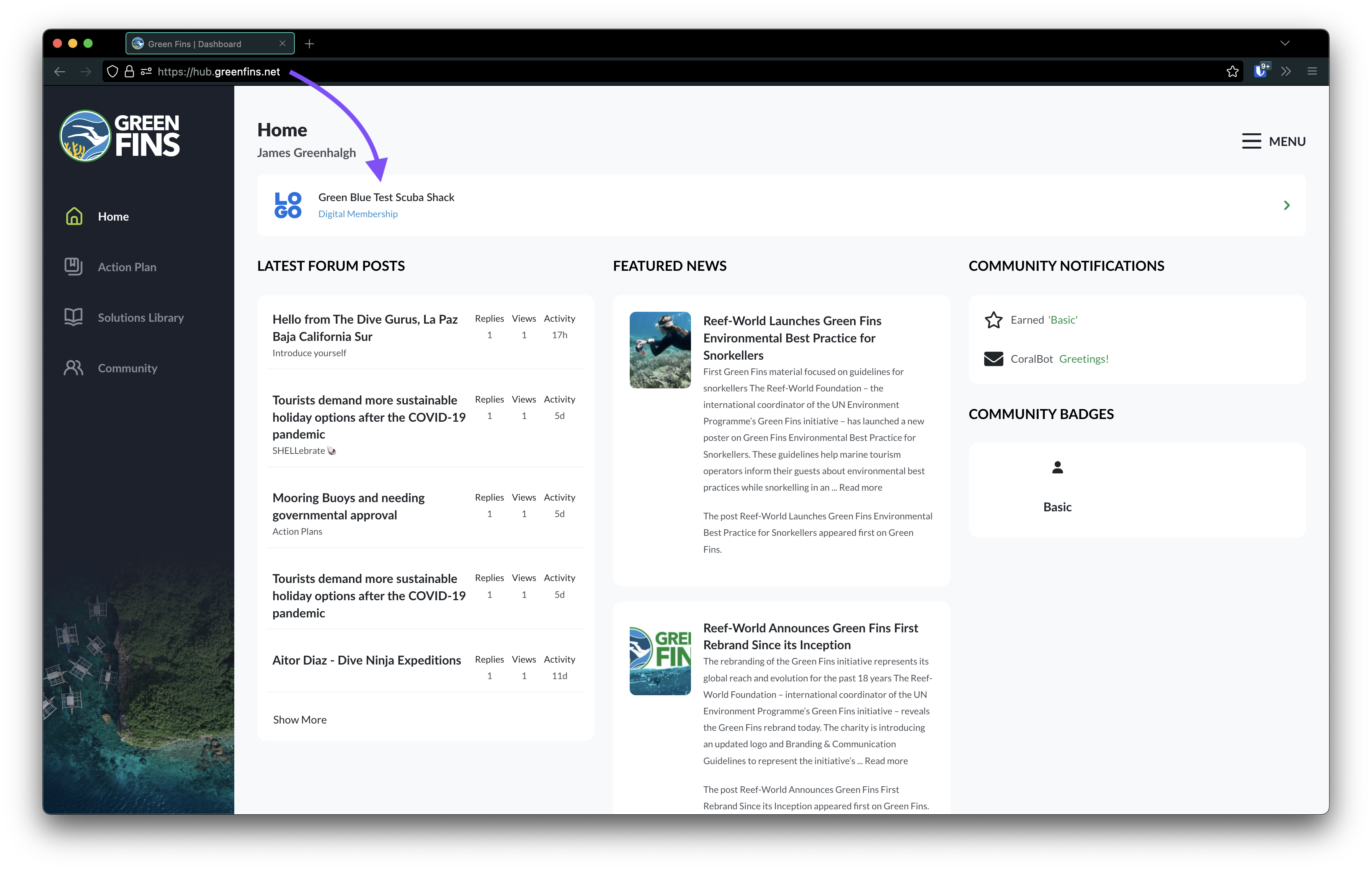 Click on 'Manage operation':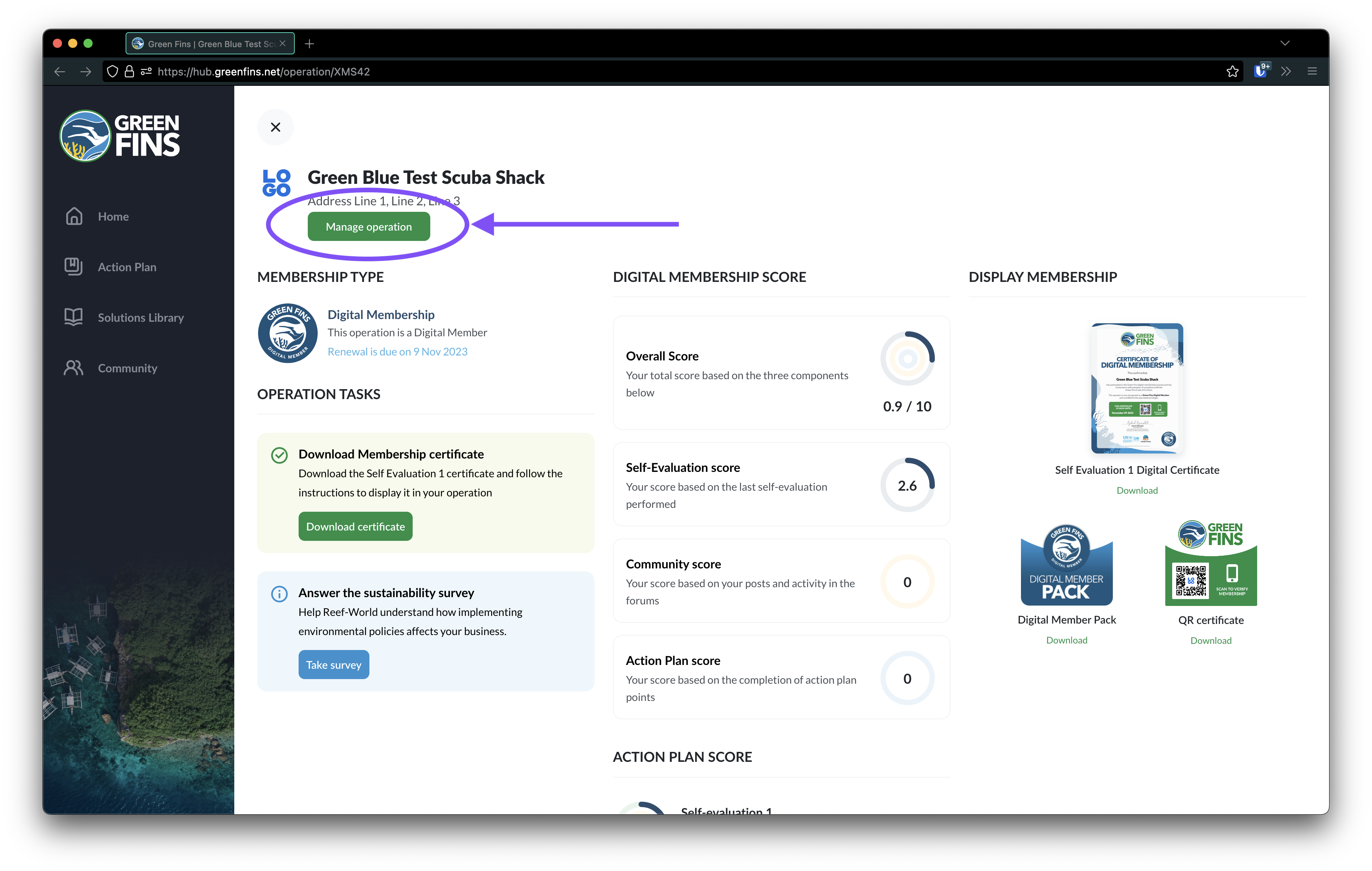 Click on 'Manage team':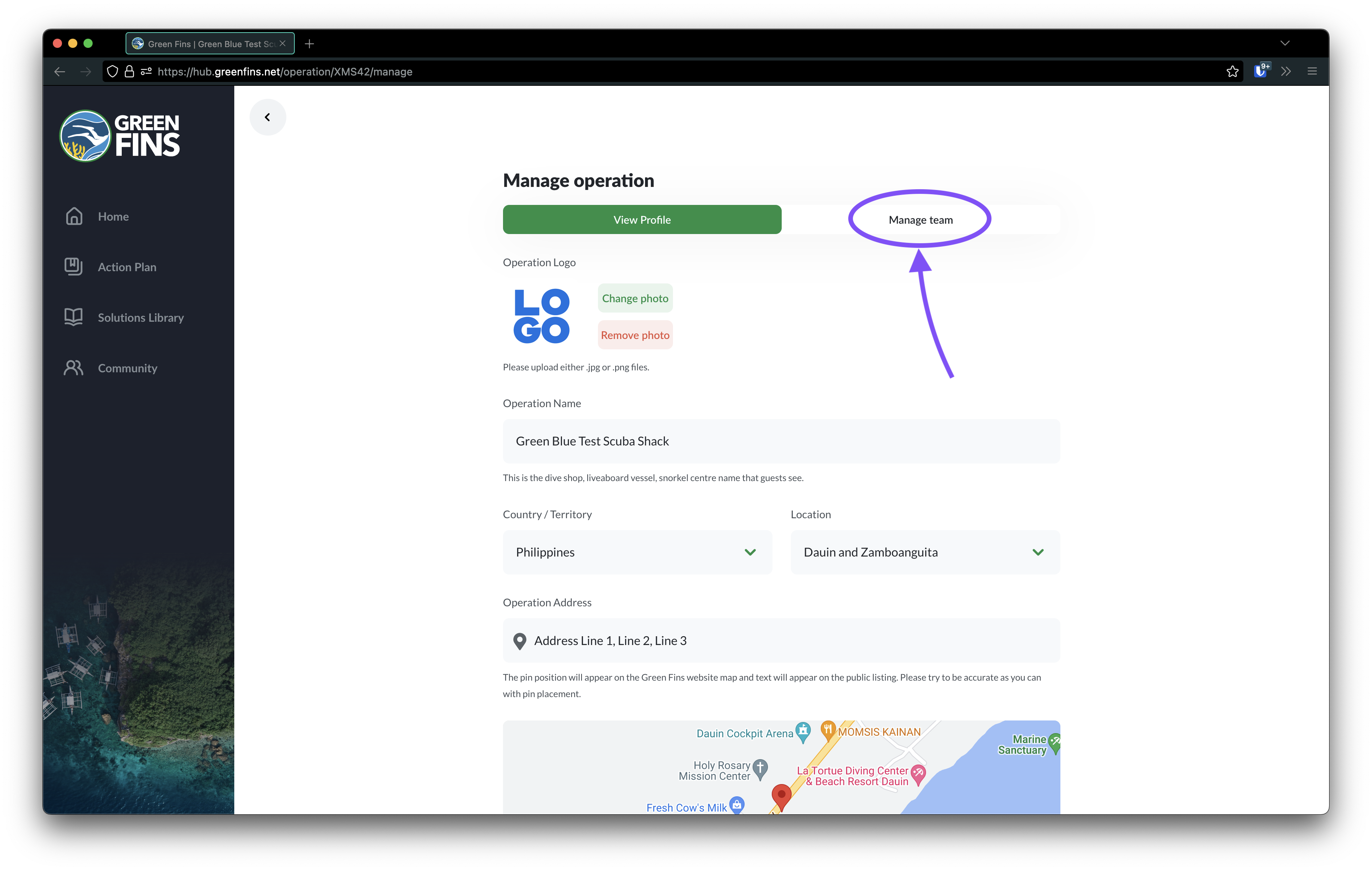 If you only have one person associated to the operation, invite them to join with their Hub Personal Account email address (ask them to let you know when they have accepted):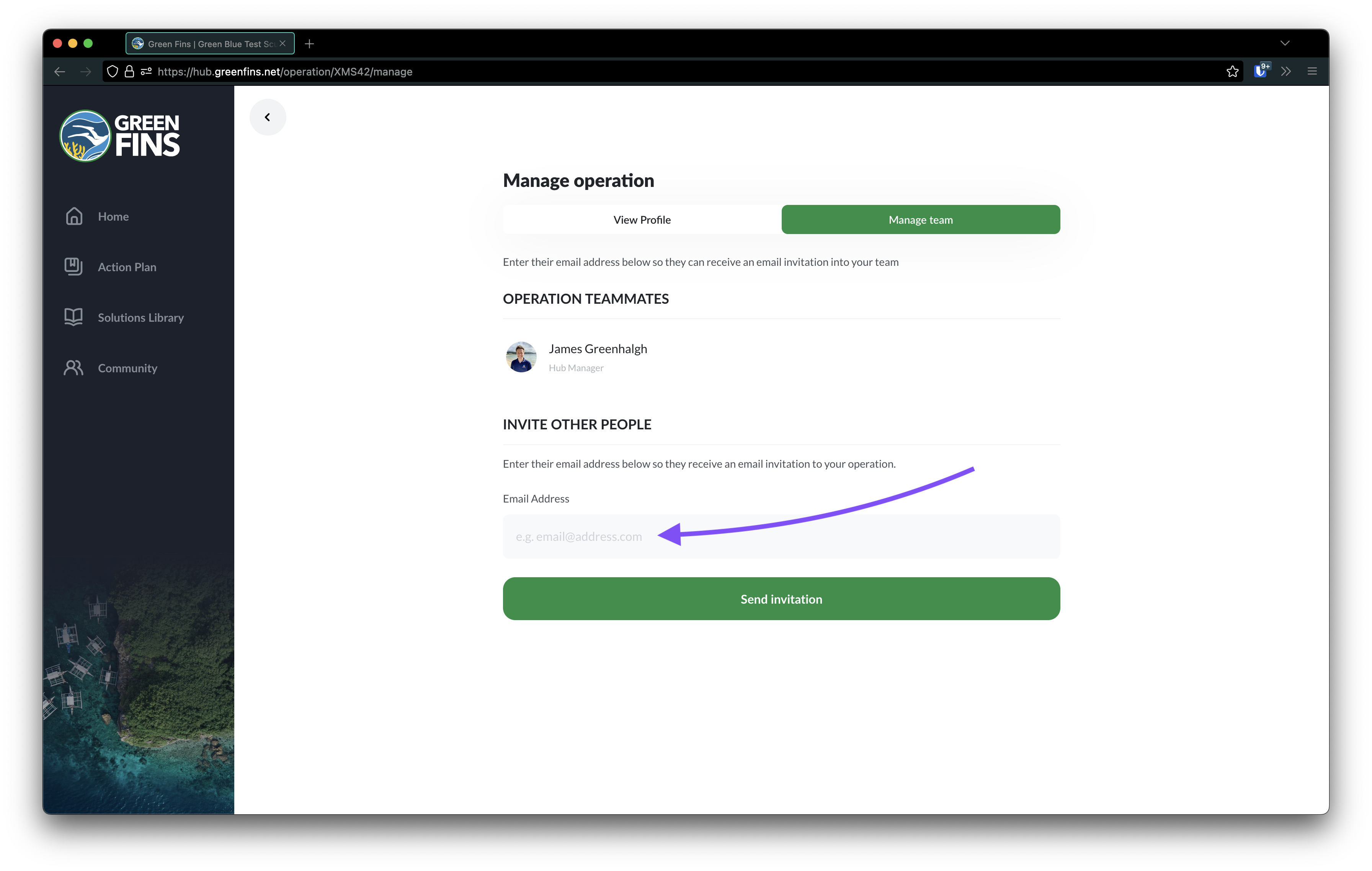 Once they have accepted your invitation, a 'Transfer' button will appear next to the current Hub Manager: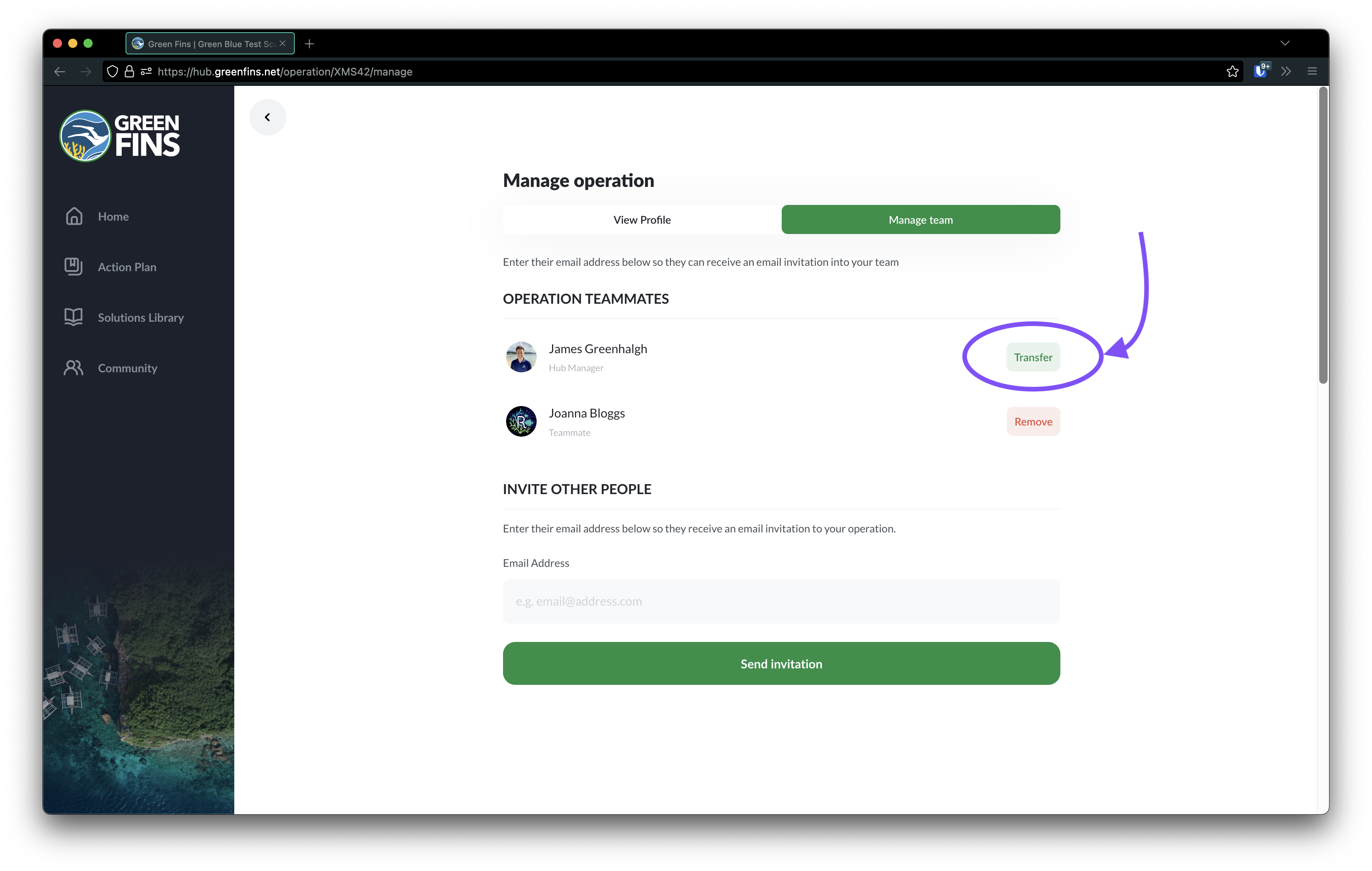 Follow the instructions to complete the transfer: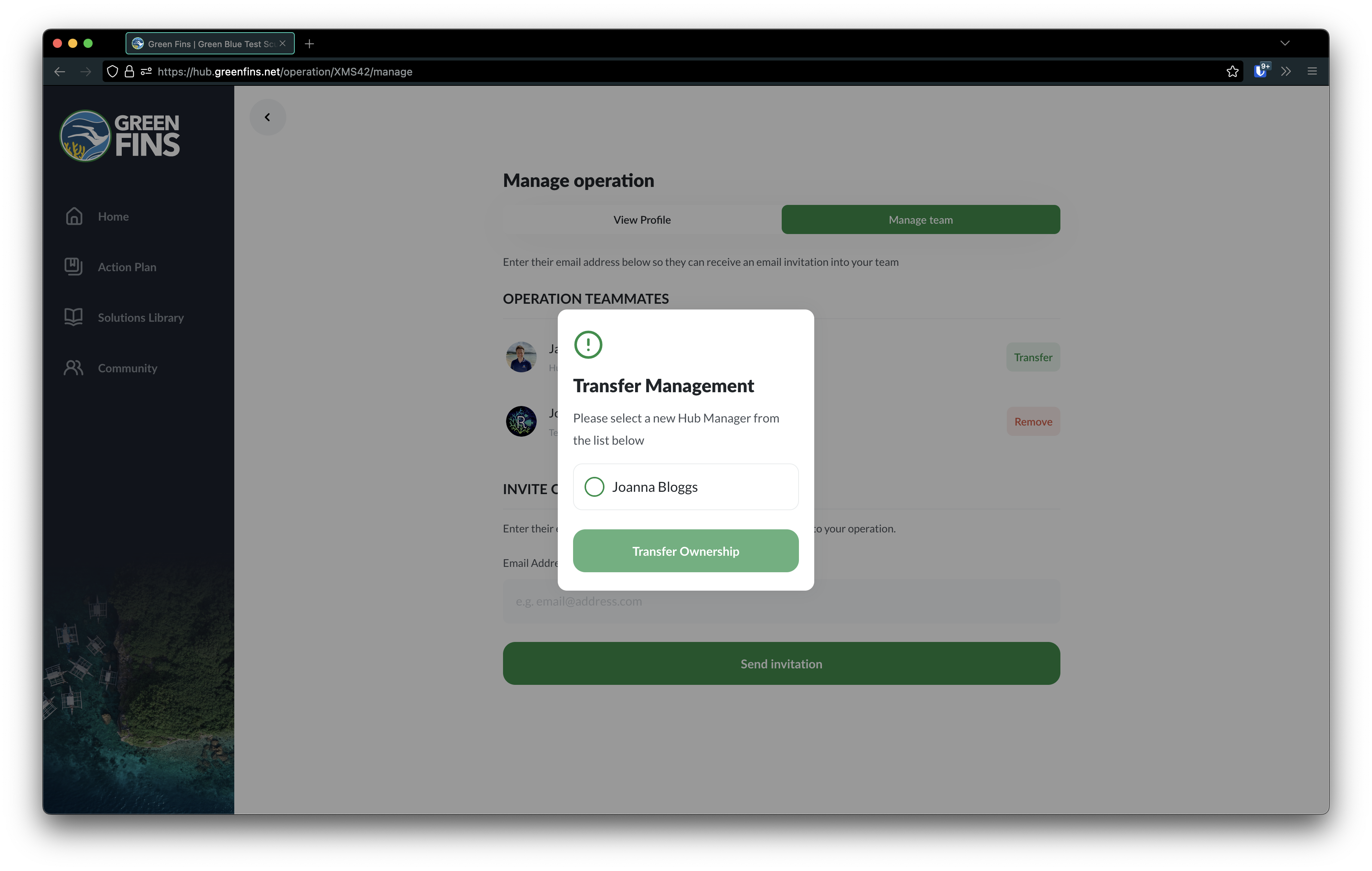 If the selected user is already a Hub manager elsewhere you will see a warning – please speak to the person directly to understand whether they need to hand over their other responsibilities.
Hub Onboarding
Please note:
Everyone who works for a marine tourism operation and wants to participate in the Green Fins network must first register a Hub Personal Account to post as themselves in the community forum and directly contribute to implementing Green Fins solutions in their workplace.
Your personal account can be easily linked and unlinked to one or more operations and stays with you as your career develops.
Use your real name;

Do not create more than one Hub Personal Account;

Do not share your password with anyone else, and;

Do not register a Hub Personal Account with an email address shared by more than one person.
New operations must be registered by a person with local decision making authority within the organisation, usually the owner or manager.
Head to https://hub.greenfins.net/register or click the link on the Hub login screen: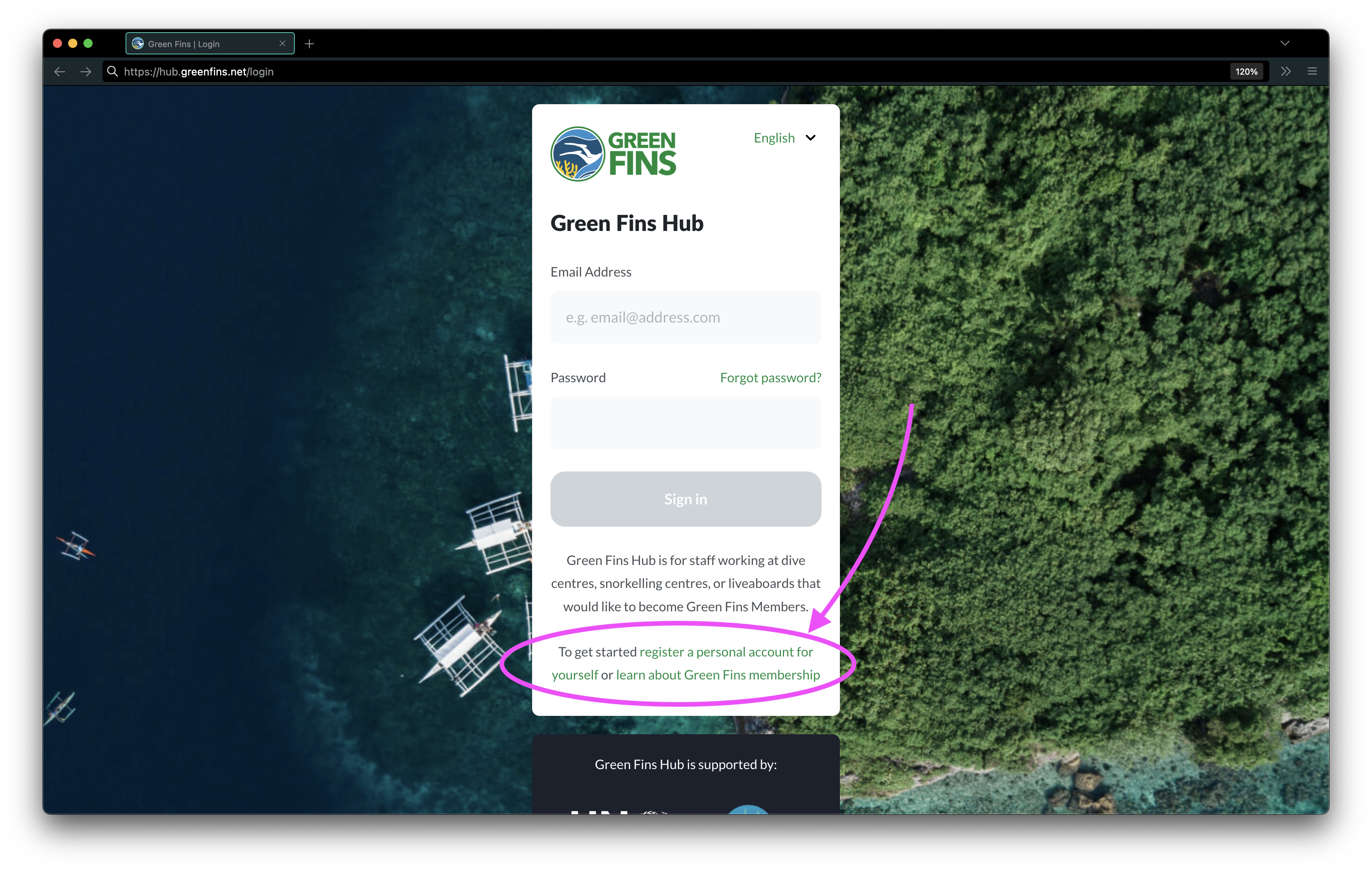 Once a Hub Personal Account is successfully created, the Hub will invite you to add your operation or prompt for an invite to an existing operation: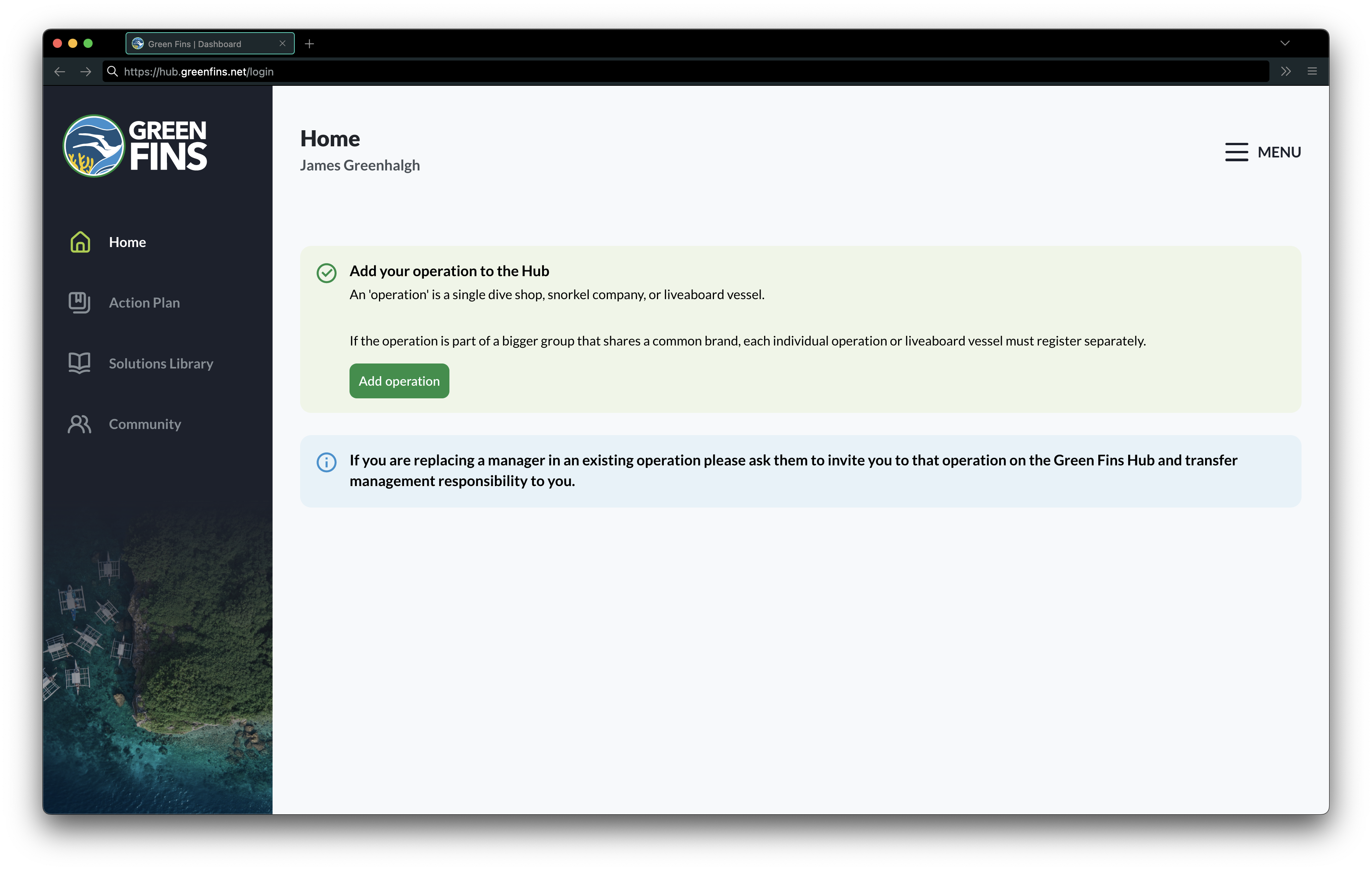 The Hub offers a tailored experience for each industry, this cannot be changed later so please choose carefully. (Note: If your primary business is Diving but you also offer Snorkelling as a service, choose Diving)
Next complete the required registration information: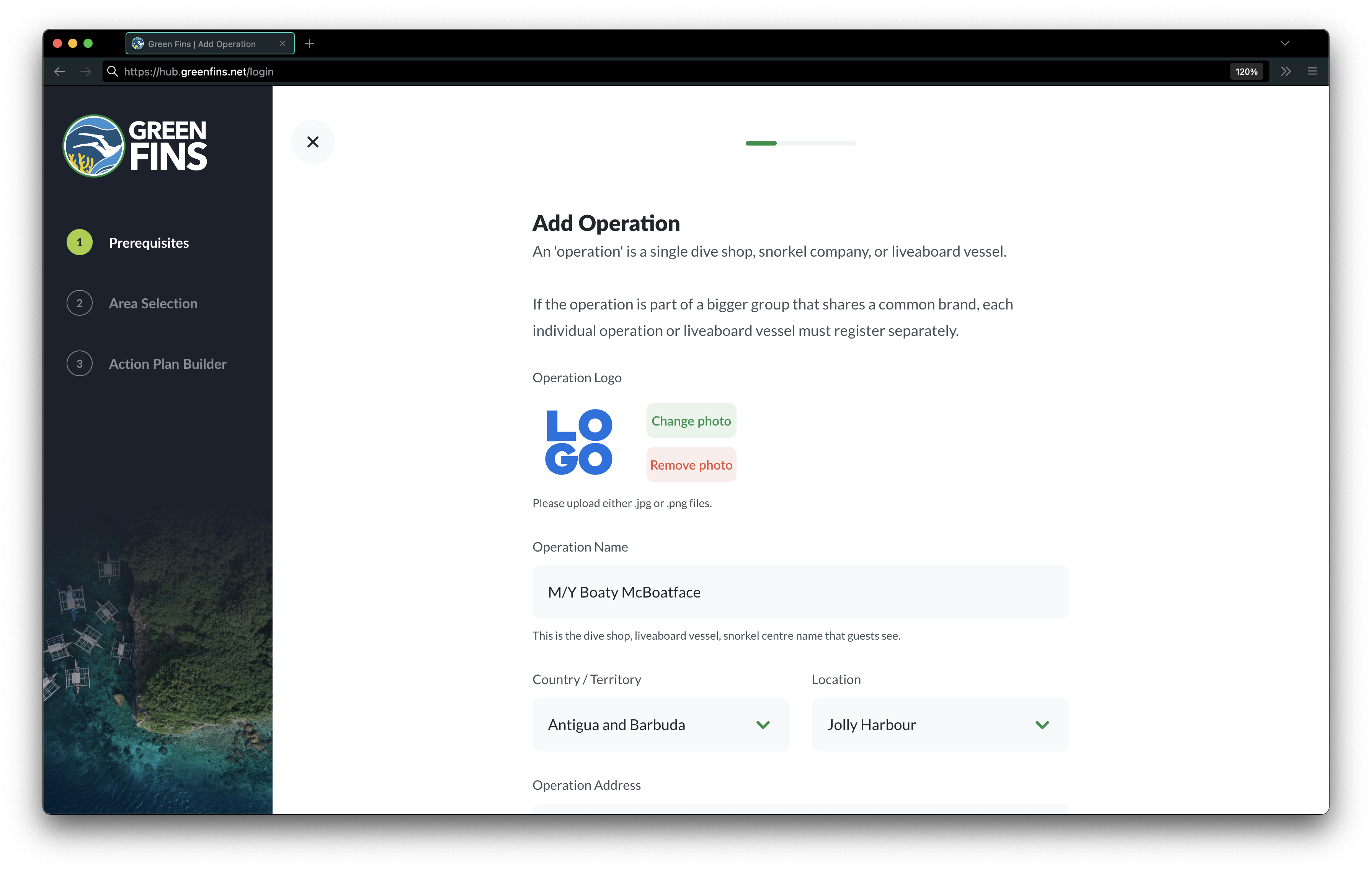 Next choose which membership type you would like to apply for. If you are uncertain, please review https://greenfins.net/join and https://greenfins.net/membership-benefits.
If certified membership is offered to you by the Hub, you almost certainly want to select this option: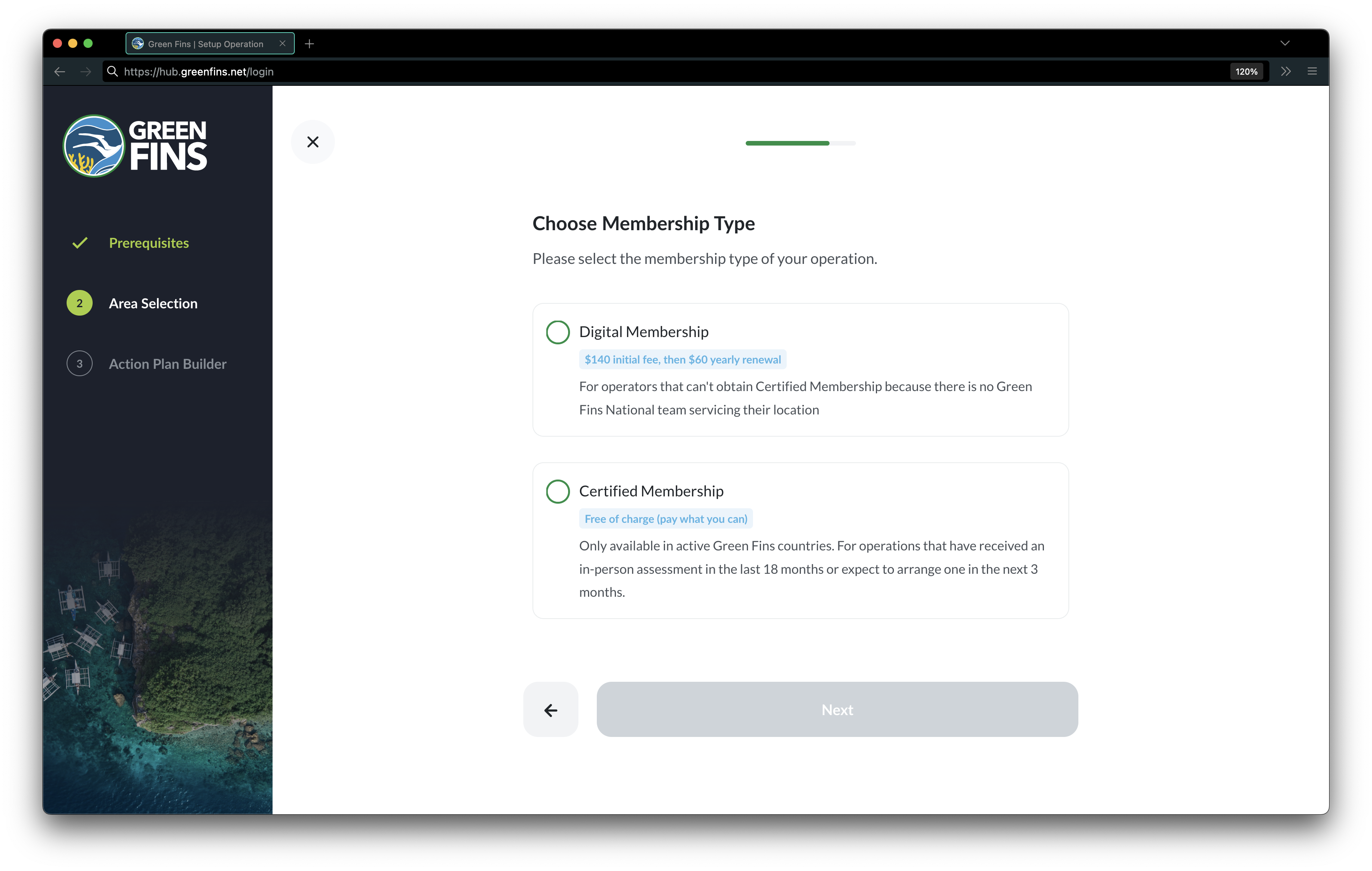 Please read the Green Fins Code of Conduct: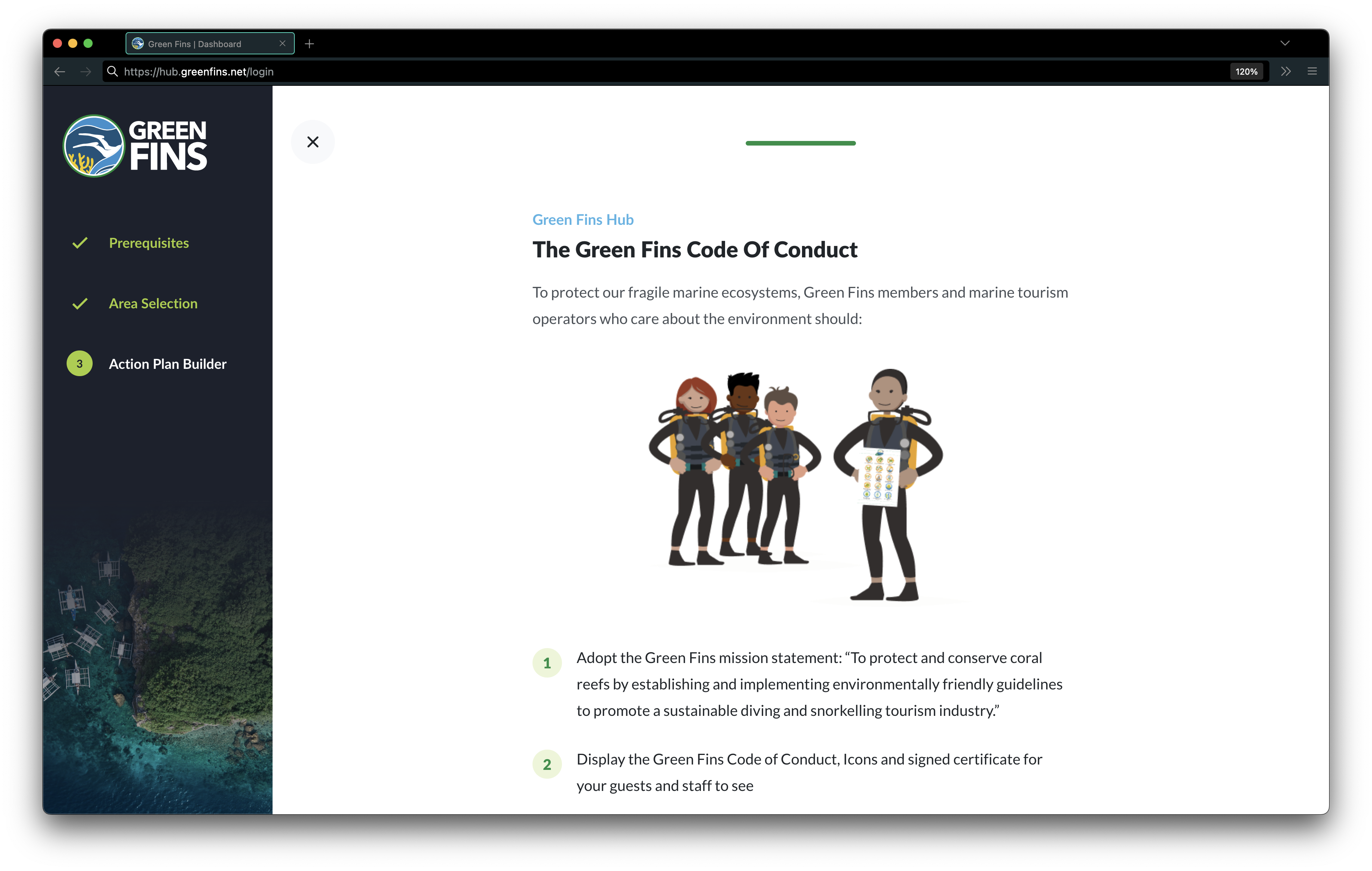 All three checkboxes must be selected and a signature provided to continue: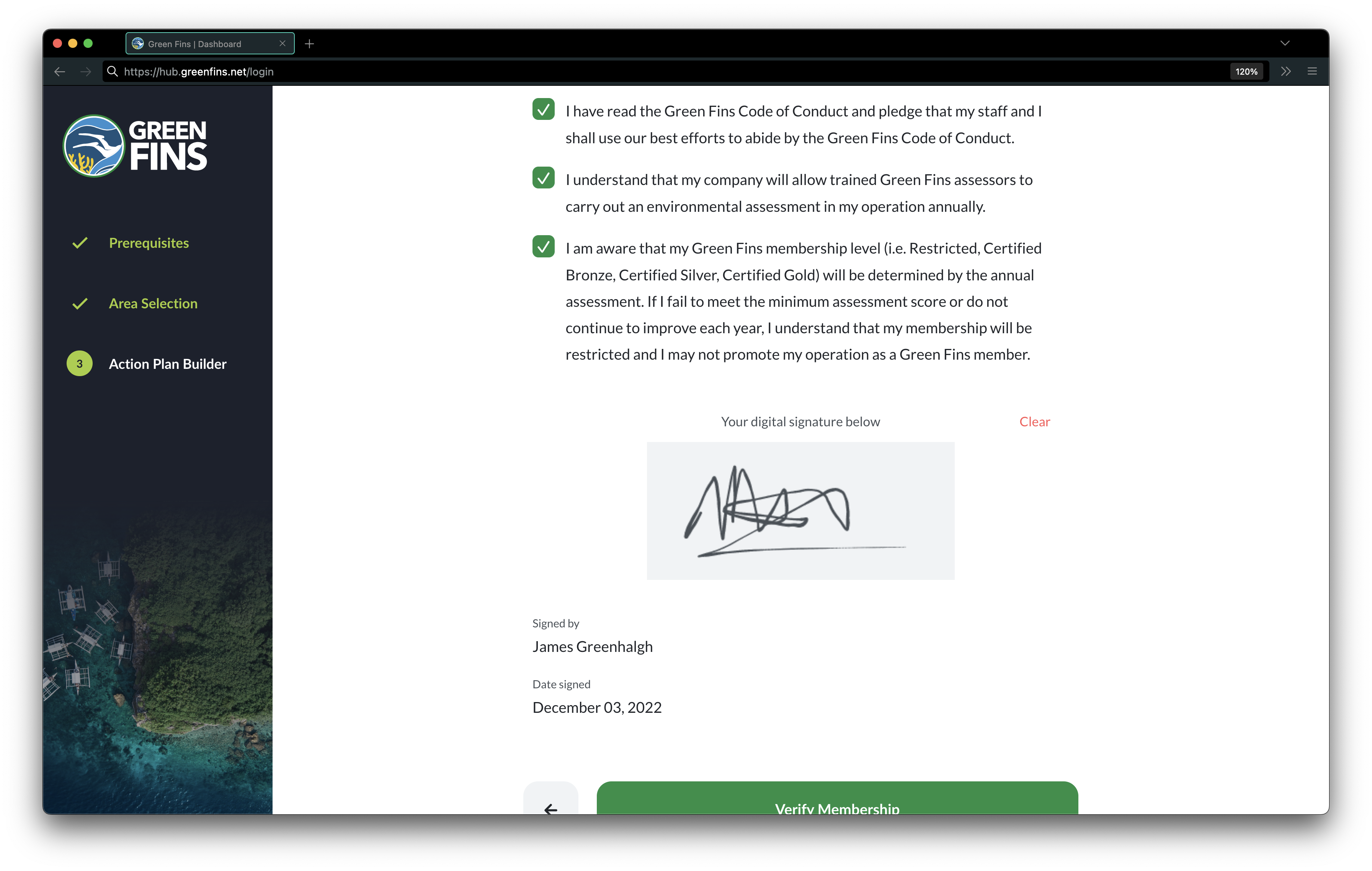 Thats it! Please be patient while the local team in your country reviews your operation's application for Green Fins membership. If you have not received an in-person assessment in the last 12 months or expect to arrange one in the next 3 months then Green Fins digital membership will be offered as an alternative.
If you do not hear from the national team within 7 days please contact [email protected] for assistance.
To become a digital member you need to complete the remaining steps including the self-evaluation and action plan (see: https://greenfins.net/digital-membership/#steps).
From the Hub home screen please click on your operation card to open the operation dashboard (the operation card is a white box that includes the operation logo, name and membership status i.e. 'Membership pending'). From the operation dashboard look for the orange card with title 'Perform Self-Evaluation', click on the 'Start the self-evaluation' button: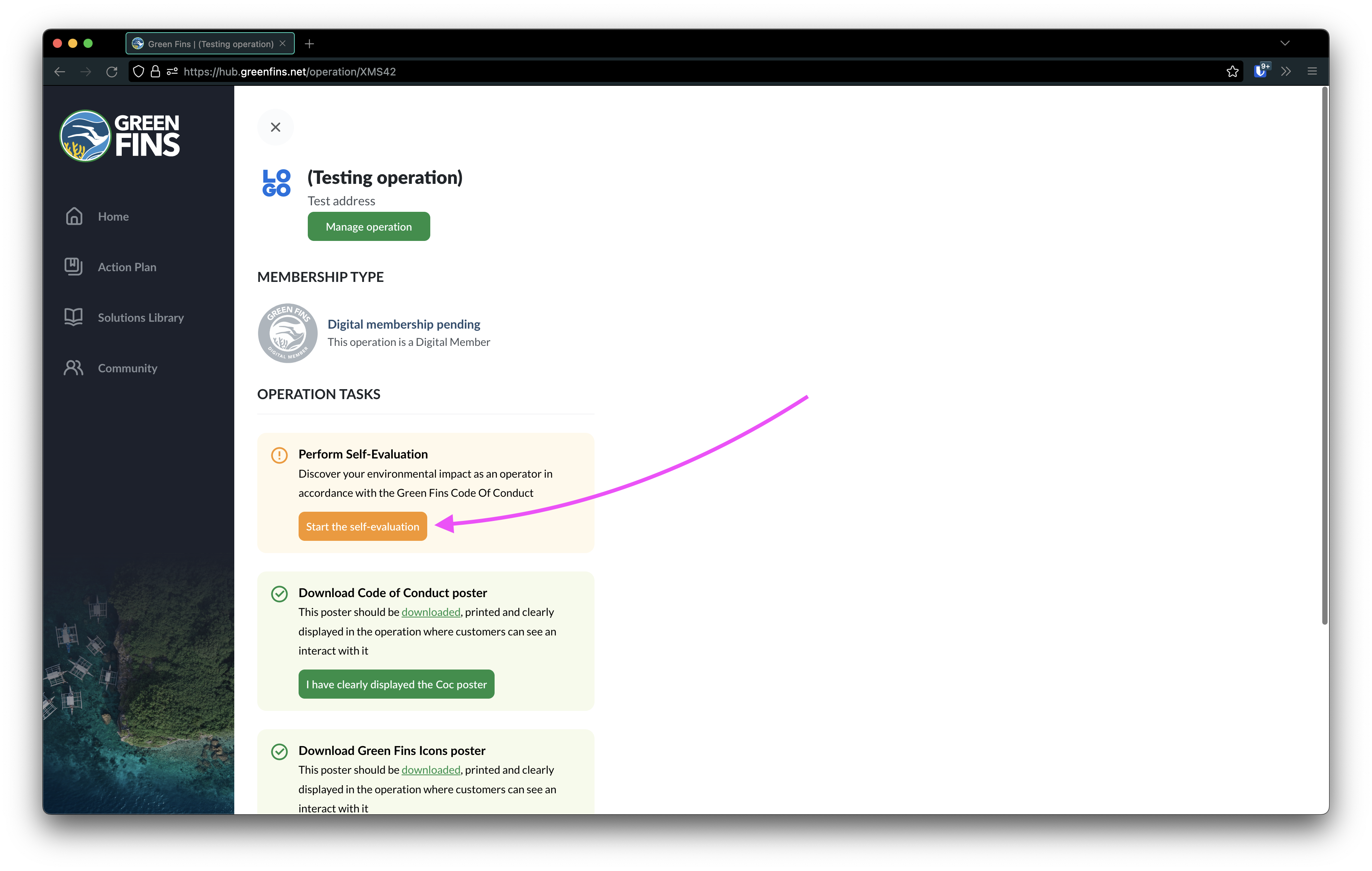 Personal accounts enable everyone to choose their own username to participate in the community forum and contribute to implementing the Green Fins solutions and reduce their operation's score irrespective of their seniority within the organisation. It also means that users can represent themselves as well as their workplace and change jobs without losing their posts and reputation in the community as their career develops.
The Hub will recommend all users to sign up with an email address that is not tied to their current workplace. (Alternatively, remember to change your personal account email if you move operations between jobs – if you are locked out of your account please contact [email protected] for assistance).
It is recommended that the local manager and at least one other employee from each operation registers on the Hub.
Centralised management is achieved by adding senior staff members to each operation they oversee as Hub teammates, they are then able to see what is going on at each operation and gain an overview of how each operation is performing against the others, and how the brand is performing overall. This is especially interesting if the brand has a mix of Certified and Digital operations.
Hub Personal Accounts may be linked with one or more operations as either 'Teammates' or 'Hub Managers'. Each operation is overseen by a single 'Hub Manager' so that is is clear who has ultimate responsibility for implementing the operation's action plan.
The 'Hub Manager' completes the annual self-evaluation and build the annual action plan for their operation. This person should be a local manager deeply involved in operations with physical access and who has recently dived with customers.
It is very unusual that one individual person is a local manager of more than one operation so the Hub presents a warning message that you must click through if attempting to become a Hub manager of more than one operation.
New operations must be registered by a person with local decision making authority within the organisation, usually the owner or manager.
If you are replacing a manager in an existing operation please ask the manager to invite you to that operation on the Green Fins Hub and transfer management responsibility to you.
In the case of liveaboards with Green Fins digital membership, it is fine for senior or central management to complete the initial registration but Hub management responsibility should be handed over to the purser or captain so that a local manager with physical access and who has recently dived with customers is the person conducting the self-evaluation.
Everyone at the operation who works to implement Green Fins must register a personal Hub account for themselves.
Hub Managers sign the Code of Conduct, pay for membership, complete the self-evaluation and agree to their operation's personalised action plan. The Hub Manager should be the local decision making authority within the organisation deeply involved in operations, usually the owner, manager or purser (not necessarily the most senior person working for the brand or organisation).
Teammates can access the Community Forum, contribute to the action plan log and have full access to the solutions library. Teammates do not complete self-evaluations.
Membership FAQs