About Green Fins
Protecting coral reefs through sustainable marine tourism
Scuba diving, snorkelling and other forms of marine tourism are fantastic activities to introduce people to the marine environment and create new ocean advocates. However, unmanaged, these activities can have acute negative impacts for fragile ecosystems like coral reefs.

Green Fins is a proven conservation management approach – implemented internationally by The Reef-World Foundation and the UN Environment Programme – which leads to a measurable reduction in the negative environmental impacts associated with marine tourism. It aims to protect coral reefs through environmentally friendly guidelines promoting sustainable diving and snorkelling. It provides the only internationally recognised environmental standards for marine tourism and its robust assessment system measures compliance.

Green Fins encourages and empowers divers, snorkellers, the diving industry and coastal communities to reduce the pressures on coral reefs by offering marine tourism companies practical, low-cost alternatives to harmful practices – such as anchoring, fish feeding and chemical pollution – as well as providing strategic training, support and resources.
By reducing the local direct and indirect pressures tourism puts on coral reefs, it helps make corals healthier and more resilient to other stresses such as the effects of climate change.
We are working towards a future where environmentally friendly practices are standard across the marine tourism industry.
Mission Statement:
"To protect and conserve coral reefs by establishing and implementing environmentally friendly guidelines to promote a sustainable diving and snorkelling tourism industry."
Vision:
Sustainable diving is the norm
Established:
2004
What are the Environmental Standards?
The Green Fins Code of Conduct sets out 15 standards for environmentally-friendly diving and snorkelling operations. The code of conduct covers best practices for both above and below the water and considers the role of managers, operator staff and tourists. It targets common-place threats to the marine environment from diving and snorkelling activities. Although designed around protecting coral reefs, these standards can apply to all marine environments.
Who Is Part Of The Green Fins Network?
Green Fins is coordinated internationally by The Reef-World Foundation in partnership with the UN Environment Programme. It is implemented in each country by a national team composed of government staff (often in collaboration with NGOs). You can find each country's team profile on the Find a Member page.
Over 600 marine tourism operators have joined as Green Fins members, adopting the code of conduct and improving their compliance over time.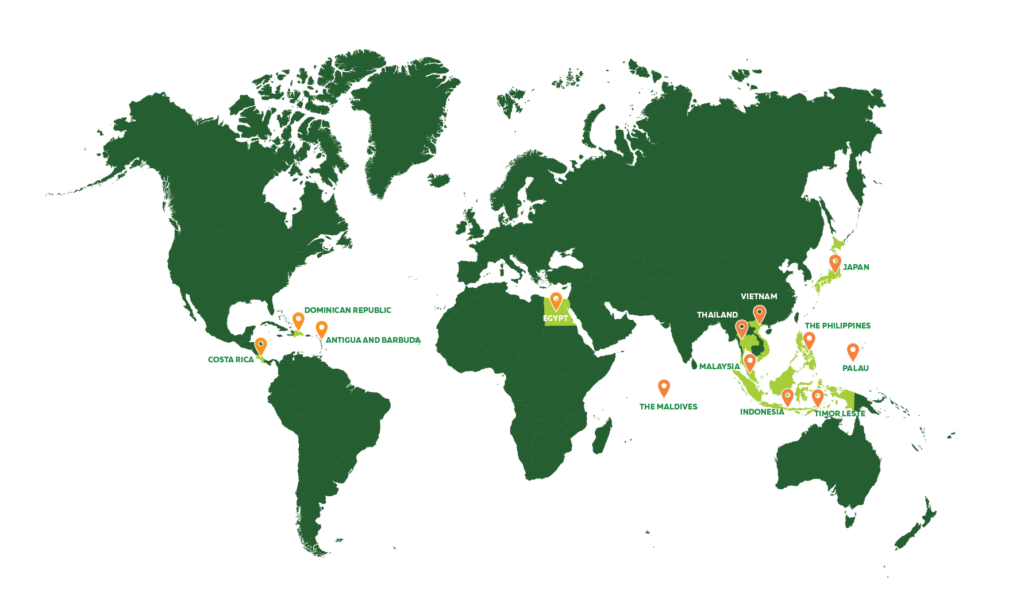 How Can You Use Green Fins?
Travellers
Marine Tourism Operators
Government
Enquiries
If you are working for a government or NGO interested in adopting Green Fins or learning more about how to use Green Fins tools to engage your tourism industry and protect your marine environment, please contact Reef-World at [email protected].