Since 2012, in collaboration with Bangor University, Reef-World has been collecting data on diving behaviour in the Philippines and the adoption of Green Fins environmental practices as part of a study into the impacts of scuba diving on the health of our coral reefs. Read on to find out the actions divers can take to #saveourreefs.
Diver behaviour (mainly damaging contacts with marine life) was examined at important coral reef dive site locations within the Philippines alongside compliance to the Green Fins best practice. In addition, the role of dive supervision was assessed by recording dive guide interventions underwater and how this was affected by group size.
The main findings of this paper is evidence to show that customers diving with dive centres who follow the Green Fins code of conduct make significantly lower damaging reef contact than those who do not follow it. Therefore, following Green Fins guidelines can directly contribute to reducing diving impacts on coral reefs, helping to #SaveOurReefs!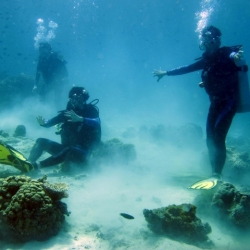 This research is intended to help the development team behind Green Fins to identify what the most effective diver management practices are in terms of reducing damaging reef contacts. This is all part of making Green Fins an even better tool for the diving industry to implement practical and effective solutions to every day environmental challenges.
Reef-World would like to thank all volunteers and interns who contributed to the data collection for this paper. They were a vital part in its creation. Bangor University were partly funded for this project by the European Regional Development Fund through the Welsh Government. Reef-World were funded through The Rufford Small Grants Foundation.
The full paper is free to access here. You can read the abstract here:
Recreational diving on coral reefs is an activity that has experienced rapidly growing levels of popularity and participation. Despite providing economic activity for many developing coastal communities, the potential role of dive impacts in contributing to coral reef damage is a concern at heavily dived locations. Management measures to address this issue increasingly include the introduction of programmes designed to encourage environmentally responsible practices within the dive industry. We examined diver behaviour at several important coral reef dive locations within the Philippines and assessed how diver characteristics and dive operator compliance with an environmentally responsible diving programme, known as the Green Fins approach, affected reef contacts. The role of dive supervision was assessed by recording dive guide interventions underwater, and how this was affected by dive group size. Of the 100 recreational divers followed, 88 % made contact with the reef at least once per dive, with a mean (±SE) contact rate of 0.12 ± 0.01 per min. We found evidence that the ability of dive guides to intervene and correct diver behaviour in the event of a reef contact decreases with larger diver group sizes. Divers from operators with high levels of compliance with the Green Fins programme exhibited significantly lower reef contact rates than those from dive operators with low levels of compliance. The successful implementation of environmentally responsible diving programmes, which focus on influencing dive industry operations, can contribute to the management of human impacts on coral reefs.
#SaveOurReefs