Hello! I'm The Reef-World Foundation's newest staff member: James. While I've been brought in to focus on how the charity makes best use of technology, a significant proportion of my time will be spent supporting Green Fins implementation programmes around the world. Two weeks into the role, I joined Sam (Programmes Manager) and Mel (Communications Manager) on my first field trip training Green Fins assessors for the Province of Batangas, Philippines.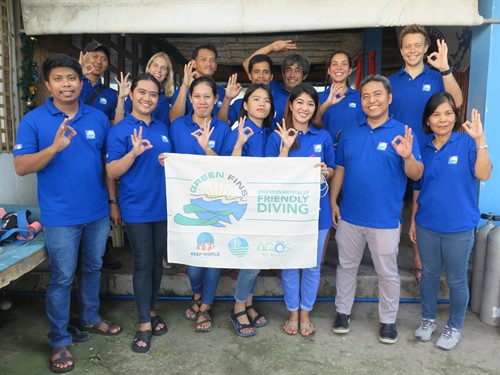 The Philippines was an early adopter of the UN Environment Programme's Green Fins initiative with the first dive centres signing up in 2010. The geographical spread of this island nation adds to the challenge of providing effective support to dive and snorkel operators in each region – nine years on, Reef-World continues to train new regional country assessor teams to ensure ongoing coverage and expansion of the programme to new areas of the country.
Our objective during this trip was to finish an assessor training programme which was started last year but was unable to be completed at the time due to inclement weather. This trip – which was slightly shorter than a full training would usually be – provided a gentle Green Fins introduction for me. It also demonstrated how Reef-World adapts its assessor training programmes to the needs of the national teams who implement the Green Fins approach.
The Mabini area (commonly referred to as Anilao) is extremely popular with divers: both international tourists and domestic divers who visit from Manila at weekends. It is one of the oldest and, by extension, more densely populated diving industries in the Philippines with over 60 dive centres operating along its coastline.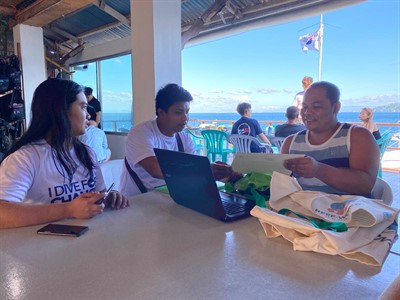 During the training, I enjoyed seeing the relationship strengthen between the Philippines Department of Environment and Natural Resources (DENR) – pronounced 'DNR' which was very confusing initially! – and the Batangas Community Divers (BCDSI) as co-implementing partners. It was clear the individuals from DENR and BCDSI genuinely care about the conservation of their environment and the success of Green Fins as an initiative.
It was also refreshing to see dive shop managers and their staff actively engage with the awareness raising materials and show a genuine interest in protecting the coral reef – their underwater 'office'. It was nice to watch the assessors work together with these dive centre managers to create positive action plans which each new operator will implement over the next 12 months.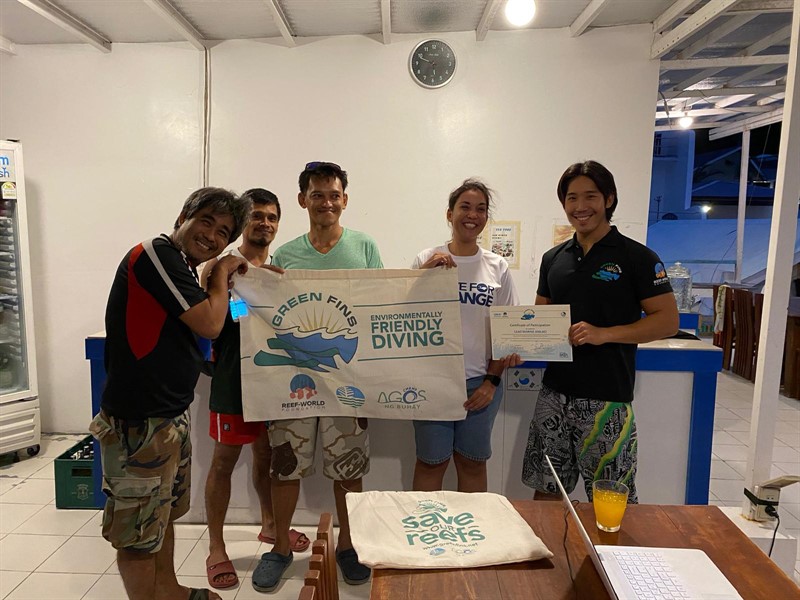 Overall, it was a positive outcome with four new Green Fins Batangas assessors certified, three new Green Fins members assessed, and a clear action plan in place to certify more new members in 2020.
You can find the current list of active Green Fins members in the Philippines here.
If your dive operator is located in Mabini you'd like to join Green Fins, please email batangas@greenfins.net with a completed membership form.