This December, Chloe and I visited Onna Village in Okinawa. Globally renowned for its marine sports, Onna Village recognises its coral reefs as the treasure of the island. The area has been working to protect its reefs for many years. Despite this, the island's corals are sadly dying. This is because of the effects of global warming and the village has recognised the need to do more to prevent further damage.
The Village of Coral
They're already well underway with their efforts. In July 2018, the mayor declared Onna Village as the "Village of Coral". He also announced the implementation of a new approach, strongly focused on conservation. This Sustainable Development Goals campaign is a pilot project aiming to show how sustainable tourism can play a part in reef conservation. It is one of 10 pilot conservation projects around the country, but the only one focusing on marine conservation! If the mission is successful – proving the value of sustainable tourism – the model has the potential to be escalated to a national level. A wide rollout would allow us to focus on uptake and expansion into other marine tourism and biodiversity hotspots across Japan. And, you guessed it, the campaign has chosen Green Fins as an integral programme to its mission.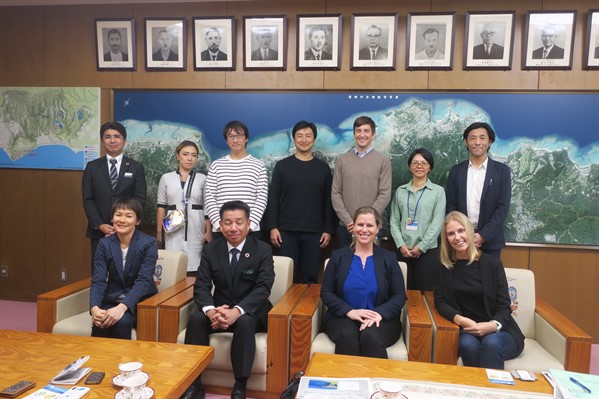 We're excited to be involved in this ambitious project. Our visit was a scoping trip to find out more and plan next steps. We were surprised by many things we learned about diving in Japan. In particular, the state of the diving industry. I had expected the Japanese diving industry to be highly regulated but this was far from the case. In Japan, diving is not officially recognised as a profession, so there is minimal industry regulation. There is a huge number of dive centres: around 2,000 in Okinawa and 200 in Onna Village alone. But, sadly, not all of these are operating at a high standard.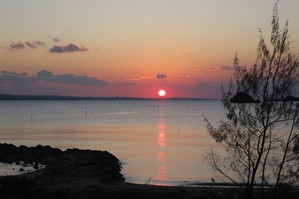 The challenge of unregulated tourism
Tourists often only stay one night in Onna Village and their average spend is relatively low. To try to capture this market, many dive centres push try dives rather than courses. They do this because the tourists don't stay long enough to complete the training. Operators drop their prices to make money by selling lots of cheap try dives rather than fewer, high quality fun dives. It can sometimes be cheaper to fly to Okinawa for a dive trip rather than diving on mainland Japan! This mass, unregulated tourism is a problem for the environment because of the damage caused by untrained divers and snorkellers. Cheap, low quality operators aren't prioritising the protection of coral reefs and the ocean; not to mention the poor service some tourists receive from lower quality operators.
Green Fins Japan
Green Fins implementation in Japan would provide practical solutions to many of the common problems faced in the area. It would also help to promote high quality diving standards in the country. Improving the quality of the diving industry through Green Fins would demonstrating the added value of Onna Village's tourism product. This, in turn, will encourage tourists to spend more time and money diving in the region. Generating more money for the community will also demonstrate the importance of sustainable tourism and encourage everyone to play their part in protecting reefs.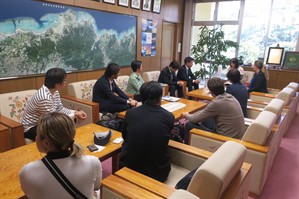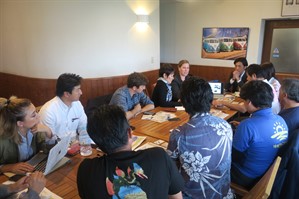 Green Fins also addresses specific issues faced by Okinawa's diving industry. For example, because fish feeding is a common practice, the behaviour of the fish has changed. The fed fish have become more aggressive towards tourists. Some operators are already displaying the Green Fins "No Fish Feeding" poster to try to educate their staff and guests about best practice. Face-to-face environmental awareness raising sessions could bolster this knowledge even further. The posters are free for anyone to download and use – because we want everyone to improve their environmental practices, whether or not they're a member – so it's encouraging to hear several dive centres in non-active countries are already using these materials.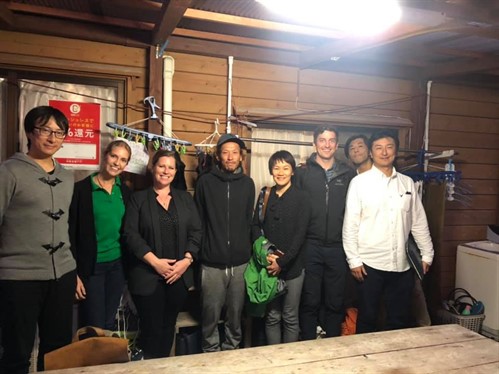 Launching Green Fins in Japan is a huge opportunity. While the implementation of the country often works through a top-down approach, starting from a national level, starting work at a local level can also be hugely impactful in the right circumstances. With Onna Village, we can start with a bang; working closely with the passionate stakeholders of the Okinawa dive industry who have already shown strong support for the project before expanding nationally once success has been demonstrated. It's incredibly exciting.
Reef-World previously visited Onna Village in 2013 supported by local NPO Okinawa O.C.E.A.N., where initial investigations into the applicability of Green Fins in Onna were conducted. Onna village was recommended as a suitable pilot site for Green Fins in Japan so we're excited to be able to continue progressing this work.
Meet Sunna
Before I go, I'd like to introduce you to Sunna: Onna Village's Coral Fairy Mascot. Her hair is made of coral – decorated with a clownfish and a crab, no less – and her bracelet is made of sea grapes, a local delicacy! And I am officially obsessed.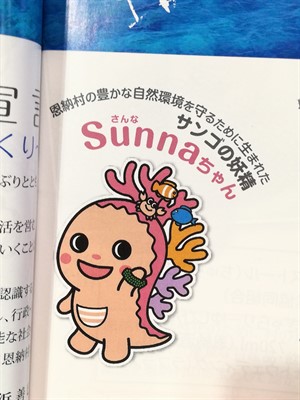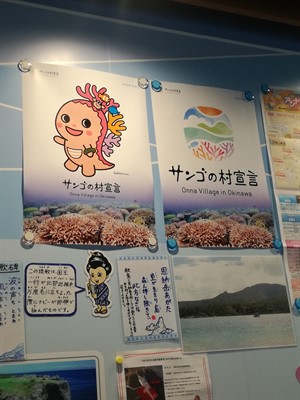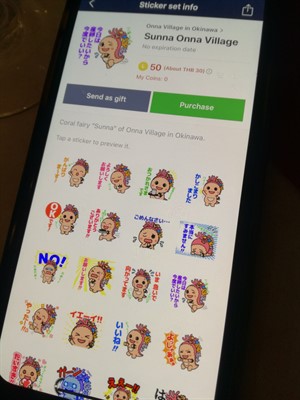 We hope to pilot Green Fins Japan in 2020 – keep an eye out for updates (and expect to hear more about Sunna) in the near future!
dive and snorkel operators can download the green fins materials in japanese here:
The Green Fins initiative isn't yet active in Japan but you can register your interest in advance by emailing info@greenfins.net with a completed membership form.