As the decade is coming to a close, the Reef-World team has been busy planning how we can push Green Fins forward in 2020 and beyond. Most recently, I visited Santo Domingo and Boca Chica in the Dominican Republic to work with the team there on next steps for our upcoming projects in the country. It's an exciting time for us as we plan for a ground-breaking new project which will inspire a generation of marine conservation Ambassadors for coral reef conservation in the Dominican Republic.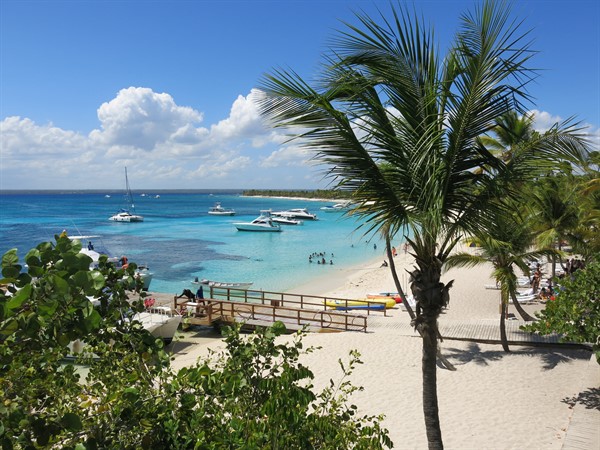 A collaboration between schools, NGOs (including Reef-World) and the government, this project will develop new curriculum content and awareness materials on marine ecosystems, their importance and conservation actions for students aged 14-18 in the Punta Cana region. As a result of the delivery of this strategic and tailored marine environmental education programme, we aim to create a generation of Young Ambassadors who will champion coral reef conservation projects and activities within their local communities. It is hopeful that at the end of this project, we will be able to influence the new national curriculum in the DR that will include such importance topics.
During my trip, I met with long-time partner of ours Reef Check Dominican Republic – which manages and oversees the Green Fins initiative in the country – to establish our next steps. We discussed which schools have already confirmed they will participate, which are interested and which we are yet to have discussions with. Feedback from Reef Check's meetings with the schools has indicated many of them think the content we intend to deliver will offer much needed environmental awareness. It's great to hear confirmation that our plans to strengthen marine environmental education content within the national curriculum will be welcomed by local schools and teachers.
We also discussed and developed the plans, logistics, materials and timeline for upcoming field trips and activity implementation. We also worked closely with a new member of the Reef Check team, who also happens to be a teacher, on the development of the new curriculum. In his experience, the environmental awareness content in the current curriculum is largely terrestrial; covering farming, agriculture and pesticides rather than marine ecosystem conservation.
With coral reefs providing food and livelihoods for many people in the Dominican Republic (80% of its 10+ million inhabitants live on the coastline), protecting this important natural asset is vital. So, our work to educate the country's young people, and improve their and their family's awareness of marine environmental issues, will provide them with the knowledge and solutions to reduce environmental impacts. As a result, this project will not only protect the environment in the Dominican Republic but also help to secure livelihoods and reduce poverty. Remember, the children of today are tomorrow's scientists, environmental managers and political leaders!
The other aspect of my trip was to build on the existing success of the Green Fins initiative in the Dominican Republic and increase awareness and membership further throughout the diving sector. We aim to do this by developing additional capacity and resources, through training, to help us better embed Green Fins within national frameworks. Additionally, strengthening our existing relationships with government agencies and NGOs will boost our work to provide low-cost, practical solutions to existing harmful practices in the marine tourism industry. Our plans for a recruitment drive to attract new Green Fins members in the Punta Cana region, as part of our expansion of the network, is one way we will foster environmental stewardship across the Dominican Republic's coastal tourism industry.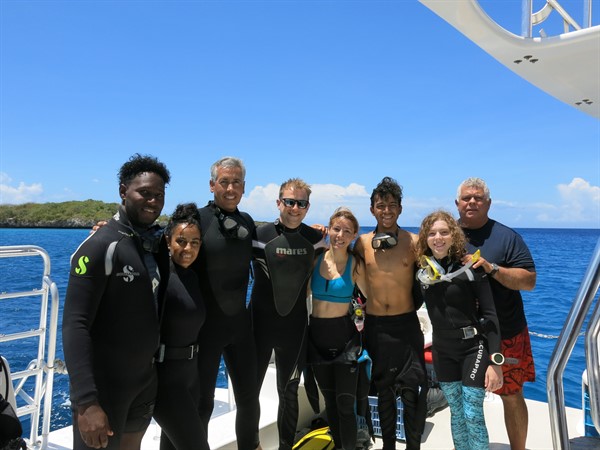 It's important to remember that Green Fins – a UN Environment Programme initiative which is coordinated internationally by The Reef-World Foundation – is all about educating and empowering local communities to protect their coral reefs. As such, buy in from government stakeholders is crucial. So, I was pleased to meet with our contacts at the Ministry of Environment to update them with the details of this new project and discuss their continued support. The Green Fins initiative delivers on the UN's Sustainable Development Goal 14 (conserve and sustainably use the oceans, seas and marine resources for sustainable development) for them so it's something they are very interested in continuing to support. As well as allowing their two existing Green Fins Assessors to continue undertaking assessments in the country, they also hope to integrate Green Fins more within their national frameworks. My meeting with Coastal Biodiversity and Tourism project (Proyecto Biodiversidad Costera y Turismo – BCyT) – a cross departmental project of the Ministry of Environment and Ministry of Tourism also involved in supporting the Green Fins initiative in the north of the country– was similarly successful, which is promising for future development.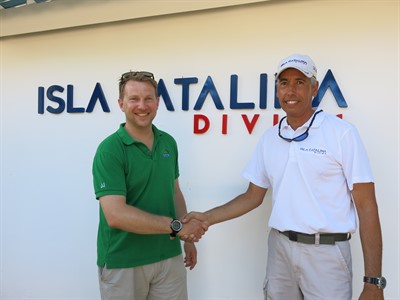 Lastly, support from the private sector is an important piece of the puzzle. That's why I spent some time meeting with dive centre owners – including Ocean Diving and Tropical Sea Divers – to discuss how Green Fins materials and training sessions have helped them better manage their guests and improve their environmental processes. Personally, I always enjoy seeing the positive impact of the initiative on individual dive centres as it is a tangible reminder of the difference we're making, one dive operator at a time! Tropical Sea Divers is in the process of making new mooring buoys for the local dive sites used by many operators, which was brilliant to see; particularly, knowing how much damage is caused to coral reefs by anchoring.
It's all moving in a positive direction in the Dominican Republic and I was thrilled to see how well the plans for our new project have come on already. I look forward to meeting the new marine conservation Ambassadors when I next return to the Dominican Republic next year.
Watch this space for more exciting news and developments around this new project and other activities from Green Fins Dominican Republic and its marine conservation ambassadors in the coming months!
You can find the current list of active Green Fins members in the Dominican Republic here.
If your dive operator is located in the Dominican Republic and you'd like to join Green Fins, please email dominicanrepublic@greenfins.net with a completed membership form.