Recently, studies have found chemical sunscreens may pose a threat to coral reefs and people have become more aware of reef-safe sunscreen options. The Green Fins Code of Conduct and assessment criteria now include reef safe sunscreen policies to ensure your business, as part of the Green Fins network, is following ICRI's guidelines regarding the impact of sunscreens on coral reefs. There are also new posters available to encourage your guests not to use potentially harmful chemical sunscreens and to explain why the Green Fins programme recommends reef-safe sunscreen behaviours.
Given this is currently such a hot topic, the team at Reef-World – which coordinates the Green Fins initiative globally in partnership with the UN Environment Programme – caught up with Caudalie to find out more about reef-safe sunscreen.
There's currently a lot of talk about reef-safe vs. harmful sunscreens – can you explain what makes a product reef-safe?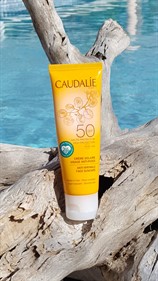 Formulas can be made safe by banning controversial suncare filters. This is exactly what we have done at Caudalie, by eliminating chemical filters suspected of being endocrine disruptors (such as octinoxate, octocrylene and nanoparticle filters) as well as the filters studies have shown may be toxic to the marine ecosystem (Oxybenzone and Octinoxate), which are suspected of killing thousands of corals every year.
Instead, Caudalie has selected four complementary filters, formulated at a lower dosage than the market average, which provide maximum SPF UVA and UVB protection. They are water-resistant, do not contain hydro soluble filters and are highly biodegradable, which is essential to protecting the marine environment.
Why was it important for Caudalie to create its range of reef-safe sunscreen products?
Every year, 14,000 tons of sunscreen are discharged onto coral reefs; as a result sunscreen, is receiving increasing amounts of criticism for the way it pollutes the seas and oceans. Caudalie recognised the need for reef-safe sunscreen products and developed an effective filtering system that does not compromise between protecting the skin and protecting nature.
What have been the biggest challenges when developing reef-safe sunscreen and how did you overcome them?
We have been working on a new generation of suncare formulas for several years. We examined one-by-one the 25 sun filters authorised in Europe. We eliminated the chemical filters suspected of being endocrine disruptors, such as octinoxate and octocrylene, nanoparticle filters (dangerous to breathe in) and the filters known to be toxic to the marine environment, oxybenzone and octinoxate, which may pose a threat to the marine ecosystem.
Furthermore, with my team of researchers from our laboratory, we file major worldwide patents on the latest state-of-the art anti-aging technology, inspired from medicine, to create the most effective skincare products. We worked hard to provide a new-patented antioxidant complex in our face suncare products, which combines three powerful active ingredients: Polyphenols, spruce and Vitamin E.
What other behaviours do you recommend tourists adopt to protect the marine environments they visit?
Individuals can make a conscious effort to not litter beaches, as man-made materials like plastic have a detrimental impact on ocean life. Also, to help combat this issue, many beaches welcome volunteers to help remove waste materials from the shore. And if you are going snorkelling, always be respectful of any wildlife near coral reefs, which are extremely vulnerable to damage from fins and feet!
What drew Caudalie to a partnership with Reef-World?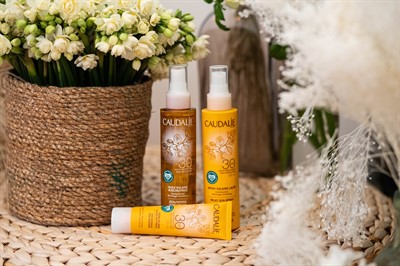 We wanted to take this launch to the next level and try to raise and much awareness as possible. It was the perfect opportunity to get involve with the cause contributing to make a positive impact through 1% For the Planet.
Caudalie is a member of 1% For the Planet; a global movement inspiring businesses and individuals to support environmental solutions by donating at least 1% of their turnover to associations that protect our planet. Caudalie is the first European contributor and the first cosmetic contributor worldwide.
At Caudalie, we believe education is the key to avoid future problems, and it is the base of Reef-World's philosophy, so it made sense to work together on something as exciting as protecting coral reefs through reef-safe suncare products, such as our new range.
What have you learned from your partnerships with Reef-World and 1% For the Planet?
We learned it is possible to go even further to work for the protection of the environment. We will surround ourselves with people who share same values as us. We have always been aware of ecology. We believe in a cosmetic that can be efficient and still very natural and ethical. Our brand has been based on those values since its creation.
This year, Caudalie's partnership with Reef-World brought the Green Fins initiative to Antigua & Barbuda – how does it feel to know you've helped a new country to protect its coral reefs through Green Fins?
We are so glad that we have been able to help, as the tourism industry has been steadily growing in Antigua and Barbuda. Therefore, the demand for best practice and standards when it comes to marine tourism activities is absolutely essential. We are very happy to help and are proud of this partnership.
---
A huge thank you to Caudalie from everyone at Reef-World – your support has made it possible to expand the Green Fins initaitive to Antigua & Barbuda; helping us in our mission to protect more coral reefs around the world through sustainable diving and snorkelling.
---
And don't forget you can download the new sunscreen materials from the Downloads page of the Green Fins website.