The Green Fins initiative hopes to reach 10,000 tourists in Antigua and Barbuda over the next year
The Reef-World Foundation – the international coordinators of Green Fins – is pleased to announce Antigua and Barbuda has become the first English speaking country in the western hemisphere to implement the Green Fins initiative. The country is the 10th government worldwide to officially adopt Green Fins and the second in the Caribbean.
Green Fins is a UN Environment initiative, internationally coordinated by The Reef-World Foundation, which aims to protect and conserve coral reefs through environmentally-friendly guidelines to promote a sustainable diving and snorkelling tourism industry.
Antigua and Barbuda, which has a population of just 100,000, received 285,000 overnight visitors and 1,000,000 cruise ship tourists in 2018. It is estimated there are over 30 businesses which provide either snorkelling or diving activities to these tourists. Reef-World hopes the initiative will significantly reduce the environmental impact on coral reefs by reaching 10,000 tourists in the next year.
The country now has a national team of 2 senior Green Fins Network leaders, 3 Green Fins assessors and 3 dive schools joining the global network of more than 560 trained and assessed Green Fins member dive and snorkel operators. Following a week of training by Reef-World, a national team comprised of the Ministry of Tourism and the Fisheries Division are now certified to recruit, train and conduct assessments of new Green Fins members in the country. This involves providing training about the ecology and threats to coral reefs, simple and local everyday solutions to these threats and Green Fins' environmental standards to dive and snorkel operators.
The newly trained Green Fins Assessors will be carrying out robust assessments to evaluate the environmental impact of dive and snorkel operators and providing one-to-one consultation to help the business develop and implement best practice to improve the sustainability of the marine tourism industry. The individual feedback and support provided – which includes practical, low-cost alternatives to common threats to the marine environment such as anchoring, provision of single use plastics such as plastic bottles and lack of awareness to existing rules and regulations – is based on each company's area of highest negative impact on the reef, as determined by the assessment.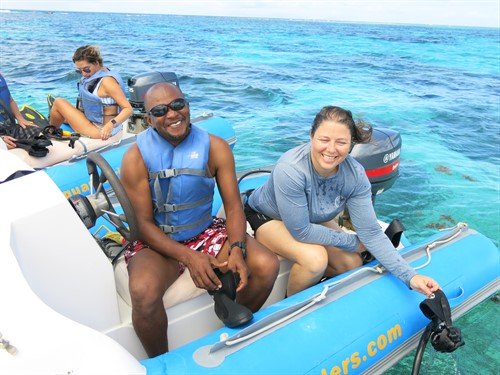 Green Fins provides the only internationally recognised environmental standards for the diving and snorkelling industry and has a robust assessment system to measure compliance. Reducing diving and snorkelling-related damage to sensitive marine ecosystems, including coral reefs, helps to make them more resilient to other local and wider stressors, such as over fishing or run-off from land containing pollutants and plastic debris as well the impacts from climate change, such as rising sea temperatures.
The newly qualified Green Fins assessors, who are now certified to conduct assessments of Green Fins dive centres in Antigua and Barbuda, are Trevor Joseph – Fisheries Division, Sophia Steele – Environmental Awareness Group / Fauna and Flora International and Akeem Daley – Ministry of Tourism. The dive operators who have already been trained and certified by the Green Fins initiative are: Antigua Reef Riders, Dive Carib and Jolly Dive. There has also been significant interest from other operators who have signed the Membership form and are looking forward to their training and assessment.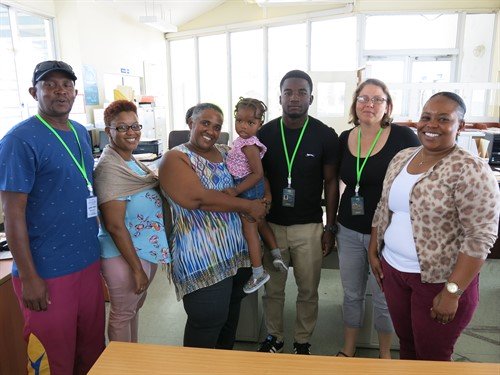 The implementation of Green Fins in Antigua and Barbuda was made possible through a partnership with the ethical cosmetic company Caudalie, facilitated by the 1% for the Planet movement. In addition to Caudalie helping the environment by dedicating 1% of its global sales to funding reforestation projects, the company has recently released a new reef-safe sunscreen range. By creating a range of sun care products which do not include the harmful chemicals Oxybenzone and Octinoxate, Caudalie is helping to increase the resilience of coral in areas of high tourism.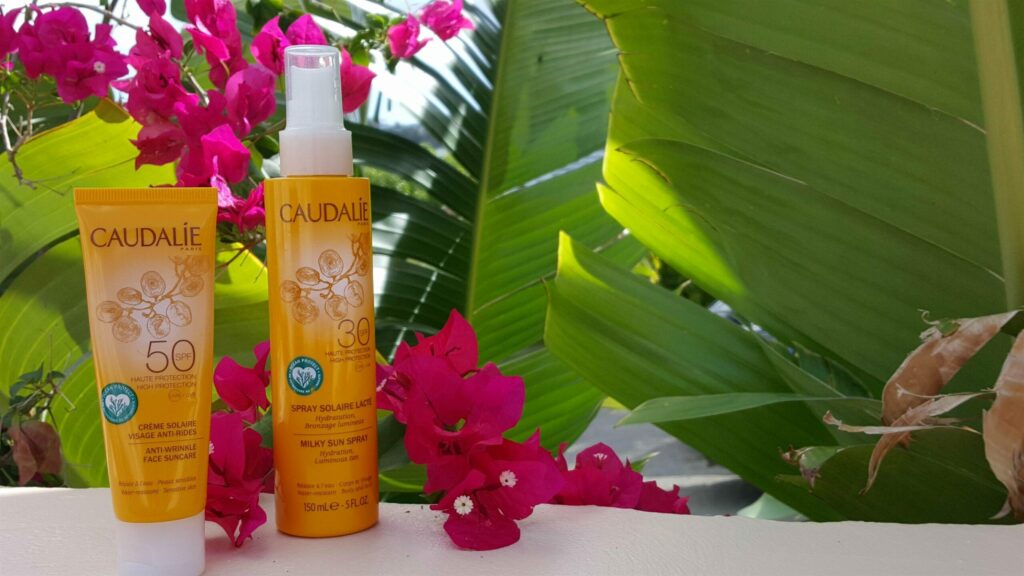 JJ Harvey, Director at The Reef-World Foundation, said: "We're delighted to have received the funding from Caudalie that now allows us to implement Green Fins in Antigua and Barbuda and ensure the sustainability of both the programme and the marine tourism industry. Tourism has been growing steadily for several years and the government has shown a strong desire to pro-actively protect the country's coral reefs and marine life through the implementation of Green Fins' best practices and standards. This funding that now makes expansion into Antigua and Barbuda possible will not only significantly improve the diving and snorkelling industry's conservation impact in the region but is also a huge step in the global expansion of the Green Fins network."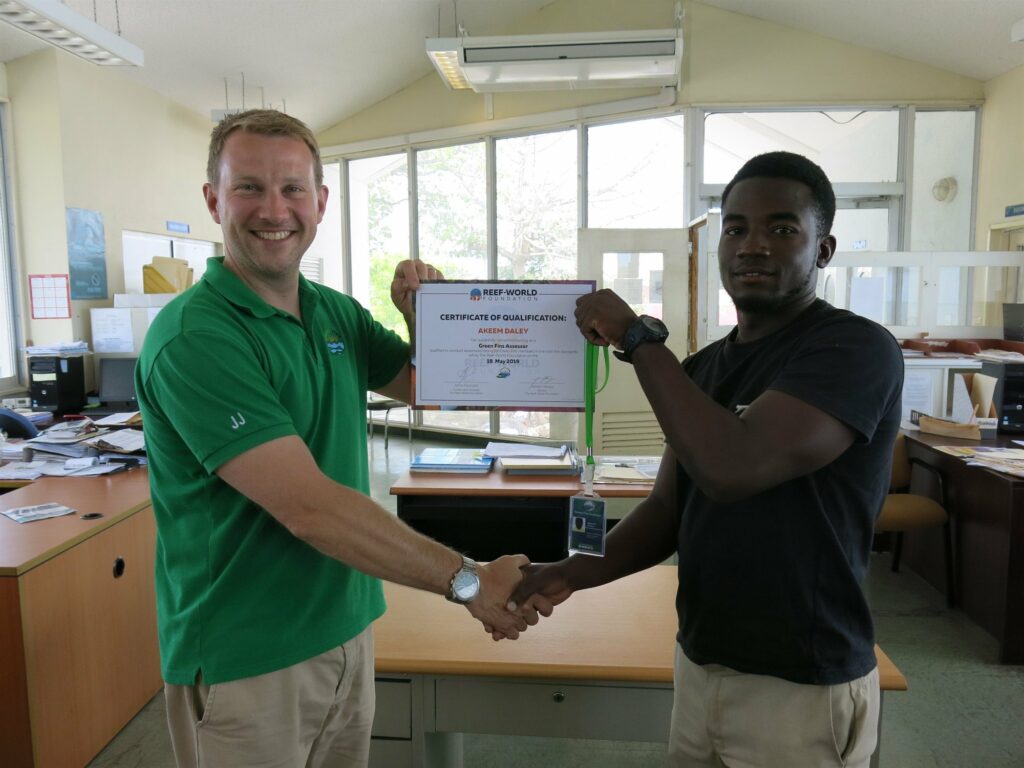 Hon. Charles Fernandez, Antigua and Barbuda's Minister for Tourism and Economic Development, said: "This is a tremendous opportunity. I really applaud the initiative. I congratulate the fisheries department for collaborating with us. It is very important for tourism but even more it is important for us as a people."
Vashti Casimir, Antigua and Barbuda's Senior Tourism Officer Responsible for Sustainable Tourism, added: "We're hoping that through this programme we'll have more diving and snorkelling businesses coming on board to ensure the practices across that industry remain environmentally friendly."
Tricia Lovell, Deputy Chief Fisheries Officer at the Fisheries Division, said: "We recognise our coral reefs are under a myriad of threats; not just from use but also from larger issues like climate change and so we figured it would be best to look at ways of improving the way we use the system. This week is just the start and a lot can come out of it and benefit the marine environment."
The funding to implement Green Fins in Antigua and Barbuda has been provided by the French cosmetic company Caudalie. The company has recently partnered with Reef-World through the 1% for the Planet movement thanks to consultative advice Caudalie received from PUR Project.
For more information, please visit www.reef-world.org or www.greenfins.net.