The Green Fins initiative aims to protect coral reefs through environmentally friendly guidelines that promote sustainable diving and snorkelling. Green Fins is the only internationally recognised environmental standards for the diving and snorkelling industry.
Green Fins helps dive and snorkel companies improve their sustainability practices by identifying harmful practices – such as anchoring, fish feeding and chemical pollution. It then offers practical, low-cost alternatives to these harmful practices. The programme also provides strategic training, support and resources to help businesses reduce their environmental impact.
To find out more about what it's like to be involved in the Green Fins programme, the Reef-World team – which coordinates the Green Fins initiative in partnership with the UN Environment Programme – spoke to Matt Reed from Evolution, Malapascua. Evolution has been a member since 2014.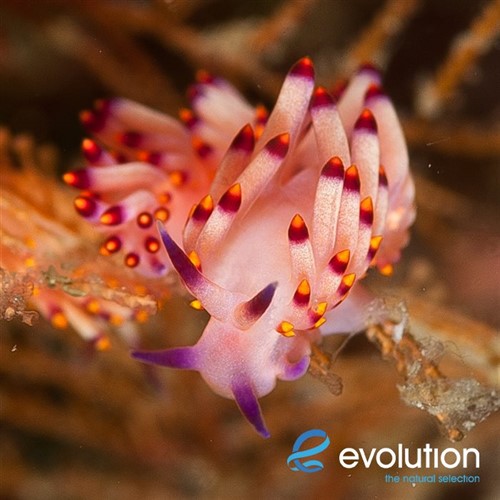 Why is sustainability so important to Evolution malapascua?
Evolution has been at the forefront of environmental awareness movement on the island since its inception. The resort has a long practice of reducing its impact on the environment. It has been leading social movements to educate and rally with the community to protect the island's natural beauty. Starting its environmental friendly operation and spreading it to the community has proven to be an effective method for improvement. There have been changes in people's perception and attitude towards dealing with the problem on garbage. At last, slowly, we are starting to see more people understand why everyone needs to do their part.
Evolution prides itself in being a role model. That is why we do frequent reef clean ups and teach Green Fins diving standards.
What do you feel are the main benefits of actively working towards sustainability?
For us, it's ensuring business continues to be feasible due to the continued existence of marine life. Customers respect that and choose us as a result.
How do you inspire the staff at evolution malapascua – especially those who aren't dive guides – to feel ownership over the ocean?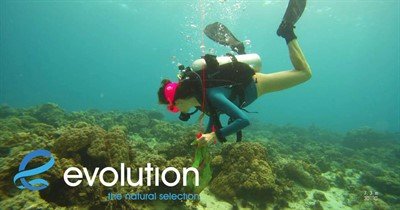 Here at Evolution Malapascua, we encourage everyone to explore the magical waters surrounding Malapascua. Many of our local staff have lived their entire lives on Malapascua without having the opportunity to venture into the big blue. It is our philosophy that, as Evolution develops, our hard-working staff should also have the opportunity to develop their careers in diving. So, as soon as we have a little downtime, our instructors love to get staff involved in PADI's Discover Scuba Diving programme. This is a fantastic way to explore our shallow reefs and build confidence in the water.
Albert, one of our ever-smiling boat crew, and Nico, the unsung hero of compressor ops and gas blending are on their way to gaining divemaster certifications. They will then be able to join our fantastic team of eagle-eyed dive guides. Thea, our Assistant General Manager, also tried Discover Scuba Diving and eventually went on to conquer the PADI Open Water course, soon to be followed by the PADI Advanced Open Water. It is great that Thea can now chat to our guests as a diver too!
Fighting plastic pollution is a challenge on Malapascua. Can you tell us about the single-use culture on the island?
The proliferation of single-use packaging for smaller items is very common amongst small island communities. This is because the buying power of its residents is much less than that of the city residents who can buy in bulk and big containers. The culture of "tingi", or portions, has been a constant remedy for people who can't afford to buy big containers. They range from cooking oil to a single piece of dried fish. This dependence on single-use plastic has been passed on from generation to generation. It is one of the hardest habits to break.
What measures has evolution malapascua taken to fight plastic pollution?
Evolution not only tries to keep the ocean free from debris, we also fight the use of plastic by not using plastic straws or selling plastic water bottles at our in-house restaurant, The Craic House. Instead, we encourage our customers to use non plastic reusable water bottles that we happily refill for you.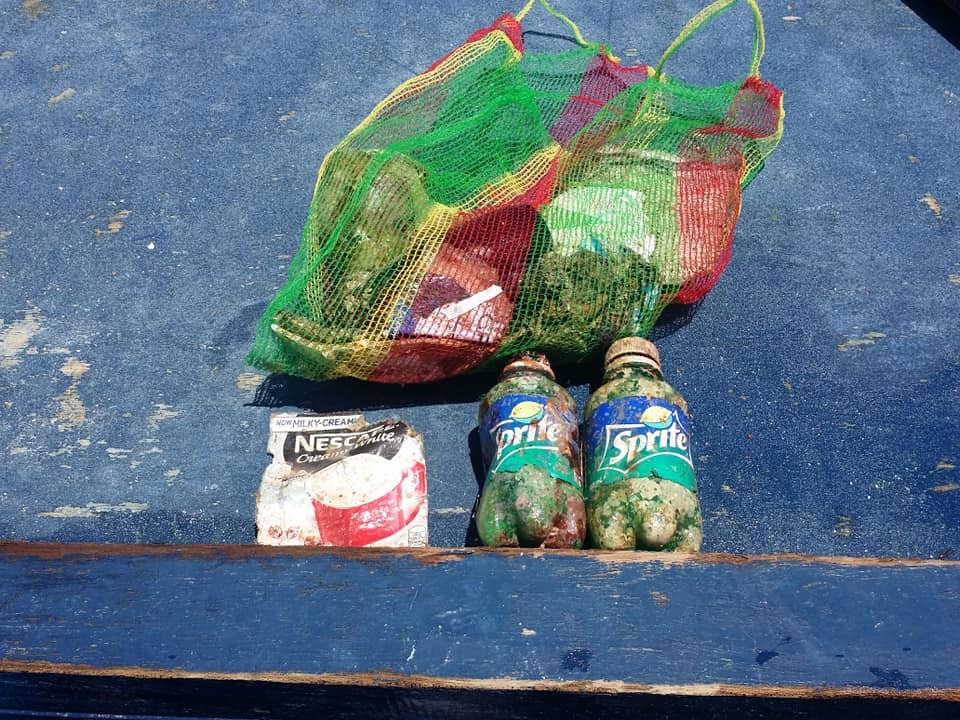 Evolution often says "every dive is a clean-up dive" – how do you instill this mentality in the guides and guests at evolution malapascua? 
Our philosophy here at Evolution is every time we dive, we can do something for the ocean. The instructors and dive guides at Evolution carry a mesh bag on every dive. This is because it's not only on designated clean-up dives that we should remove litter from our ocean. With our slogan "Every dive is a clean-up dive" we encourage our customers to help us by pointing out litter. Our guides and instructors can then pick it up and remove from the ocean. That way we also make sure it gets disposed of in the correct way.
You took part in the 2019 International Coastal Clean-Up Day. Why would you recommend dive centres take part?
What makes this activity unique is that the volunteers don't just pick up the rubbish. They also have data cards to count each item collected. They then record the details in a standardised data card. As a result, a detailed analysis by scientists and conservation experts is presented to world leaders. It helps provide hard and pressing evidence to reduce single use plastic globally.
This will hopefully encourage more protection of the world's oceans. This is essential to help keep them clean and healthy for the continued success of all the species living there, as well as us humans living on the land. The clean-up is also a way to educate the community about ocean pollution. In this way, it creates a culture of volunteerism and cleaning that will carry on for the generations to come.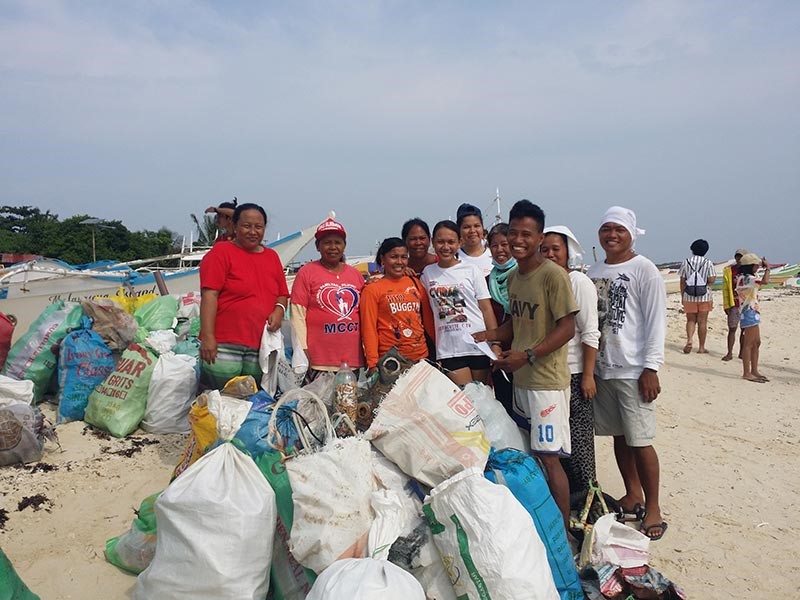 Which changes implemented as a result of your Green Fins membership are you most proud of and why?
Generally, the overall quality of our dive guides and instructors. Also, having everyone get on board with the philosophy. We're proud to be doing well under the Green Fins system.
Did you meet any challenges or resistance along the way? If so, how did you overcome these problems?
Some customers hate being told no gloves and no pointing sticks – photographers are particularly hard. It's one of the most challenging parts of trying to get people to understand their own impact on the environment. We try to explain that the areas are Marine Protected by the government. Therefore, the rules come down from above. That removes our ability to make allowances or change the policy.
The no gloves policy is easiest. Very few people can present a solid reason why they "should" wear gloves when the water is tropical. So, unless they have some odd medical reason, if they don't touch anything there is no reason for gloves. And, obviously, they aren't allowed to touch anything. YouTube Video https://www.youtube.com/watch?v=k22RgSJPtT8
For the sticks, people basically have to admit they have weak buoyancy control – especially photographers. It's hard to explain to people that the reason they 'think' they need the stick is because their personal diving skills are not as good as they think they are, or as good as they could be. Most people are not interested in investing time in improving their skills. Most believe themselves to already be rather good! So, our dive guides leading by example is critical. They need to show these people they could be better and then would not need the stick.
Do you think dive centres can help each other overcome these types of challenges?
Yes – the more all dive shops in the area adopt these policies, the easier it becomes. That way, there is nowhere for people who don't want to follow the rules to go!
It's especially important in the current climate of social media and TripAdvisor reviews. If the dive shop is acting alone and being criticised online, they might back off enforcement to protect their online presence: getting a 1-star review from a disgruntled diver is bad for business! If the local government is the one to implement the no glove / no stick policy for dive centres to then enforce, it makes it much easier. For us, being able to say we have a local ordinance from our LGU preventing gloves and sticks is critical to its success.
What are you working on improving now?
At the moment, we're currently working on reducing the impact of boats due to engine types.
How have your efforts to become more sustainable impacted your business? How have customers responded?
Customers love it! And we can feel proud of doing as much as possible to help conserve the marine environment.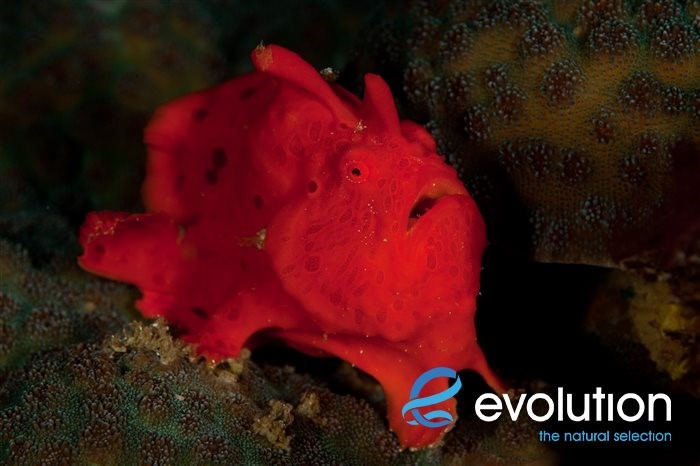 ---
Dive and snorkel centres operating in active Green Fins locations can become members by signing the membership form and pledging to follow the 15 environmental practices of the Green Fins Code of Conduct. Active Green Fins members are then trained, assessed and certified annually by qualified Green Fins Assessors.
For more inspiration on how your dive operator can become more sustainable, look out for Reef-World's Sustainable Diving Events at ADEX Singapore.