Green Fins Timor-Leste: a scoping trip
In December 2019, James Greenhalgh and I had the opportunity to conduct a scoping trip to one of the world's newest countries: Democratic Republic of Timor-Leste. Fully independent since 2002, Timor-Leste (aka East Timor) has gone through centuries of colonisation from the Portuguese and more recently, and violently, Indonesia. Its novel status as a country, its remote location and the resulting lack of infrastructure has hindered the country's industrial and economic growth. On the other hand, this has protected much of the natural resource from exploitation. Thus, making it home to some of the best diving in the world.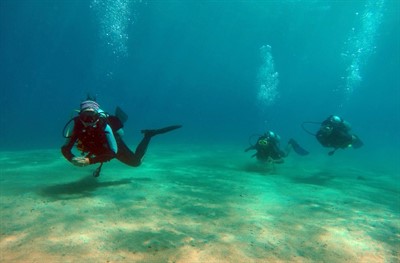 Amazing visibility on the reef's edge during a skills dive
Timor-Leste is one of six countries part of the Coral Triangle Initiative on Coral Reef, Fisheries, and Food Security (aka CTI-CFF, or CTI). This is a multilateral agreement to collaborate to protect the cradle of the world's marine biodiversity: the Coral Triangle. Three CTI countries are already actively using Green Fins (Indonesia, Malaysia and the Philippines). Timor-Leste will be the fourth and just in time too.
Timor-Leste's focus on marine tourism
As the Timor-Leste government looks to diversify from oil and gas – currently its primary industry – all eyes turn to tourism. Specifically, marine tourism is an obvious selling point. The reefs around Atauro Island, off the coast of capital Dili, are world-renowned. Plus the dive sites off the mainland are varied and highly biodiverse. Timor-Leste forms part of important migratory routes for cetaceans, including pygmy blue whales, and is one of the few remaining spots to spot the endangered Dugong!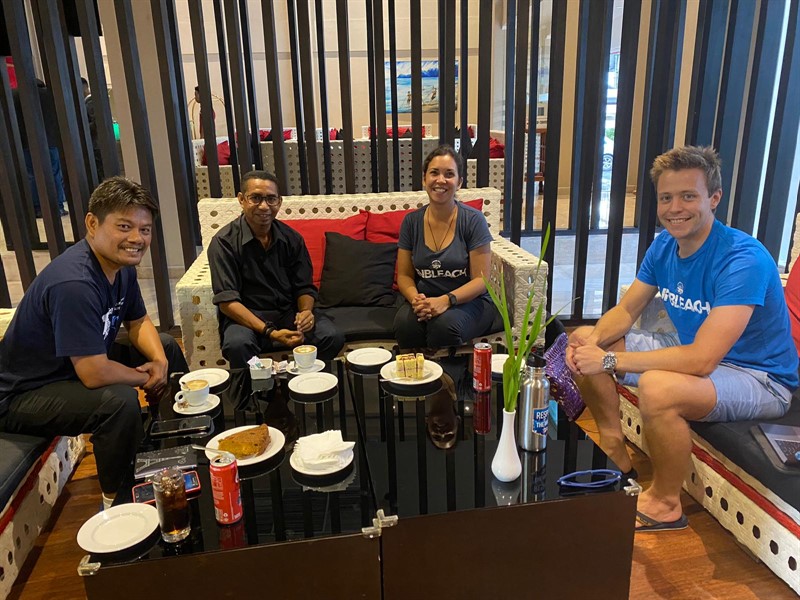 National Director of Fisheries meeting with CTC and RWF.
There are currently only two flight routes into the capital city Dili – from Bali, Indonesia, or from Darwin, Australia. We were told the flight from Bali is the world's most expensive flight per km! Not great for growing a tourism industry but all that will change. There are several development agencies working in the country to improve infrastructure and create more enabling conditions for businesses to set up and start running. Implementing environmental standards for tourism is critical to maintain the valuable ecosystems that will serve as the main tourist draw to the country.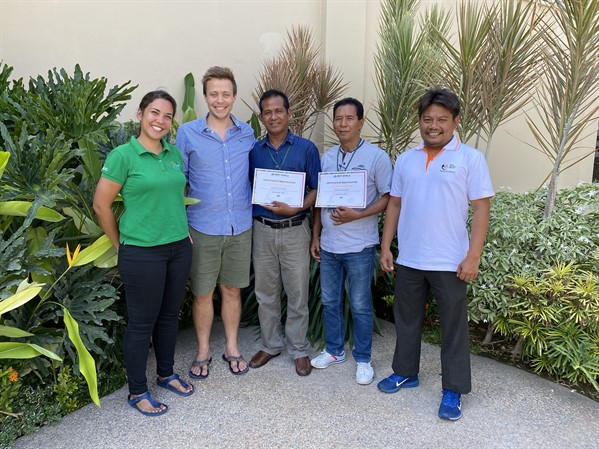 With the future Green Fins Timor-Leste team
Reef-World's visit to Timor-Leste
Reef-World coordinates the Green Fins initiative internationally in partnership with the UN Environment Programme. Our implementing partner in Indonesia, the Coral Triangle Center (CTC), is an NGO supporting CTI countries in marine conservation. It leads Green Fins Indonesia with the Indonesian government, and is helping establish Green Fins Timor-Leste with the Ministry of Agriculture and Fisheries (MAF).
On our trip, we sounded out the conditions and potential opportunities for running Green Fins Timor-Leste. It's a similar process in every country we bring Green Fins to: How will the government adopt it? Who will pay for it? Which department will the assessors come from? Can they dive?! Are the industry interested in Green Fins? What environmental laws exist? Are they enforced? What are the existing threats? Are there any solutions in place? Are there any associations that want to be involved? Who are the champions already working on the ground and can Green Fins support them?
We had an intense week of meetings with the MAF, dive shops, the marine tourism association, the Ministry of Tourism, Industry and Commerce, and various development agencies and NGOs to get a lay of the land, even squeezing in some time for capacity building for MAF staff and assessing two new members! With the foundations laid, I'm excited to see how Timor-Leste uses Green Fins as a precautionary tool to manage marine resources before large scale tourism impacts hits. Watch this space for more developments as we work with Timor-Leste to protect a true coral triangle treasure.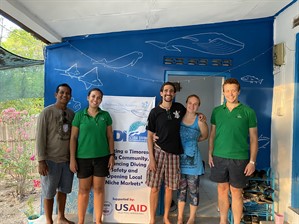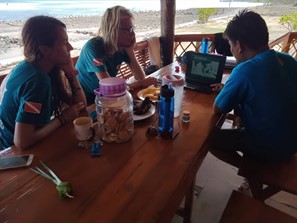 Congratulations to the first Green Fins members in Timor-Leste: Dreamers Dive Academy and Compass Diving