With Reef-World and the UN Environment Programme's Green Fins active in 11 (and counting!) countries globally, there are lots of sustainability journeys to share. Each active country is at a different stage in the programme's implementation.
We know from experience that sharing our stories, successes and challenges is one way we can streamline progress. This was particularly evident during the recent Assessor Exchange programme between Malaysia (Reef Check Malaysia) and Indonesia (Coral Triangle Center). During this week, the two Green Fins teams spent a week conducting joint assessments and learning from each other. Today, it's Green Fins Indonesia's turn to take the spotlight…
Indonesia – a renowned diving destination – has a booming marine tourism industry. Divers come from around the world to experience its muck diving, zipping currents and the chance to see mantas and molas. While Indonesia's diving generally is spectacular, Bali has long been known as a particular hotspot for divers. What's more, Bali's dive industry is particularly passionate about coral reef protection and reducing threats to the marine environment.
2009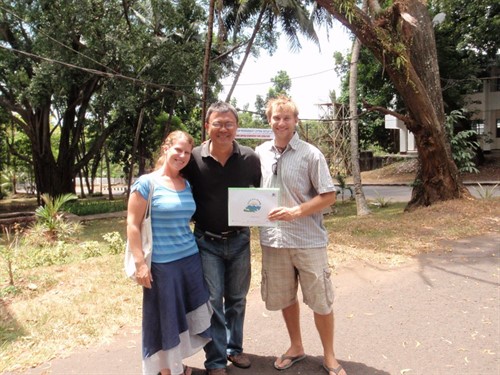 Indonesia first had a taste of the Green Fins initiative in 2009. This was when Reef-World tested its newly designed Assessor Training Programme in Manado through the Ministry of Environment. The team learned many lessons during this pilot. Individual champions in the Ministry were very positive about the initiative. However, Reef-World realised long-term success would be a challenge without institutionalising the Green Fins programme. At this time, the Ministry of Environment wasn't at the stage where they were able to integrate Green Fins into their national programmes.
This meant that the initiative couldn't take hold in Indonesia at this time. However, as a result, it shaped the way Reef-World worked with government partners. We needed to find the right partner with the knowledge, capacity and contacts to implement Green Fins; and a clear plan to allow these champions to include the programme in jurisdiction, to guarantee ongoing support and success. Government capacity can often be a challenge which is why we often work in partnership with local NGOs. This was the case for Indonesia too. In this instance, could we find a suitable NGO to be our champion and help us with a successful launch?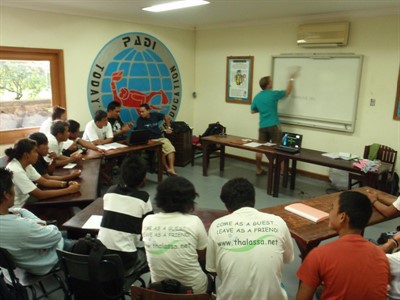 2017
Fast forward to 2017 and the pieces of the puzzle – some of which had been missing – were falling into place. A suitable implementation partner came about in the form of renowned Bali-based NGO Coral Triangle Center (CTC). We'd met the organisation back in 2015 when CTC had identified Green Fins as a means of delivering on sustainable tourism and MPA programmes. In August 2017, Reef-World's Director JJ set up a scoping trip. During his visit, he met with two members of the team: Marthen Welly and Wira Sanjaya (Jaya). The meetings (and dives!) went well and, together, Reef-World and CTC developed a long-term plan for Green Fins Indonesia…
2018
In partnership, the Ministry of Marine Affairs and Fisheries (MMAF), the Bali Professional Divers Association, Reef-World and CTC re-launched Green Fins Indonesia in Bali in 2018. Membership was available for dive shops in Sanur, Kuta and Nusa Penida. As soon as Marthen and Jaya were trained as assessors in January 2018, we knew we'd made a great choice. They were naturals! Both Marthen and Jaya were quick to see the value of Green Fins as a management tool. They clearly recognised the opportunity to build stronger, more collaborative relationships with the diving industry. In response to their passion and expertise, the island's dive and snorkel operators were incredibly receptive to the environmental changes being asked of them. It's not just in Indonesia that governments can be surprised when they hear how willing the industry is to assist in improving sustainability measures. This is a common theme with Green Fins rollouts.
Keeping up with high demand
The Green Fins team in Indonesia is incredibly busy. Since their assessor training, they've been focusing on keeping up with the high demand from dive centres in Bali and Nusa Penida. There are around 150 dive centres in Bali alone. Many of those have a strong interest in conservation and sustainability. As you might imagine, the assessors' inboxes are bursting with requests for membership from all around the country. Marthen and Jaya – already busy with their CTC work – often have to squeeze in assessments during weekends to meet demand. When prospective members realise how many other operators are also on the waiting list for their assessment, while we're building tam capacity, they're usually happy to wait. They can always get started with the free Green Fins resources in the meantime. As you might expect, they are always very grateful when they can be assessed and become members.
One of the key strengths of the Green Fins network is that the same approach can be effective for different situations across different locations. What's more, knowledge exchange is extremely powerful. Whether it be individual dive operators, corporate partners or – as in this instance – national teams of active Green Fins countries, sharing challenges, successes and learnings is a sure-fire way for all of us to help each other in our sustainability journey.
2019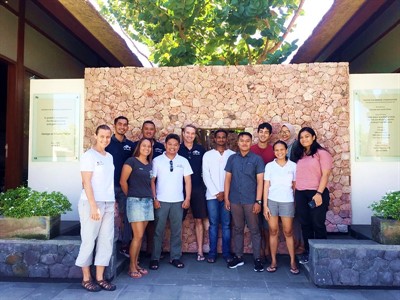 That's why, in May 2019, The Reef-World Foundation completed its first ever Assessor Exchange programme. Newly certified Green Fins Assessor Trainer Alvin Chelliah, from Reef Check Malaysia, spent a week visiting Marthen and Jaya. The two teams conducted Green Fins assessments and trainings for three dive operators in Bali. They also hosted a workshop during which they discussed and shared their experiences. This helped them to see how they could help each other learn and improve their processes.
Speaking of the exchange, Marthen said: "There were lots of lessons learned from Green Fins Malaysia in terms of implementation assessment and training, management of members, dealing with critical issues, program expansion and assessor recruitment as well as working together with government and dive centres."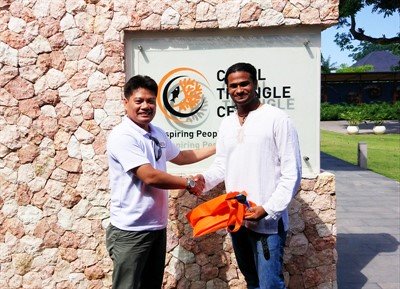 Now, plans for Green Fins' expansion across the country – to meet the high levels of demand – are well underway. Both the number of assessors and the number of destinations reached are due to increase over the next few years. The first step towards this was a new assessor training session in Ambon – part of Indonesia's Maluku Islands – in October 2019.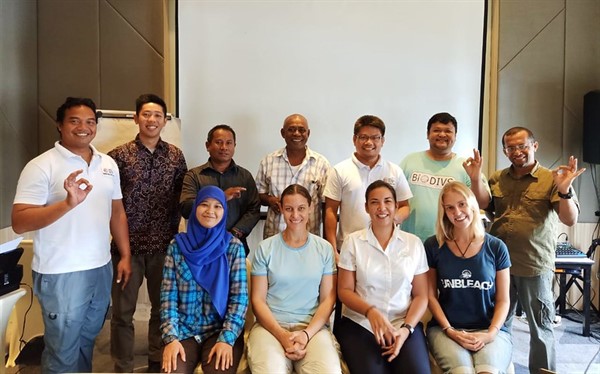 The new assessors are each from different regions in Indonesia, including Ambon itself. This dive destination is rapidly growing in popularity. This is because it's the only place in the world you can see the psychedelic frogfish (Histiophryne psychedelica). That's why it was important for us to implement Green Fins while the destination is still developing. By reaching the Ambon dive industry before it gets too big, Green Fins Indonesia can set the bar for environmental standards. This will help make sustainable diving practices the norm in the area. Similarly, in time, our new assessors will help us reach dive shops in Jakarta, Maluku, North Maluku and West Papua.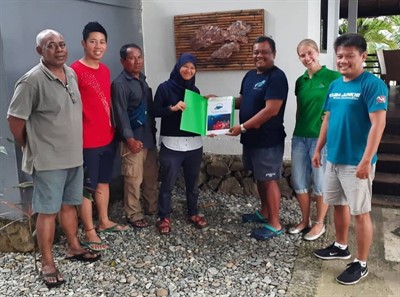 2020
2020 started off strong for the growing Green Fins Indonesia team with lots of training sessions and assessments underway. Reef-World team member Mel also visited some Green Fins members in Bali, Nusa Ceningan and Nusa Lembongan to discuss how the Reef-World team can help the global Green Fins network better market their membership.
Unfortunately, as a result of the COVID-19 pandemic, on-the-ground activities associated with the project had to be put on hold from March 2020. Some assessments were able to resume towards the end of the year and the team is working hard to get back into the field to meet membership demands (for both existing members and those who have signed the membership form and are awaiting their assessment) very soon.
The Green Fins Indonesia national team also kicked off a Green Fins Indonesia Facebook page to keep dive and snorkel operators in the country updated on the programme's latest tools, materials and developments. You can follow the page here.
Coming soon….
It's an exciting time for Green Fins Indonesia. Despite the challenges we always face when rolling out Green Fins, we're confident about continuing the momentum that is well underway. It's great to see continuing interest and we're working hard to find funding and build capacity to meet these levels of demand.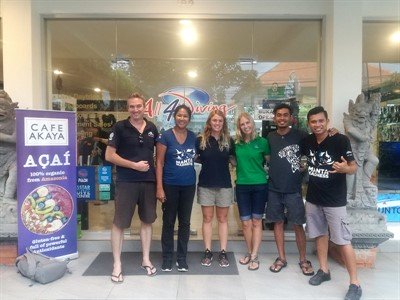 ---
You can find a list of active Green Fins operators in Indonesia here.
---
If your dive or snorkel operator is located in Indonesia and you'd like to join Green Fins, please email indonesia@greenfins.net with a completed membership form.
dive and snorkel operators can download the green fins materials in bahasa indonesia here: