Each member of the Green Fins network has their own unique sustainability journey. Yet, while local context of some of environmental challenges might vary, operators often find themselves facing similar issues. It doesn't matter where they are in the world.
Being part of the Green Fins network means you can benefit from strategic training, support and resources to help you reduce your environmental impact. You can also learn from other members who have overcome similar challenges. This might include finding a suitable alternative to anchoring, reducing chemical pollution or persuading customers not to use chemical sunscreens.
That's why Reef-World (the charity which coordinates Green Fins globally in partnership with UN Environment Programme) is shining a light on members' stories. By learning about improvements others have made, you might be inspired to implement simple, low-cost solutions in your dive shop.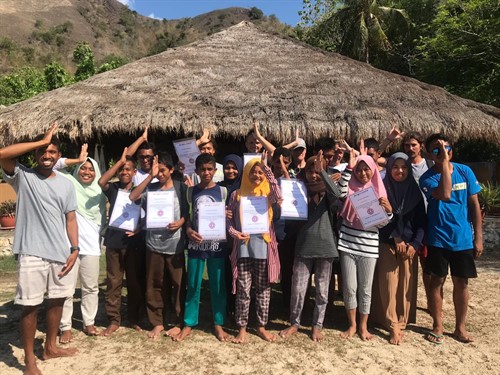 We gathered together a few of the Scuba Junkie crew to hear about their work to improve sustainability through Green Fins. You'll hear from:
David McCann from Scuba Junkie Mabul (which has been a member since 2014),
Awie Adlie from Scuba Junkie Kota Kinabalu (a member since 2016)
and Lydia Daniels from Scuba Junkie Komodo (which joined in 2018)
as well as Dani Drury from Scuba Junkie Penida
and Max Steffensen from Scuba Junkie Sangalaki (both of whom are following the Code of Conduct but haven't yet been officially assessed).
First off, can you tell us a little bit about Scuba Junkie's attitude towards conservation?
David: "Conservation of the local environment, both above and below the waves, has been at the heart of Scuba Junkie's ethos right from our inception in Semporna in 2004. We believe that, as divers and snorkellers, we are fortunate to experience the joy and beauty of the underwater world. And, with this, comes a duty to protect and conserve.
"As a dive operator, this is not just a moral obligation, but also a sound business decision. From a moral perspective: we love diving. So, we should do what we can to protect the reefs. Plus, being sensitive to the needs of local communities whose livelihoods and sustenance comes from the reefs on which our operations are based. For both now and for the generations in the future. From a business perspective, we want our operations to continue to exist so we need to take care of the reefs. Healthy reef means healthy business.
"This responsible, sustainable ethos started with our MBR resort and dive operations. It carries right through to the other dive resorts in South East Asia. It is also prevalent in the work of Scuba Junkie SEAS, the dedicated conservation arm of the dive centre."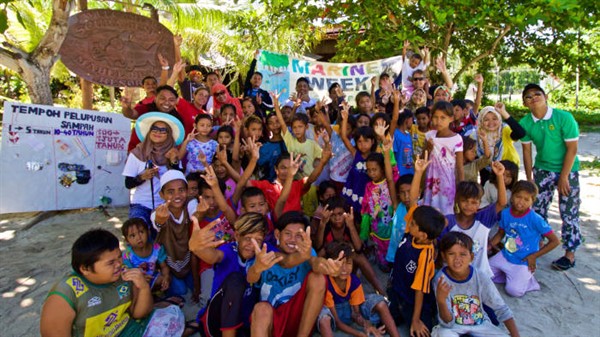 What do you feel are the main benefits of actively working towards sustainability?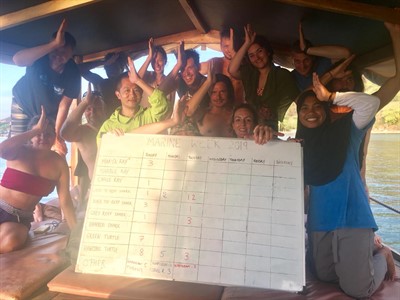 Awie: "To protect and conserve our coral reefs around the world, which will also increase tourism and help local communities create an income."
Lydia: "Working sustainably means protecting the natural world we live in for generations to come. There are many benefits to this, one of them being that it ensures we engage with the local communities, forging strong relationships and creating opportunities. Ensuring the resort and diving is run in a sustainable manner means the children of our dive staff, our captains and our resort crew will get to enjoy this area for many years to come."
Max: "By working towards sustainability, we can improve the circumstances for everyone involved: the environment, the local communities and the income generated through tourism. Being sustainable is not only a goal for the benefits provided, but also a responsibility for the world we live in."
Dani: "Also, many travellers now actively seek out operators which have better environmental practices. This benefits both us and the reefs!."
What challenges have you faced along the way?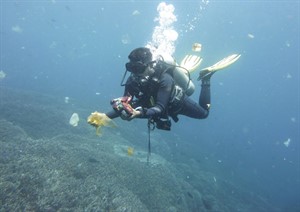 David: "From a practical point of view – obtaining reef safe sunscreen is not easy, surprisingly, in Malaysia. Getting our suppliers to stop sending us everything in single-use plastic bags took quite a while!"
Dani: "One of our challenges was to change the way Balinese offerings were delivered to us. Plastic bags are the norm here. It took quite a while to explain WHY we wanted them to use Tupperware boxes instead. Working closely with our local resort staff was a big help to communicate with our neighbour who makes the offerings."
Lydia: "We have found people who are resistant to using reef friendly sun cream or upset they can't wear gloves. After discussing and explaining the reasons for these rules, customers are always happy to adhere to them. Once they understand it is about protecting the marine world people become much more receptive. The Green Fins posters that we have on the boat have been an extremely valuable tool when we want to explain the reasons behind having such restrictions when diving and snorkelling."
David: "It helps when you explain your reasons for doing something – just telling people 'no!' doesn't work. Explaining why and engaging in conversation about it, goes a long, long way. This is why the Green Fins posters are so useful. They help us explain it's not just Scuba Junkie being eccentric or difficult. It is (or should be) an industry standard. It is also fantastic that they come in so many different languages."
Which changes implemented as a result of your Green Fins membership are you most proud of and why?
Lydia: "After our initial Green Fins Assessment in 2018 we worked hard to reduce our use of chemical products. It has been a challenge to find products that work well and to break the habits of people wanting to use harsh chemicals that are easier to use. The way we implemented these changes was to have workshops with our local staff. We provided them with information about why it is beneficial to use natural based products. Staff have then passed this information onto their families. We hope there are changes being made in local communities to use fewer chemicals as well."
Dani: "Last year, with the help of Scuba Junkie SEAS (Green Fins member Scuba Junkie Mabul) we pledged to phase out single use plastics at the resort. So far we have made lots of swaps. These have included removing plastic wrapping from our T-shirts (after talking to our supplier), not selling plastic bottles (we are a free refill station for drinking water), no plastic straws, changing to paper wrapped toilet rolls instead of plastic, using natural soap nut liquid on the boat for cleaning masks, switching to Tupperware boxes for our daily offerings (which previously came each day in a plastic bag) and only using re-usable bags for resort shopping as well as making our own snacks and jam instead of buying packets from the store."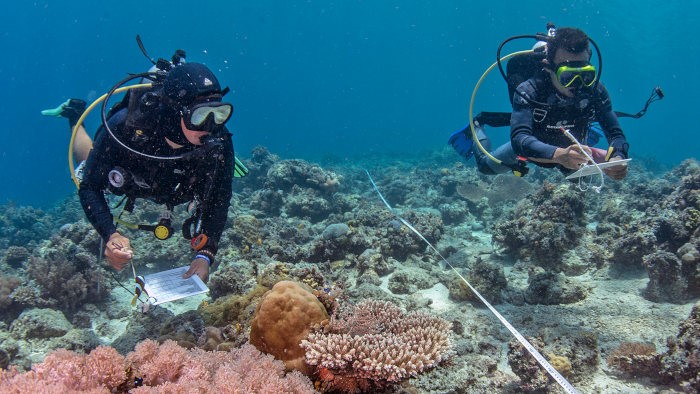 As a Top 10 Green Fins member, Scuba Junkie Mabul is known for going the extra mile for the environment. What other processes have you put in place?
David: "Our resort has solar power for electricity and solar-powered showers. We have also installed a European grade sewage treatment system. It takes waste and grey water to make fertiliser and water, which is used in our gardens. Also, we have zero waste/efflux into the marine environment."
What are you working on improving now?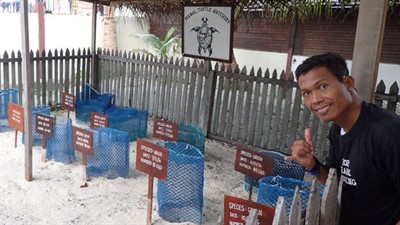 Max: "Right now, we are working with MMF and Yayasan Penyu Indonesia (YPI) to improve the database and knowledge on manta rays and turtles in the local area."
Awie: "We're working on improving our records to collect more data on shark & ray counts. Also, thinking of more ideas of how to recycle the marine debris we find."
Lydia: "When it comes to sustainability and conservation there are always improvements to be made and new projects to develop. We are very fortunate in the Komodo area to have a fantastic dive community called DOCK. Dive companies come together to work towards protecting the marine world and ensure that communities are part of the solution of sustainability."
Dani: "We would like to try and source bulk buying / zero waste shopping for the resort. Also, we would like to start stocking reef safe sunscreen.
How have customers responded to your sustainability efforts?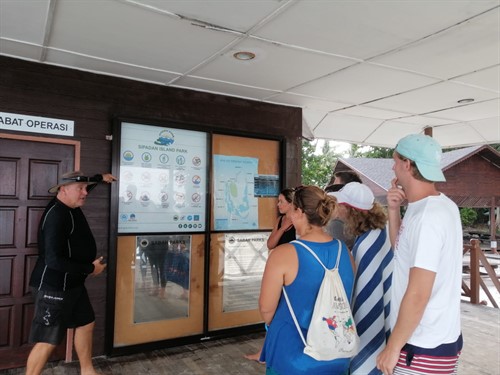 Awie: "Our customers are very happy that we follow these practices; I believe it attracts them to come back and be a part of the Scuba Junkie Family. They enjoy getting involved in our conservation/eco-friendly activities."
Max: "For Scuba Junkie, we believe that by promoting sustainable dive practices, we actually increase our clientele. Especially now as more people are looking to "eco" concerned dive centres to enjoy their holidays. Our customers are always impressed and happy to be part of and support what we do in our conservation efforts, whether that is actively taking part in projects, or passive contribution by simply coming diving with us."
David: "Customers to Scuba Junkie always highly commend the environmental and sustainable practices we have – in fact, we believe that many of them choose to come and dive with Scuba Junkie as part of the growing market in eco and conscious travel."
Lydia: "With our sister companies in Malaysia both being top ten members of Green Fins, there is an expectation from our guests to adhere to the same very high standards. There is no doubt that customers are becoming more conscious of the businesses they choose when they travel, so showing that we are committed to sustainability by adhering to Green Fins guidelines has provided us with incredible feedback."
And how do the staff and crew feel about your work to strive towards sustainability?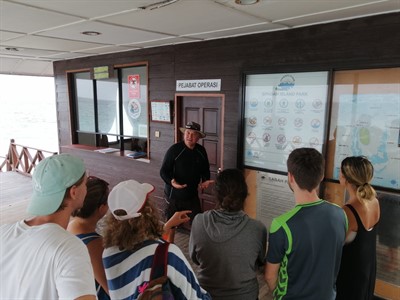 Lydia: "As the resort has grown, we have kept sustainability at its core and these continued efforts have been warmly welcome by our staff and customers. It has been fantastic to see how our crew have become so dedicated to protecting the marine world and how this passion then spread to our customers.­­­­"
David: "All initiatives or exercises in sustainability are welcomed by staff and guests alike, especially staff as it creates a sense of identity and purpose. Staff that work at Scuba Junkie have applied to work here because of the eco-friendly credentials. It is something that we all hold at heart, and something we are all passionate about and pass on to our customers. This like-minded mindset greatly contributes to the 'Scuba Junkie family' feel."
Lastly, why do you think it's so important the dive industry works together for sustainability?
David: "There's so much more that can be achieved if the industry worked together more proactively, beyond just adhering to Green Fins practices. For example – coral restoration, tackling marine debris, conservation activities for specific animals (e.g. turtles or mantas), awareness and outreach activities. If all operators in one area worked together – imagine the net benefit to the marine ecosystem in that area. Then multiply that with a network of operators in different areas acting for the common good of the oceans… This is something that we would like to happen."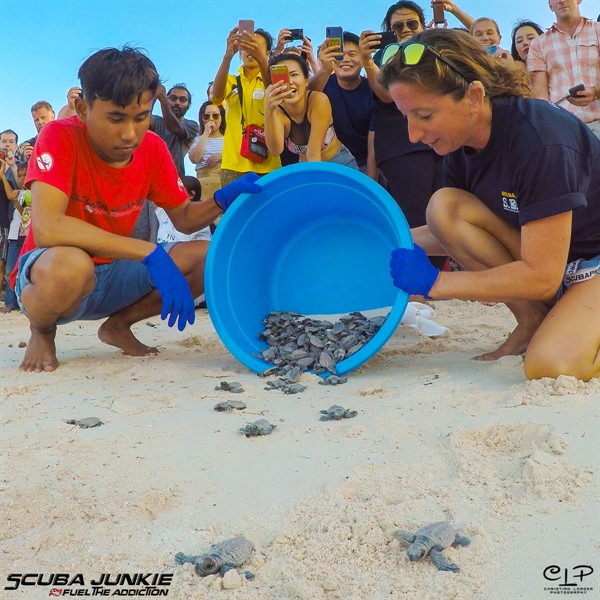 ---
Thank you to the Scuba Junkie team for sharing their insights. For more information about Scuba Junkie, please visit their websites:
---
Dive and snorkel centres operating in active Green Fins locations can become members by signing the membership form and pledging to follow the 15 environmental practices of the Green Fins Code of Conduct. Active Green Fins members are trained, assessed and certified annually by qualified Green Fins Assessors.
---
Images: Christian Loader