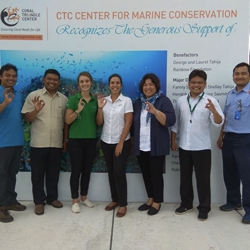 Indonesia is renown as a world-class diving destination with booming tourist hotspots and several emerging destinations. Diving activities range from muck diving to see the weird and wonderful macro-life, to zipping currents and the chance to see Mantas and Mola molas, the tourism industry is booming.
Bali has long been a tourist hotspot and despite recent hiccups with press misconceptions about the impact from Mount Agung's activity, diving plays a major role in the island's tourism. In order to leverage this passionate industry for coral reef protection whilst helping them to reduce their own threats, the esteemed Coral Triangle Center have adopted the Green Fins approach.
Between the 22-27 January 2018, Reef-World trained up four (4) new Green Fins assessors from CTC, the Ministry of Marine Affairs and Fisheries and the Bali Professional Divers Association as Green Fins Assessors. The new Green Fins Bali team took to the initiative like fish to water, quick to see the value of Green Fins as a management tool and an opportunity to build stronger, more collaborative relationships with the diving industry. The diving industry was incredibly receptive and have shown serious motivation towards environmentally positive changes.
As a result, there are now six active Green Fins members in Bali, with more requests for membership coming in every day. This small but committed team will be piloting Green Fins in Bali and are aiming for 30 active members by the end of 2018. Starting with a select number, the team will be providing quality environmental consultations and training to Bali members before spreading their fins to increase membership in Bali and beyond.
This is a really exciting development for the Green Fins network and Reef-World is looking forward to see what CTC, the MMAF and the new team of assessors will do with the new Green Fins tools in Indonesia over the years.
If you have any questions, you may contact the new team at indonesia@greenfins.net, or follow their Facebook page.