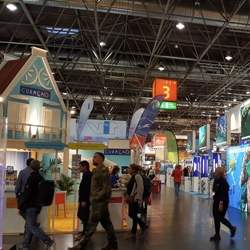 The Reef-World Foundation was present at the annual Boot Show in Dusseldorf for a few days to meet with various partners, meet some Green Fins members and to see the usual SCUBA diving and snorkelling innovations and trends. The BOOT show is home to the 'world's greatest boat and water sports show' with 1,923 exhibitors from 68 different countries spread out over 220,000 square meters. There was a dedicated hall to just SCUBA diving with dive centres, tour operators, equipment manufacturers, conservation organisations and diver certification agencies all selling their new products and showcasing new equipment. The days were busy and long with the evenings providing a fruitful opportunity for the exhibitors to get together to talk about various topics such as tourism trends, marketing strategies and of course the current state of the health of the seas and oceans and how they can contribute to marine conservation approaches.
As there is every year, there seems to be a growing trend in the awareness to environmental issues with dive centres and tour agencies showcasing eco or environmentally friendly dive trips that minimise their impact on the marine environment. Through the Green Fins initiative and other programmes that promote best practices, divers and businesses are becoming more aware of specific behaviours that should be more commonplace within the industry. This trip allowed Operations Manager James Harvey and Global Partnerships Manager, Klementina Dukoska to speak with the main certification agencies including SSI, SDI-TDI and PSS to name a few and some major brands such as Fourth Element, Scubapro, Cressi and SEACAM to find out more about what changes their businesses are making to reduce their impact. It was a good chance to speak with some of the main tour operators to hear what today's divers expect in terms of environmental credentials and how trying to keep ahead of the curve in terms of making sure they are reducing all possible risk to corals reefs is being done at various levels throughout the business.
The Reef-World Foundations ultimate goal is to reduce the negative impacts from all aspects of the diving industry whilst enhancing the publics awareness to the various threats to the marine environment and making them aware of how thy can positively influence the seas and oceans that they care so much about. Through support from Reef-World, many companies are making pledges to make serious and meaningful changes within how they operate such as reducing their packing, stop the use of single-use plastics and reducing the amount of cargo that needs to be transported around the world. As such simple solutions become more commonplace and affordable it not only makes environmental sense but businesses are finding that it also makes businesses sense too, increasing their profit markings. It is only when it makes financial sense for everybody will we see serious changes happening, reflected by healthy and prosperous reefs and Reef-World is leading the way in making this happen across the globe for this passionate and dedicated sector.