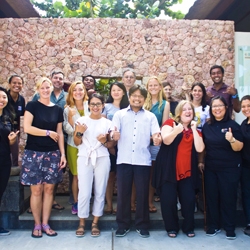 The BlueGreen360 Awards honour businesses and individuals in the marine tourism industry who are pioneering efforts to integrate sustainability in their practices and operations. Organised by Asia Dive Expo (ADEX), in collaboration with The Reef-World Foundation and the Coral Triangle Center, the award highlights the value of healthy marine and coastal ecosystems to the industry. Green Fins members are automatically participating in the 'Green Fins Award', which is presented to the member with the lowest environmental impact, as demonstrated by the Green Fins annual assessment of business practice conducted within the last 18 months.
As part of the prizes, the Coral Triangle Center (CTC) hosted the award winners in Bali on June 25-27, for a three-day study tour on sustainable tourism. The study tour involved talks on sustainable tourism trends and pathways, sustainable tourism standards in marine protected areas, as well as visits to leading Bali-based tourism establishments who have adopted sustainability principles in their operations and a dive trip to the Nusa Penida Marine Protected Area.
Representatives from Nico Dives Cool, Reef Seen, Ceningan Divers Resort, Deep Blue Divers of Six Senses Laamu were present amongst other participants and speakers.
Klementina, Reef-World representative, was awed by the overwhelming enthusiasm and leadership from the diving businesses to collaborate with NGOs, governments and source solutions that contribute to preserving the marine habitat and related ecosystems.
Robert from Ceningan Divers addressed challenges around local MPA management and how to address those, which initiated great discussions and sharing amongst the participants. Green Fins member, Nico Dives Cool Bali, provided a great overview of how they use Green Fins to educate guests and explain practices such as not feeding fish and a strict no-touch policy, besides other environmental initiatives they have implemented such as no plastics, no sunscreen in the water (except if it's reef safe), education programme for communities and children, etc.
Megan from Six Senses Laamu, a luxury sustainable resort in the Maldives who's dive centre Deep Blue Divers is a Green Fins Top 10 member, talked about how they're tackling local challenges, which serves as an example for other resorts. She also outlined existing sustainability challenges with plastic wrapping for food and was able to source potential solutions and receive recommendations at the event itself.
Sharing their knowledge and resources with the wider community, the dive businesses truly demonstrate environmental pioneering. It shows that dive centres are on the front rows and are the ones tackling marine conservation challenges, willing to go the extra mile because a healthy ocean means a healthy business.