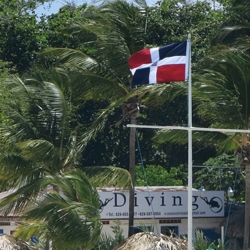 From the 28th May to the 2nd June, Reef-World's Operations Manager, JJ trained up 4 new Green Fins Assessors to oversee the implementation of Green Fins in the first Caribbean country, the Dominican Republic. Thanks to support from the Regional Activity Centre for the Protocol Concerning Specially Protected Areas and Wildlife for the Wider Caribbean Region (SPAW-RAC), under the framework of the Caribbean Environment Programme of the United Nations Environment Programme (UN Environment – CEP), Reef-World visited the country for 2 weeks to conduct a gaps and needs analysis of the industry and to establish a new country team. The four assessors, Ana Carolina from the Ministry of Environment and Natural Resources, Iker and Milena from Reef Check Dominican Republic (who will be coordinating the assessments and taking the lead with recruitment) and Chilo from the Auxiliary Navy all passed the required standard for training.
During the training weeks, it was evident that the diving (and snorkelling) industry is suffering from the same issues that Green Fins has encountered in the past with the members in Asia and other regions. Issues such as responsible disposing of used oil, solid waste and using chemical cleaning products for marine toilets/ boats were all commonplace with little environmentally friendly alternatives and solutions in place. Through engaging the industry, solutions to these issues have already been identified and will be suggested to future members across the country.
Reef-World is also pleased to see high interest from the Vice-Minister of the Ministry of Environment and Natural Resources wanting to support the initiative in the country. There are also other departments such as the Ministry of Tourism and the Navy who are wanting to support Reef Check efforts in rolling out the approach which is fantastic news. There has even been interest from other initiatives in the region who are supporting tourism businesses to fall in line with standards and follow best practice who are interested in promoting Green Fins to their clients.
Reef-World would like to congratulate all the Assessors on completing their challenging work over the training week and would like to thank Reef Check for their support and commitment in helping to make a difference and wanting to ensure that the tourism industry is a sustainable one for the growing numbers of tourists that choose to come to the Dominican Republic. It is expected to see 6.4 million tourists visit the country this year, and hopefully, Green Fins will be able to help bring more public awareness, to both tourists and businesses, on correct environmentally responsible behaviour whilst visiting the coral reefs of this jewel in the Caribbean.
Follow the Green Fins Facebook page to see the latest updates and more photos.