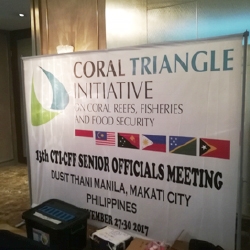 The Coral Triangle Initiative is a multilateral environmental agreement between the six member states that encompass the coral triangle area. Between 27-30 November 2017, Senior Officials from Indonesia, Malaysia, the Philippines, Solomon Islands and Timor-Leste, as well as representatives from partner organisations, met in Manila, Philippines.
The Green Fins initiative is already being implemented in three of the six member states (Indonesia, Malaysia and the Philippines) and several partners and member states expressed interest in integrating the Green Fins approach into the MPA working group and sustainable tourism taskforce giving further weight to a standardised method of managing tourism across the CT6 countries.
The diving and snorkelling industries will be a major target for the Coral Triangle Regional Business Forum which will hold its fifth event in Langkawi, Malaysia in Quarter 3 of 2018. The Malaysian organising committee is continuing the theme of sustainable tourism that was well received at RBF-4 in Bali, Indonesia in 2015.
It was great to see the Department of Environment and Natural Resources of the Philippines showcasing Green Fins at their booth. Green Fins falls under the national Coastal and Marine Ecosystem Management Program (CMEMP) which delivers on DENR's targets and commitments under CTI-CFF.
The Coral Triangle Initiative on Coral Reefs, Fisheries, and Food Security (CTI-CFF) is a multilateral partnership of six countries working together to sustain extraordinary marine and coastal resources by addressing crucial issues such as food security, climate change and marine biodiversity.
CTI-CFF operates through five (5) Technical Working Groups which mirrors the RPOA goals. One of the CTI goals aims to establish a fully functioning and effectively managed region-wide Coral Triangle Marine Protected Area System (CTMPAS). Under the Marine Protected Areas (MPA) Working Group, significant progress has been made towards advancing common understanding of CTMPAS – how to improve management effectiveness and how to design and establish MPA networks.