Following a successful meeting with each of the pilot region coordinators from Regions 4a, 4b and 7, in Cebu in April, Alan (Reef-World Project Coordinator) attended a follow up meeting in Batangas City. He presented Green Fins to the Community, and Provincial, Environment and Natural Resource Offices (CENROs and PENROs) at the end of June. In levels of Philippine Government the CENRO and PENRO are above the Local Government Units that govern each individual Municipality.
The aim of the meeting was to orientate the government staff to the Green Fins approach and then allow them structured time to develop an Action Plan which can then be included in their 2017 Work and Financial Plans. This Action Planning workshop was jointly run by The Reef-World Foundation, to give guidance on the grassroots activities needing funding, and by the Biodiversity Management Bureau, for technical assistance.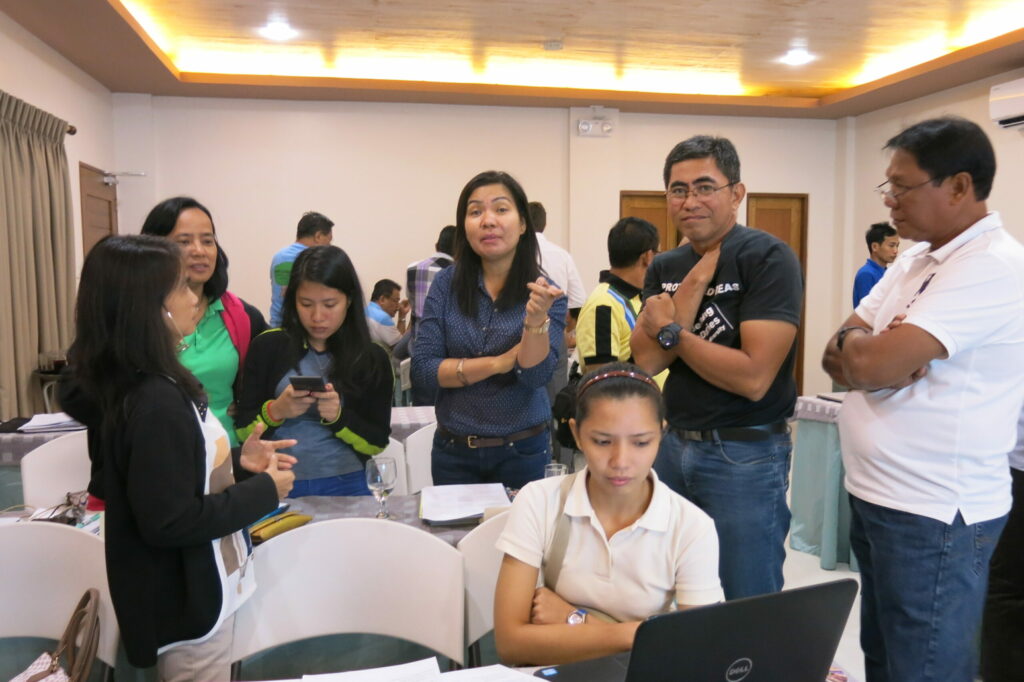 Region 4b staff working on their action plan to include Green Fins in their 2017 Work and Financial Plan
Currently Region 7 has the most active Green Fins sites including Panglao, Moalboal, Mactan, and Malapascua which fall under NIPAS, Key Biodiversity Areas or other locally Managed Marine Areas. In light of this, Reef-World's Green Fins Coordinators were visited by staff from Region 7 government, CENRO Tagbilaran City and PENRO Bohol in Panglao during the recent activities for them to gain a better understanding of the Green Fins assessment process. During this time Alan met with Sir Mario (Region 7's Coastal Development Division Chief) and Sir Reggie (Region 7 Green Fins Focal Person) to discuss future government staff involvement in activities. As a result, the Region 7 government are now looking to allocate funding so that two staff members can undergo their Advanced Open Water Diver training as part of their ongoing capacity development to become Green Fins Coordinators. This will only serve to strengthen the Green Fins approach in Region 7 and is an excellent output from the previous meetings. It is hoped that these developments can be a beacon for the other pilot regions to follow.