In April 2016, Green Fins coordinators from The Reef-World Foundation launched Green Fins activities in the popular diving destination of Dauin, Negros Oriental, Philippines (Region 18). Local muck diving sites in the area provide habitats for highly sought after macro species such as frogfish, the blue-ringed octopus and many more. Dauin is also only a boat ride away from the world famous tourist destination of Apo Island, which hosts lush coral reefs, steep walls and numerous sea turtles. As the destination's diving industry grows to cope with increasing popularity, it places increasing pressures on its coastal resources.
In collaboration with the Biodiversity Management Bureau (BMB) of the country's Department of Environment and Natural Resources (DENR), Green Fins coordinators began activities by introducing the programme to Dauin's Municipal Environment and Natural Resources Office (MENRO) and the local Mayor. They were excited to finally have a programme with which to monitor and reduce the environmental impacts of its growing marine tourism industry and offered their full support. The team received a warm welcome from the industry, which has identified that the annual Green Fins assessments and scoring system will enable them to identify clear ways to consistently improve their environmental practices and reduce associated threats on the marine resources they depend on.
During this initial phase of implementation, six (6) dive centres facilitated coordinators to conduct the complete Green Fins environmental risk assessment, 63 dive centre staff received training in environmental best practices (19 of which were women) and four (4) dive centres were certified as Active Green Fins members.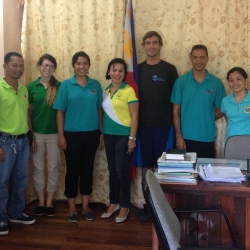 Green Fins awareness raising activities started in the Philippines in 2004 and the initiative was then officially launched in 2010. Green Fins Philippines is implemented by the Coastal and Marine Division under the Department of Environment and Natural Resources, Biodiversity Management Bureau (DENR-BMB) with support from NGOs including Batangas Community Divers, The El Nido Foundation and Marine Conservation Philippines.