For the second year running, The Reef-World Foundation were requested by the IUCN to support the development and expansion of the Green Fins approach with a focus in the North Ari Atoll region of the Maldives. During this time, Reef-World managed to carry out an Assessor training programme , recruiting individuals to support the Green Fins assessor team in the Maldives who came from local NGOs Save the Beach and the Maldives Whale Shark Research Programme as well as the government department, the Environmental Protection Agency (EPA) to continue Green Fins activities.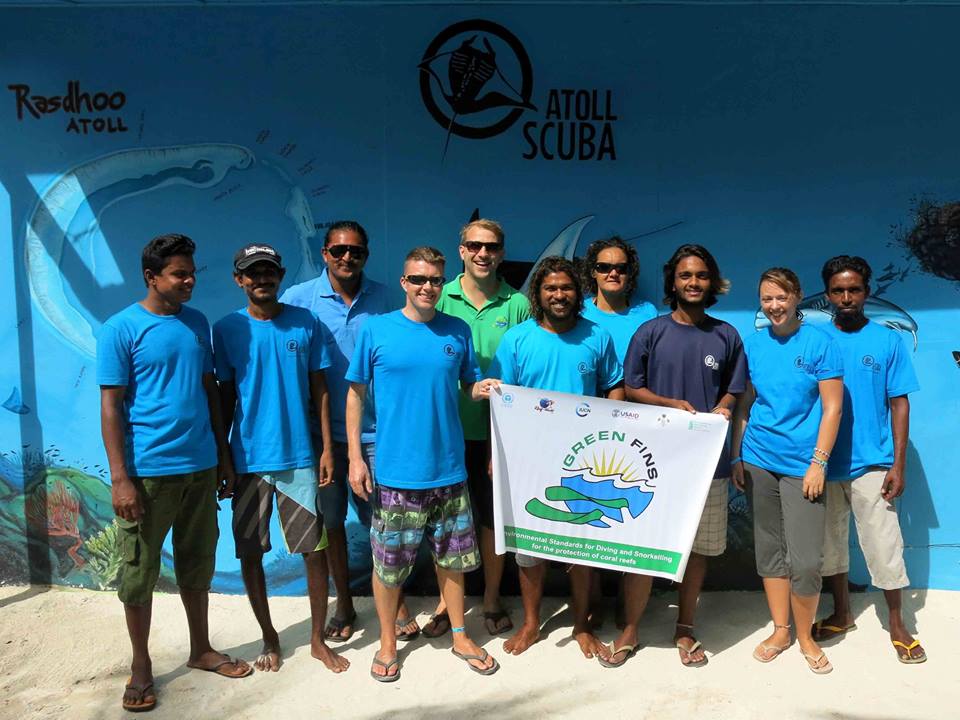 With the IUCN and GF national team's support, a total of 16 training sessions and assessments of Green Fins dive centres took place between the dates of 12th May and the 16th of June 2015. Dive staff, management and occasionally some guests of the dive centre underwent training on environmentally friendly diving and how to successfully implement the Green Fins Code of Conduct at their dive operation. They were all very responsive to the various ways they could reduce their environmental impact and also provided feedback on how they minimising impact when they are diving. Common feedback and suggestions include reducing the use of harsh chemical boat and kit cleaners (bleach and ammonia) and encouraging guests to use trash bins provided in marine toilets. Additionally, 2 new members joined the UNEP initiate bringing the total to 12 centres in Ari Atoll and 27 overall. This work was also supported through the support of Trans Maldivian Airways (TMA) sponsoring the majority of the flights between the atoll's and the dive centres.
The Maldives has seen a rise in the number of more budget residences being built on locally inhabited islands making the diving industry here more accessible to backpackers. This rise in local accommodation is fuelling a more locally minded diving industry. In these areas, the assessors focussed on building the capacity of local dive guides, and by having diving as an alternative livelihood to fishing or souvenir sales, they are better able to educate their customers about the reefs, which helps to protect them.
With a third year of implementation and expansion plans already in the pipeline, the future of Green Fins in the Maldives is looking increasingly positive, something we are all happy about.