From January to March 2015, the Green Fins team supported by Zoox volunteers were carrying out the fifth year of assessments in Puerto Galera, Oriental Mindoro. Puerto Galera, a Man and Biosphere reserve, is the longest continuous Green Fins implementation destination in the world, and this year, training sessions and assessments were completed for 21 members reaching a total of 119 dive centre staff. During the training presentation, solutions to common environmental issues were discussed together with basic ecosystem ecology. By creating this better understanding of the environment, dive staff can provide a better service to their guests and provide explanations when giving environmental content during briefings.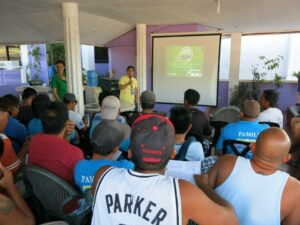 Members whose staff struggled with environmental briefings were further supported with the offer of a workshop. Aiming to teach dive guides how to include environmental content in their pre-dive briefings, this was a big success with high attendance when conducted.
Being surrounded by a marine protected area many regular boating practices are illegal yet few boat crews are aware of these laws and the penalties they face if caught. Together with the Municipal Fisheries Coordinator, local Green Fins Ambassadors and the Auxiliary Coastguard, 44 boatmen received training on environment guidelines for best boating practices, ensuring that the coral reefs they rely on for work are not damaged by chemical boat cleaners and stray anchors.
Unfortunately this year, analysis of the assessment results demonstrated a rise in the average Green Fins 'score' indicating a rise in environmental impact of the dive centres in the area. However, many dive centres remain passionate about the protection of their sites and together with the help of Green Fins, we are confident we can help lessen the impact and promote a sustainable diving industry.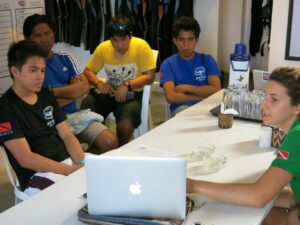 During this period, Green Fins members and other stakeholders came together with the Local Government to halt a mooring buoy scheme that would have destroyed the only place in Puerto Galera where customers can see mandarin fish perform their nightly mating ritual. This was a great display of how a small but passionate community can protect the environment they care so much about hopefully demonstrating to other areas how a combination of passion and working together can lead to positive results.