Between December 2013 and January 2014, Green Fins volunteer coordinators were conducting the training and assessments for Green Fins member dive centres in Moalboal. Moalboal in the Philippines is known for its spectacular diving: in particular, it is famous for its huge schools of sardines and its striking coral walls.
A total of 18 dive centre members in Moalboal received the annual awareness-raising session which is given to Green Fins members. This is a 45-minute presentation on coral reef biology and ecology that also provides local solutions to common environmental threats such as diver contact, marine debris and marine life being removed from dive sites. 14 of the region's dive centres were assessed. This year, the average environmental impact score of dive centres in Moalboal was 155 out of 330. Remember that, with Green Fins, the lower the score the better. Congratulations to all members for dropping an average of 41 points from last year, which means they've made progress in their sustainability journey and become more environmentally friendly!
In addition to the annual Green Fins activities described above, 26 divers from 10 dive centres participated in a synchronised clean up event of the reefs and beaches of Panagsama. Together, they were able to remove a staggering 155kg of marine debris from the coral reefs they cleaned. It's really important that we all take actions like this to keep our dive sites clean and healthy. So, on behalf of the Green Fins network, the Reef-World team would like to say a big thank you to all those involved.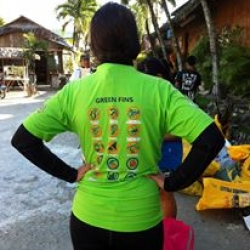 Green Fins awareness raising activities started in the Philippines in 2004 and the initiative was then officially launched in 2010. Green Fins Philippines is implemented by the Coastal and Marine Division under the Department of Environment and Natural Resources, Biodiversity Management Bureau (DENR-BMB) with support from NGOs including Batangas Community Divers, The El Nido Foundation and Marine Conservation Philippines.