Through a collaboration involving UNEP, IUCN's Mangroves for the Future (MFF) initiative and UK charity Reef-World, the Green Fins approach is being implemented in partnership with the Maldives's Environmental Protection Agency to provide a set of guidelines for management to adopt allowing better education and awareness for staff, tourists and local communities. A five day Green Fins training in the capital of the Maldives, Male' took place from the 2nd to the 6thof February in partnership with the EPA and Reef-World to help train 5 new Assessor and Coordinators to help implement the project. Green Fins typically spreads in-country from one diving hotspot to another and Green Fins Maldives is no exception. Within the scope of this 2 year MFF project, Green Fins is to be implemented into the North Male Atoll on a pilot scale inviting dive schools, resorts and independent dive centres to join in, helping to collectively reduce threats from the marine tourism industry on coral reefs. There are already plans to expand to other more popular Atolls in the future.
The reefs themselves are the cornerstone of the Maldives tourism industry providing the perfect white sands beaches, fish to eat and of course the world class diving and snorkelling activities that many people fly halfway around the world to visit. In 2013, for the first time there were over a million visitors to the Maldives and an estimated 40% of these are divers. Many dive centres in the Maldives are already doing a lot to reduce their impacts and involved in many other collaborations, research and community project and Green Fins is here to support and promote the good work they conduct.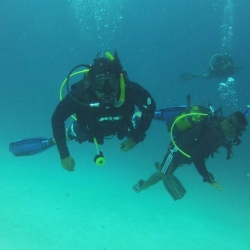 The workshop itself was an enormous success training five passionate divers on topics including how to provide awareness presentations to the tourism industry, how to support and promote the positive work of the dive centres, how to assess and provide feedback to members and how to manage the secure Green Fins database and Green Fins Maldives page. The next steps for Green Fins Maldives were laid out and we are looking forward to seeing new steps being taken to help reduce threats and make the diving and snorkelling industry of the Maldives more sustainable. Watch this space and check out the Facebook pages for updates on the latest developments.