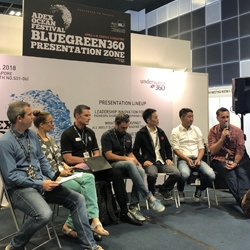 Once again, among the excitement and fun filled schedule of the Asian Dive Expo (ADEX) in Singapore last weekend, a group of 50 industry leaders gathered for a deeper purpose. The event was a true collaboration; Co-chaired by UN Environment and The Reef-World Foundation (Green Fins international coordinators), organized by UnderWater 360 and supported by the Blue Ocean Network. It brought together some of the giants of the diving industry to share how their businesses are working towards sustainable consumption and production patterns and minimizing impacts to life below water.
The group who gathered for this event understand their industry will face unprecedented challenges in the future as a result of climate change threatening their key asset, coral reefs. They want to be prepared and connected to a professional network of like-minded people to ensure their businesses continue to thrive.
Each segment of the diving industry was represented on a panel; Lauren Sida from Six Senses Laamu (dive resorts); Mik Jennings from Worldwide Dive and Sail (Liveaboard); Danny Dwyer from PADI and Jacki Ng from SSI (both diver training agencies); Chee Hoon from Fourth Element (equipment manufacturer); and, Jason Isley from Scubazoo (underwater photography and videography). Throughout a dialogue the panel discussed how they are building sustainability into their business models, where they are falling short and what opportunities and challenges they are meeting along their journey. Challenges such as promotional t-shirts being supplied individually in plastic bags were raised. Solutions were then offered, such as the Fourth Element t-shirts which come in 100% biodegradable bags made of cassava.
Participants from the first Sustainable Diving Think Tank and Dialogue in 2017 shared their stories of change inspired by the event, detailing the steps they have already taken. "We make our business from the ocean and we need that ocean to be clean and sustainable" said Mik Jennings from Worldwide Dive and Sail (WWD&S, Liveaboard operator). Since last year's dialogue WWD&S have developed a new company-wide environmental policy, eliminated single-use plastic straws, aim to be single-use plastic free and are looking at LED lights and solar energy alternatives.
"After Thomas Knedlik participated in last year's think tank, it inspired changes in the APAC office for recycling and reducing", said Danny Dwyer of PADI. PADI globally offers an option for people to choose digital programmes and in collaboration with Project AWARE as part of dive against debris, PADI has just registered 1 million pieces of rubbish recovered from the ocean.
One of the key messages to come out of these stories is the reaction from customers. "There is positive feedback from our customers, including non-diver friends," said Chee Hoon who represents Fourth Element (Equipment Supplier). Fourth Element with its mission 2020 is on the way to eliminate all single-use plastics and currently manufactures a wetsuit using recycled 'ghost' fishing nets as part of its OceanPositive collection. Fourth Element is looking to minimize climate change by moving raw material closer to the assembly area and using alternatives to airfreight to minimise carbon dioxide emissions.
"Environmental sustainability is about choices in terms of what you buy, eat, how it was packaged, where you stay. Making the right choices as a consumer is important, because we're the ones who can drive that change" said Lauren Siba from Six Senses Laamu resort.
It was standing room only for the audience who enthusiastically shared their own stories of change, offered more solutions to some of the problems raised and took the opportunity to pose more questions to the panel. Participants walked away full of ideas of actions to take and connected to a network of people who are all keen to pull together as an industry to build sustainability into its core.
"Companies have similar challenges in sourcing, value chains, etc. How do you come together to discuss how to solve those challenges? Are there any events, or is there a task force in place in order to do that?", asked Sabine Henkel from Asia Divers (Philippines based dive centre). The panel and audience raised the possibility of this Sustainable Diving Think Tank and Dialogue being consistently repeated during dive shows to serve as such a platform.
The closing statement from the chair, Gabriel Grimsditch from the UN Environment, was that taking steps towards sustainability for your business does not need to cost money, and will actually act to build profits in the medium and long term.
Contact: Chloe Harvey, Programmes Manager at The Reef-World Foundation chloe@reef-world.org