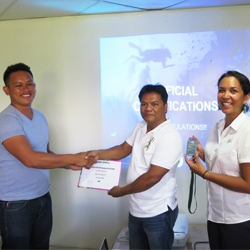 Over the past few years, Reef-World has been working hand-in-hand with the Department of Environment and Natural Resources (DENR) in the Philippines to integrate the Green Fins approach into national frameworks for managing the impacts of marine tourism, in particular diving and snorkelling. With significant infrastructure milestones in place, like the adoption of Green Fins into the comprehensive Coastal and Marine Ecosystem Management Program (CMEMP) and the resulting Technical Bulletin reached, 2018 marks the year of training for Green Fins assessors!
Between the 16th-21st April 2018, a new team of assessors from the Negros Oriental Provincial Environment and Natural Resources Office (PENRO), satellite Community Environment and Natural Resources Offices (CENROs Ayungon and Dumaguete) and local NGO Marine Conservation Philippines were trained up by Reef-World.
Since the launch of CMEMP, DENR staff across the country have been honing their skills for both diving and managing coastal resources. The results are clear. The new team of six Green Fins assessors were not only highly enthusiastic, they took to the Assessor roles like fish to water.
The team certified four Green Fins members, reaching 29 people through awareness raising presentations. With representatives from across the province, they will focus on the diving hotspots of Dauin and Zamboanguita before taking Green Fins to all corners of Negros Oriental!
Follow Green Fins on Facebook to stay in the loop as environmental standards are implemented across one of the muck diving capitols of the world.
Green Fins awareness raising activities started in the Philippines in 2004 and the initiative was then officially launched in 2010. Green Fins Philippines is implemented by the Coastal and Marine Division under the Department of Environment and Natural Resources, Biodiversity Management Bureau (DENR-BMB) with support from NGOs including Batangas Community Divers, The El Nido Foundation and Marine Conservation Philippines.