Reef-World's Green Fins initiative is now active in 11 (and counting!) countries around the world. What's more, we're receiving demand for new destinations all the time. As you might expect, each country is on a different stage of its sustainability journey and has its own story to tell.
Yet, while each destination faces its own unique challenges, by learning from each other, countries can improve and streamline their environmental processes more quickly and successfully. (This was particularly evident during the recent Green Fins Assessor Exchange programme where Assessors from Malaysia (Reef Check Malaysia) and Indonesia (Coral Triangle Center) spent a week together; conducting assessments and discussing how they could help each other learn and improve their processes).
So, the team at Reef-World has dug a little deeper into some of our active destinations to share each country's journey, challenges and what they've learned along the way. To kick us off, where better to start than Thailand: where it all began.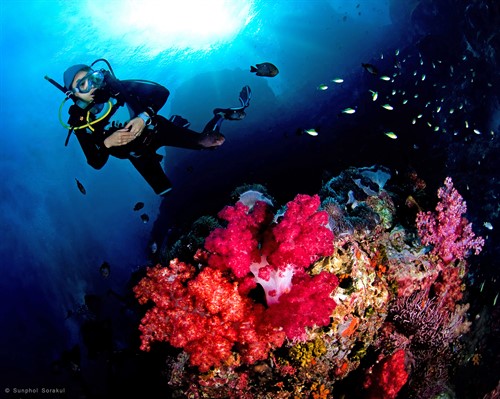 2004
Green Fins Thailand has come a long way since it came to the country in 2004. It was the Phuket Marine Biological Centre (PMBC)'s Khun Niphon Phongsuwan – one of the top coral reef scientists in Thailand – who launched the Green Fins initiative in partnership with the UN Environment. The Green Fins programme was implemented by a national management team made up of staff from PMBC who are managed by the Department of Marine and Coastal Resources (DMCR). An inspirational figure – affectionately known by many as "the Grandfather of Green Fins" – K. Niphon Phongsuwan is still Green Fins Thailand Network Leader today.
2005
This is where Reef-World's (now) co-directors Chloe and JJ Harvey enter the story. Having graduated as marine biologists in 2005, Chloe and JJ came to Asia to qualify as Dive Masters and gain some tropical marine biology work experience Their plan was to return to the UK to find jobs after around six months travelling. Thankfully, this plan was derailed by a meeting with K. Niphon Phongsuwan at the Phuket Marine Biological Centre in Thailand.
Chloe and JJ had been looking for a programme to volunteer with – they had about two weeks to spare before the end of their trip. K. Niphon Phongsuwan explained to them that, if they were to add real value as volunteers, they would need to stay and help for six months. At first, they needed some convincing: believing there must be many different environmental guidelines and standards for the diving industry, they felt their time might be better spent on a different project. Looking into it further, though, they found this was not the case at all. There was nothing else in the world like Green Fins: no environmental standards for the industry existed. They were blown away to say the least!
Reef-World and Green Fins come together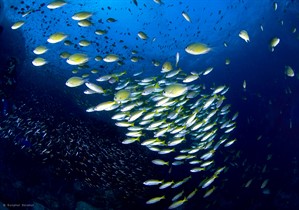 Realising how special the Green Fins initiative was – and how much value it could add to the diving and snorkelling industry – they agreed to stay on as volunteers for six months… which, somehow, become two years. It was at this point that Green Fins and Reef-World (the international coordinator of the initiative) first came together. Here's what happened, in Chloe's own words:
"After this time, we met Anne Paranjoti (née Miller) who founded The Reef-World Foundation. Anne was a pioneer within the local diving industry because she was running environmental courses for tourists (although these are very popular now, they were unusual at the time). She was ready to leave Asia and move back to the UK and was looking for someone to hand the baton over to – and, with a stroke of luck, JJ and I became the people she handed the charity over to."
2017
Green Fins Thailand has had a wide impact with the tourism industry, focusing on educational awareness of dive and snorkel operator staff and tourists. The Green Fins Thailand team has used the citizen science programme 'ReefWatch' to help monitor the status of coral reefs with great success; not only equipping dive staff with a tool to provide an early warning system for changes on the reefs, but enhancing their connection and understanding of the coral ecosystem and boosting their desire to protect it. The Reef-World team has also been returning to the country to help train new Assessor teams including, notably, an all-female team of nine Assessors who were trained in Phuket in 2017. Girl power!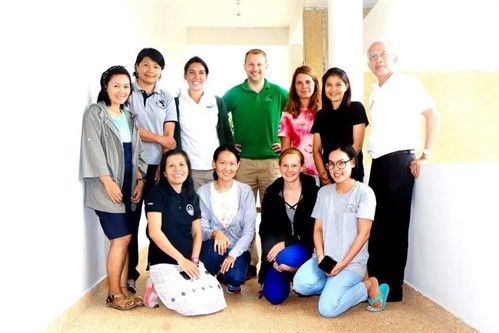 Thailand is also where Green Fins established its ethos of being an industry-led initiative. When the programme initially launched, it was very much focused on the 15-point Code of Conduct and what best practice looks like for dive operators (which is still at the core of all Green Fins activities). Reef-World wanted to develop a way to monitor the impact Green Fins was having and the assessment system was developed to provide a way of monitoring how well dive centres were following the Code of Conduct. This was very much something the industry was saying they needed and reactions from dive centres were really positive.
The assessment system
At first, the assessments were an informal way of testing compliance. But, when they visited dive centres to try to measure their impact on the environment, management and staff were curious to find out what they were doing. When they explained, it turned out the dive operators wanted in! Many dive operators were keen to become more environmentally friendly but had no idea where to start (not to mention being so busy, having to focus heavily on safety and, sometimes, having a high turnover of staff). A system that determined their areas of highest environmental impact – and let them know so they could focus on overcoming those issues – would be so useful, they said.
So, Reef-World worked with some of the dive centres to help them find solutions to their most pressing needs. Over time, this developed into the assessment system as we know it today: an annual consultation process and a two-way flow of information to spread knowledge and environmental solutions more widely. Dive centres would share what solutions they'd found and Reef-World could share these ideas with other dive shops to adopt. In this way, the system became a way of managing the diving industry on a larger scale.
Two-way information flows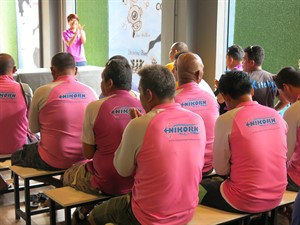 This flow of information wasn't just great for dive shops. When Reef-World took the information back to the government, it was also useful for them. The assessment data helped government map major environmental issues and find ways of mitigating them; for example, knowing which areas were in most pressing need of stations where dive operators could dispose of used oil.
Because of these developments, Reef-World's role become more focused on building the capacity for the programme; putting together a training programme to teach government staff how to do the assessments and run the environmental awareness raising sessions for dive schools. Working with their point of contact at the UN Environment, The Reef-World team also piloted an expansion of the scheme in Malaysia and Indonesia. Having grown into something that was useful for both private and public sector bodies, the programme was well received by dive shops and by government alike.
2019
Most recently, in 2019, Thailand celebrated a huge milestone in its Green Fins journey: it was one of two countries that completed the successful pilot of the Green Fins "Train the Trainer" programme; the first of its kind in the world since Green Fins has been adopted as a management approach by participating governments. As part of the programme, Reef-World successfully certified three new Green Fins trainers in Thailand (Sathika Phaokanta, Phuket Marine Biological Center; Ornanong Pengchumrus, Phuket Marine Biological Center; and Petchrung Sukpong, Phuket consultant). These champions of the Green Fins network are now qualified to train new Green Fins assessors in country; building capacity for the initiative's continued expansion in each country.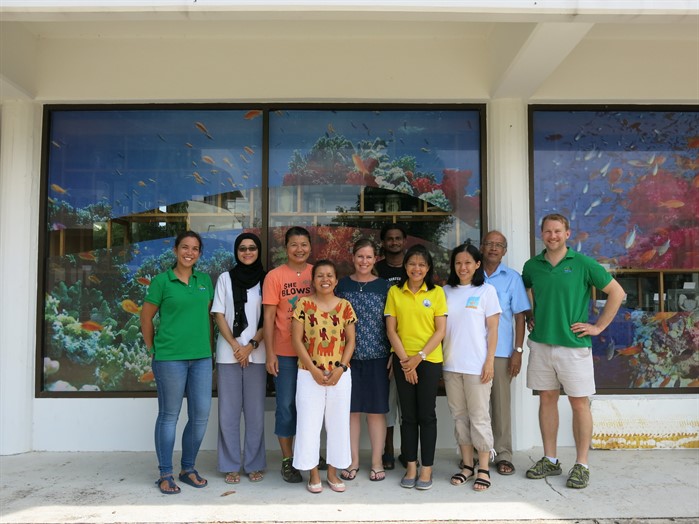 Petchrung Sukpong, one of the new trainers, said: "I think the course was very useful because, on the national level, we have built capacity of people to be trainers; it's like planting one tree which then grows fruit to spread. We now have three assessor trainers in Thailand who can train more people to be assessors. This will help the government do the assessments in the future and help fill capacity gaps in Thailand."
Green Fins Thailand has now been implemented in the islands and towns of Koh Phi Phi, Koh Lanta, Phuket, Koh Tao, Koh Samui, Krabi, Koh Phra Thong, Takua Pa, Koh Lak, Koh Lipe, Khao Lak and Pattaya and is continuing to grow. The team's activities are now sustained by modest regular funding from the DMCR – this has been possible because of Green Fins activities' inclusion in several national programmes. With so much progress already made, it will be exciting to see how Thailand continues to champion sustainability in the diving industry in the coming years!
2020
During the first half of 2020, the Green Fins Thailand team was involved in an exciting project which saw them meeting – and diving with – global icon Hello Kitty! As part of a new series of videos Kitty was creating for the United Nations Environment Programme to highlight the threats faced by coral reefs, she visited Koh Tao, Thailand, and met with the Green Fins team.
The Hello Kitty video is part of a partnership between the United Nations and Japanese company Sanrio, which created the character, to promote the SDGs. For a two-part World Oceans Day 2020 special, Kitty introduced Goal 14, Preserving the Bounty of the Sea. During the videos, Kitty explained that corals are actually animals and that they're in trouble. What's more, if corals are in trouble, it means we are in trouble too! She also looked at the efforts being made to protect corals in Thailand, which is why she went out diving with some of the Green Fins assessor team. Part I and part II are available to watch here.
Like the other active destinations, the global pandemic meant Green Fins activities in Thailand were unable to take place for much of the year. However, the Green Fins team continued to work to protect Thailand's reefs from harm. For example, they were involved in an Environmental Justice Foundation #NetFreeSeas cleanup to collect discarded fishing nets in Rayong. During the cleanup, a team of 20 volunteers were able to remove 95 kg of ghost nets from Hin Ploeng: the most famous dive site in Rayong province!
The volunteers were made up of officials from the Department of Marine National Parks, Department of Marine Coastal Resources – both from the Rayong 1 unit and Green Fins, Underwater Medical Department of the Royal Thai Navy, a PADI course director, a local English language press (Thai Enquirer) and experienced dive instructors. As the dive site was 22m deep, the team had just 45 minutes to work during each dive. Weather conditions meant that only two dives were possible. However, they are confident that the relationships built on the day will be gateways to potential collaborations on riding ghost fishing gear in the future. Another event is planned for December 2020.
---
You can find the current list of active Green Fins members in Thailand here.
---
For more information about Green Fins Thailand, you can visit its dedicated website or email the Thailand national team directly on Thailand@greenfins.net