El Nido: a growing tourism destination
El Nido, Palawan, is quickly becoming one of the most iconic tourist destinations in the Philippines. Its sheer limestone cliffs and protected waters provide spectacular attractions for dive and snorkel tourists from all over the world. As local infrastructure has improved, annual tourist visits have increased from approximately 10,000 in 1994 to 83,000 in 2014 (Source: DOT); a staggering 730% increase in 20 years. This growth has placed enormous pressure on the marine environment and its delicate coral reef ecosystems.
Reducing tourism pressures
To alleviate the direct pressures of the diving and snorkelling tourism industries upon El Nido's reefs, The El Nido Foundation (ENF, a local NGO) has been implementing Green Fins since 2012. Since then, the number of dive shops and, in particular, snorkel tour operators, in El Nido has increased exponentially. Wanting to ensure local Green Fins membership rates remained high, whilst maintaining the rigorous standards of the GF assessment process, ENF requested additional support from The Reef-World Foundation.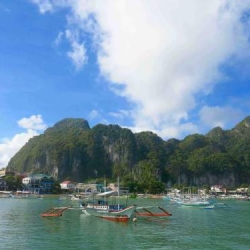 Green Fins training
Two staff from Reef-World visited ENF on location. They conducted a Green Fins Assessor Refresher Training course between the 23rd November and the 1st December 2015. The workshop developed the capacity of seven ENF staff and one member of the Local Government Unit (LGU). Training commenced with one full day of theory-based work. This covered staff roles and responsibilities, the Green Fins membership process and new materials, such as the latest assessor manual. The remaining days were spent in the field. The focus was annual member assessments and training, formal report writing, the selection criteria for appropriate environmental solutions and multi-cultural stakeholder consultations.
Seven dive centres renewed their membership with their annual assessments and training sessions. ENF will be continuing their work with Green Fins throughout 2016. In addition, Green Fins activities provided a valuable platform for communications between ENF, the LGU and a local group of environmentally minded stakeholders, Green Nido. The group hopes to highlight the need for increased numbers and security of mooring buoys in Bacuit Bay. They will also promote monthly underwater clean-up events, place trash cans in popular tourist areas and provide local schools with marine education classes.
Another Green Fins success
The training was a huge success, affirming the skills and competencies of the local Green Fins management team. Reef-World is extremely proud of the team's hard work. Their support will allow local stakeholders to alleviate their pressures upon the marine environment. Prospects in the near future will hopefully involve further expansion and strengthening of the already proficient team.