As we celebrate 10 years of Green Fins (it's been 10 years since its inception by the UN Environment Programme), all the project partners across seven countries met in Bangkok to share past successes and discuss next steps for Green Fins in each country. This fantastic opportunity was facilitated by Mangroves for the Future (IUCN). It was great to see the commitment from the representatives of each participating country and the lessons learned on stakeholder collaboration and project implementation.
Discussions included future visions for Green Fins and feedback was that all participants are looking to really drive Green Fins to a bigger and better future. This means that dive centres and tourists who are turning to Green Fins for guidance regarding best practices for the environment can look forward to much more support in the future!
A big thank you to the partners in Indonesia, Malaysia, the Maldives, the Philippines, Thailand, Vietnam, to our new partners in Japan and of course UNEP, MFF and The Reef-World Foundation for making the event such a success.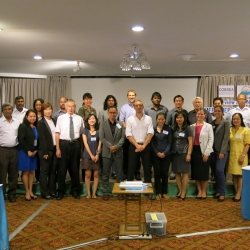 About Reef-World: the international coordinator of Green Fins
The Reef-World Foundation is a registered UK charity which delivers practical solutions for marine conservation around the world. The charity promotes the wise use of natural resources – particularly coral reefs and related ecosystems – for the benefit of local communities, visitors and future generations. It is dedicated to supporting, inspiring and empowering governments, businesses, communities and individuals around the world to act in conserving and sustainably developing coastal resources.
Reef-World leads the global implementation of the UN Environment Programme's Green Fins initiative, which focuses on driving environmentally friendly scuba diving and snorkelling practices across the industry globally. As such, the charity provides low cost and practical solutions to local and industry-wide environmental challenges associated with the marine tourism industry. It provides education and capacity building assistance to empower environmental champions (within the diving industry, local communities, authorities and governments) to implement proven coastal resource management approaches.
Please visit www.reef-world.org to learn more or follow us on Facebook, Instagram and Twitter.