Of the 600-strong network of Green Fins members, each dive or snorkel centre has its own journey to become more sustainable. Today, we'll hear from Legend Diving Lembongan.
As a Green Fins member, your operation can benefit from strategic training, support and resources to help you reduce your environmental impact. Green Fins helps marine tourism companies improve their sustainability practices. It does this by identifying harmful practices – such as anchoring, fish feeding and chemical pollution – through a robust assessment and offering practical, low-cost alternatives.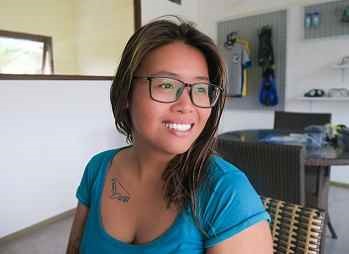 As well as the benefits of membership, each of us can learn from each other – taking inspiration from what other Green Fins members have done well and learning from the challenges they've faced.
To get insight into how our Indonesian members are protecting coral reefs through sustainable diving, we spoke with Jesie Tan. Jesie works at Legend Diving Lembongan: a Padi 5* IDC Center located on the beautiful island of Nusa Lembongan, Bali.
At Legend Diving Lembongan, you offer daily trips to Nusa Penida Marine Protected Area. Do you find many of your guests are already aware of environmental issues before they dive with you?
Yes – we do have lots of divers who would like to get involved with protecting the environment; for example, collecting trash when we go diving. Some also ask if we have problems with pollution because they can see the underwater world is really beautiful. So we will give them the environmental information we have to teach them.
Also, during our dives, we bring a trash bag with us. Of course, we hope there's no rubbish that for us to pick up during the dive. But it's good to act as a role model.
Why do you think it's important to act as an environmental role model?
Most of the guests are already quite aware about plastics and things like that. So when they see us starting to pick up the garbage during the dive, they understand why. You'll notice if they see plastic on the dive, they will start to follow what we do and collect it.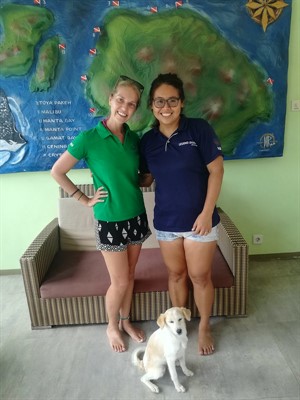 Which different methods do you use to teach your customers about protecting the environment?
For us, face to face is the best way. This is because people have the chance to ask questions and you can make sure they've properly understood what you're trying to tell them. However, spreading the word about sustainability on social media has a big impact for us as well.
We also display the Green Fins materials around the dive shop. Jaya – one of the Green Fins Indonesia assessors – brought us the posters. We put them in our briefing areas, on the tables and hold them up when we talk through our briefings.
For the moment we have nine dive crew on this team. Already four of them have finished the Green Fins Dive Guide e-Course. The others will have finished soon. We liked that the course is straightforward – it's easy to understand and not complicated.
What were the key things your team learned from the Dive Guide e-Course?
The course was helpful because it explained more about coral and how it works to add to our basic knowledge. Some guests don't know much about coral and are surprised that coral is an animal not a plant. But sometimes our guests are really interested in – or have even studied – marine biology and will ask us more detailed questions about coral and the environment. So the Dive Guide e-Course was helpful because it gave ways of explaining more information to our guests.
It also helped us with phrases we can use with the guests when explaining why they have to follow the Green Fins guidelines. Sometimes, we have guests having some problems in the water and the guides can find it hard to tell them in this situation that they should not do that. So, the course really helped us know how to start these conversations.
How do you give your team confidence to correct divers' negative behaviour underwater?
Usually, for our local instructors or dive guides, the question they ask me is 'how can we approach the guests?' They're afraid if they tell them directly, the guests may not like it. So, I keep telling them don't feel afraid because if something is not right, it's not right. The guests need to be told.
That's why I say that the Dive Guide e-Course is especially good for the local guides because you can use some of the statements from there to pass the message to guests and explain in a nice way. It's helpful to let them know that as a Green Fins dive guide, you have some tips you'd like to share with them.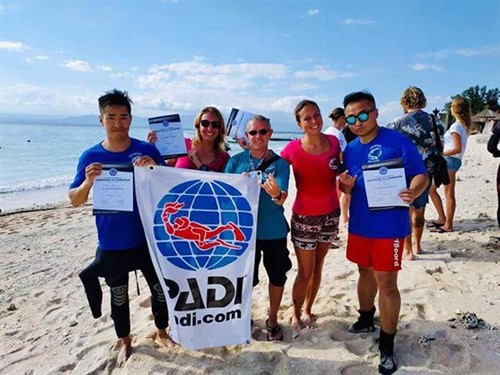 What are some of the changes have you made since joining the Green Fins programme?
After our assessment, our assessors Marthen and Jaya sent us an email with our score and confirming what we can improve for the next assessment. We've been working on these points already. One of the things we have improved is we're not using the normal soap to clean the masks anymore. We tried some different organic soaps for the masks – some were not useful because once the guests go underwater, the masks fogged. We kept trying different organic soaps and now I think we've found we found a good one. Feedback from Marthen and Maya helped us out because they mentioned the names of different organic ones and, now, we've found one that works for us.
What challenges are you still working on?
Another consideration is about what products we use in the process of cleaning the boat. We have tried some organic things but it is difficult to find local solutions. Marthen and Jaya are trying to help us find an Indonesian eco-friendly cleaning solution that we like and works for us.
---
Thank you Jesie & Legend Diving Lembongan for sharing your insights!
---
Dive and snorkel centres operating in active Green Fins locations can become members by signing the membership form and pledging to follow the 15 environmental practices of the Green Fins Code of Conduct. Active Green Fins members are then trained, assessed and certified annually by qualified Green Fins Assessors, following the membership process outlined below.