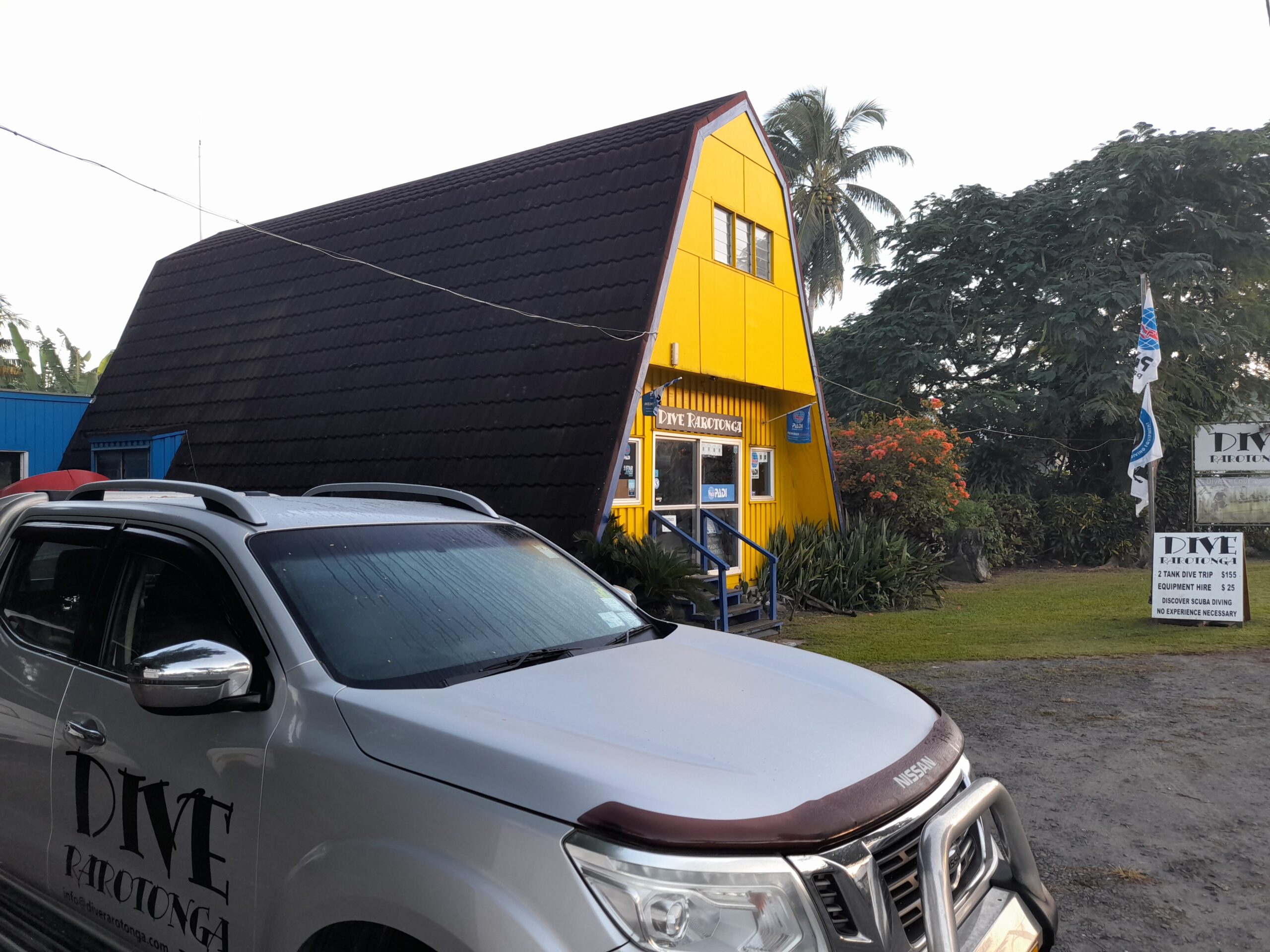 Dive Rarotonga Introduction
Dive Rarotonga was first established in 1979, and since 2018, Neil Davison has become the owner. They're located in Arorangi, a village on the Island of Rarotonga in the Cook Islands, South Pacific. Neil is a wildlife lover and became passionate about reef systems while working for Reef Doctor in Madagascar in 2017. Neil has been following Green Fins for some time, and when digital membership became available in 2022, he immediately applied to become a Green Fins Digital Member.
Dive Rarotonga initiated a Coral Transplant project in 2019 after gaining consent from regulatory bodies. It was very small scale but very productive, proving the location was suitable. That site was destroyed by surges from the Tongan eruption last year, but when the frames were finally found and recovered, they still had healthy growth. The island shutdown during the COVID-19 pandemic gave them the opportunity to spend time working on the project.
Since joining Green Fins, they have re-established the project with modified transplant frames with a lower profile to hopefully withstand what the South Pacific weather throws at them. Getting approvals for such projects has been time-consuming and involved many government agencies to achieve permissions. Patience has been necessary but very worthwhile.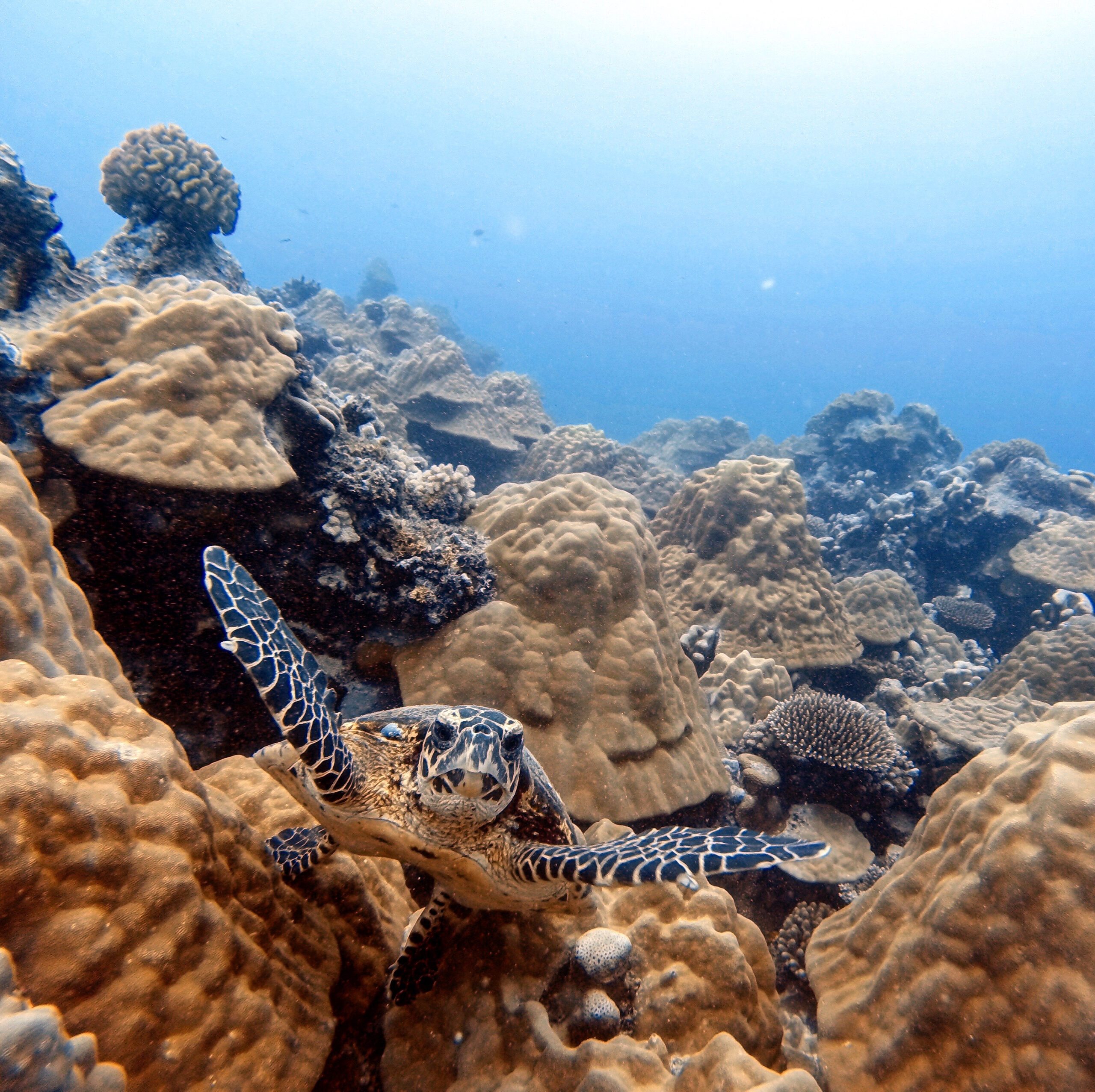 Conservation efforts and challenges
Besides the coral transplant project, they have also gained permission to install six fixed mooring points west of the Island, the first two of which are now in place. Despite being a positive move away from anchor drop, it took two years to get the final approval! The ministry staff even chaperoned the first installation dive to photograph the process. Again, patience is essential, as is following protocol. While the process has been very time-consuming, it has received overwhelming support from all agencies involved.
They have always been active in conservation efforts; every dive is a cleanup dive, and the operation has a strict no-touch policy when diving. However, being a Green Fins Digital Member has given them more specific environmental guidelines and goals, which they have applied and are working to implement new ones. These new implementations have been well received by all staff actively involved in the daily operations.
The most problematic issues to work on are possibly the less obvious ones, such as implementing a sunscreen policy. They now sell reef-safe sunscreen in their store, but shipping fees are expensive because they're a tiny island nation. People don't like spending money, so persuasion for guests to use reef-safe sunscreen can be difficult at times. There is also the problem with many brands claiming to be reef-safe, which are clearly not. They think this labelling should be regulated rather than used as a catchphrase to avoid greenwashing.
Further education for divers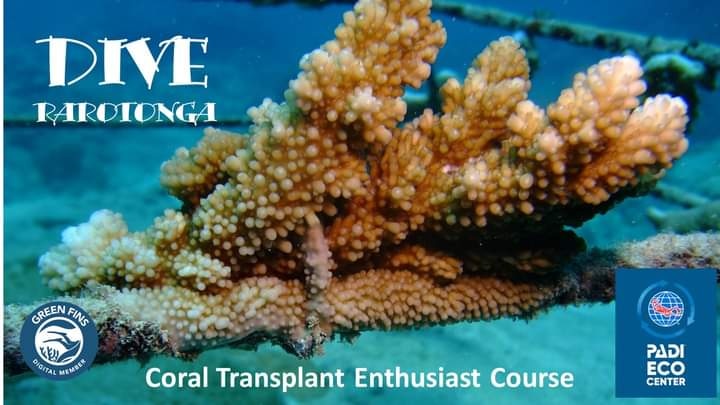 In the last six years, Neil has written six PADI Distinctive Specialty courses, all based around reef awareness. These are the Benthic Survey Diver, Invertebrate Survey Diver, Crown-of-Thorns Awareness Diver, Coral Nursery Cleaning Diver, Coral Transplant Diver and Coral Transplant Enthusiast (a dry course made available to non-divers too). These Distinctive Specialties courses are all available at Dive Rarotonga. You can find them on their website.
Cook Islands Tourism has supported Dive Rarotonga projects within its regenerative tourism drive. Some team members will try the dry course and provide Dive Rarotonga with feedback. This course is PADI's first dry Distinctive Specialty course in Oceania, and to PADI AWARE. Having first adopted a dive site in Madagascar some time ago, they now have our frame site adopted in Rarotonga, too.
The goal is for the revenue from the Distinctive Specialty courses to fund the coral transplant project, resulting in a self-sustaining operation. That may be too ambitious, but it is certainly a goal!
There's always someone, somewhere, who can provide the information you need
Experience as A Green Fins Digital Member
The Community Forum on Green Fins Hub is Neil's favourite feature as it has many good information and tips. Given their remote location, they don't always have the network availability to use the online resources available. Although he's a pen and paper person, he recognises that digital platforms are incredibly accessible these days. Digital platforms can get an immediate global audience, which is a powerful tool for searching and providing information. That's what the Community Forum is like: there's always someone, somewhere, who can provide the information you need.
Future initiatives and projects
As Neil really enjoys writing courses, that will be his focus over the next few years. With an engineering background, continuous improvement in the operation and processes is still the objective. They aim to have their smaller boat dedicated as the training resource for mainstream courses and the workhorse for the coral transplant project.
Green Fins digital membership is a new type of Green Fins membership that provides global access to the guidance, tools and support marine tourism operators need to improve their environmental impact and reach sustainably-minded tourists. Digital Member completes a self-evaluation to personalise their sustainability journey and create positive change.
Sign up today to join the network of like-minded industry leaders protecting and preserving our ocean.