The Reef-World Foundation — the international coordinator of the UN Environment Programme's Green Fins initiative — kicked off this exciting event by presenting the Green Fins Award 2023 to the top-performing Green Fins operation worldwide. The award went to Evolution Beach and Dive Resort in Malapascua, Philippines, recognised for its amazing achievement at achieving almost zero impact operations through their sustainable practices following the Green Fins code of conduct. Following the award ceremony, a panel discussion on sustainable diving business for a blue economy took place. 
"Get on your sustainability journey because it very quickly over time will help your business and drive more customers to your business!"

Adam Broadbent, founder and CEO of ZuBlu
Different sectors of the diving industry were represented on the panel; Paul Tanner, Territory Director from PADI (training agency), Elaine Wallace, owner of Bunaken Oasis (Green Fins Digital Member), David McCilnton, Director of Ceningan Divers and Resort (Green Fins Certified Member), Adam Broadbent, CEO of ZuBlu (travel agency), John Thet, CEO of UW360 (media) as well as Bo Mancao a professional underwater photographer and videographer.
Sustainability Does Not Need to Be Expensive! It Can Be Cost-effective!  
The panellists discussed how sustainability does not necessarily require large expenses and can, in fact, be cost-effective. For example, Ceningan Divers and Resort saved costs and improved customer experiences by replacing their two day boats which ran on 2 stroke engines, with a single boat with four-stroke engines. This has reduced their operational costs and streamlined their daily diving logistics, as well as reducing their emissions.
Another topic of discussion was the implementation of conservation workshops by Ceningan Divers and Resort. These workshops, conducted by in-house marine biologists, provided guests with information on various environmental topics, including mangroves and marine life conservation. This has generated an additional income stream for the business as well as providing added value experiences for their customers. Furthermore, due to COVID-19, they transitioned the workshops into an online education centre, making it more accessible to the public. The dialogue highlighted the importance of sustainable practices in scuba diving operations and fostered a collaborative discussion among eco-conscious diving centres and organisations.
Sustainable Diving and Conservation: A Path to Protecting Our Oceans
The world's oceans are under increasing threat due to human activities, and the dive tourism industry is not exempt from contributing to these challenges. However, a growing awareness of the importance of conservation and sustainability drives positive changes within the diving community. In the dialogue, the panellists explored the efforts of dive resorts and organisations in promoting sustainable practices, responsible tourism, and marine conservation. By creating a deeper connection between divers and the marine ecosystem, these initiatives aim to protect our oceans for future generations.
Dive Resorts Conservation Approach
The panellists discussed their efforts in engaging guests with conservation initiatives even before they arrived at the resort. The resort provides information on the mangroves and the conservation work they are involved in, giving visitors a better understanding of what to expect during their stay. They offer a conservation course that combines underwater specialities with a focus on marine preservation, creating a higher-value product that attracts environmentally-conscious guests.
Tapping into the Growing Market for Sustainable Experiences
The dialogue then shifted towards the trend of consumers seeking sustainable experiences. The resorts' partnership with PADI and their Eco Center initiatives align with this emerging market demand. The benefits of having PADI's Eco Center recognition, which adds credibility to a dive centre's sustainability claims, were discussed. It also addressed the challenges in meeting the growing demand for environmentally friendly courses and the need to train more instructors in eco-conscious practices.
Photography and Videography for Conservation
Next, the dialogue revolved around the impact of underwater photographers and videographers on marine environments. Bo Mancao emphasised the importance of ethical practices to minimise disturbance to marine life while still capturing stunning images and videos. Sustainable diving practices are linked to higher-quality photography and videography, and integrating these principles into training courses can help shape the image of underwater photography and its impact on marine ecosystems.
"There is a way to get that winning shot and still be ethical without having to disturb or (sometimes) even kill a certain creature. Sustainability can also create quality, they can go hand-in-hand."

Bo Mancao, multi award-winning underwater photographer and cinematographer
Industry's Role in Protecting Marine Protected Areas
The panel addressed the issue of Marine Protected Areas (MPAs) and the role of the diving industry in supporting enforcement and conservation efforts. The dialogue highlighted how dive centres can contribute to MPAs by funding ranger salaries and reporting violations. The role of education in empowering guides and divers to act responsibly and report illegal activities was also emphasised.
Success Stories of Sourcing Locally and Reducing Environmental Impact
The dialogue also focused on the efforts of a dive resort in sourcing locally and reducing its environmental impact. Through education and guide training programs, the resort instils sustainable practices that extend beyond their premises. The resort's sustainable infrastructure and contribution to the local community demonstrate how high-end dive resorts can lead the way in setting eco-friendly standards.
Sustainable Travel and Hospitality: Minimising Waste and Driving Change
Sustainable practices have become a crucial aspect of the travel and hospitality industry. As travellers become more conscious of their environmental impact, the demand for environmentally friendly and socially responsible experiences has surged. The panellists shared their efforts to minimise waste and promote sustainability within their respective businesses. From reducing single-use plastics to establishing organic gardens and collaborating with local waste management solutions, these pioneers demonstrate that small steps can lead to significant positive changes.
Empowering Sustainable Travel Choices
Next, the conversation moved to sustainable travel choices. Adam from ZuBlu, a private travel platform that promotes sustainable travel experiences, shared that their mission is to provide travellers with information and choices that align with their sustainability values while supporting environmentally responsible operators. By showcasing businesses prioritising sustainability, ZuBLu helps drive consumer demand toward these eco-conscious operations.
Calling for Collaboration
The dialogue emphasised the importance of collaboration among various stakeholders to accelerate sustainable practices in the industry. Travellers can play an active role by choosing sustainable operators, encouraging them to adopt eco-friendly measures, and providing feedback for continuous improvement.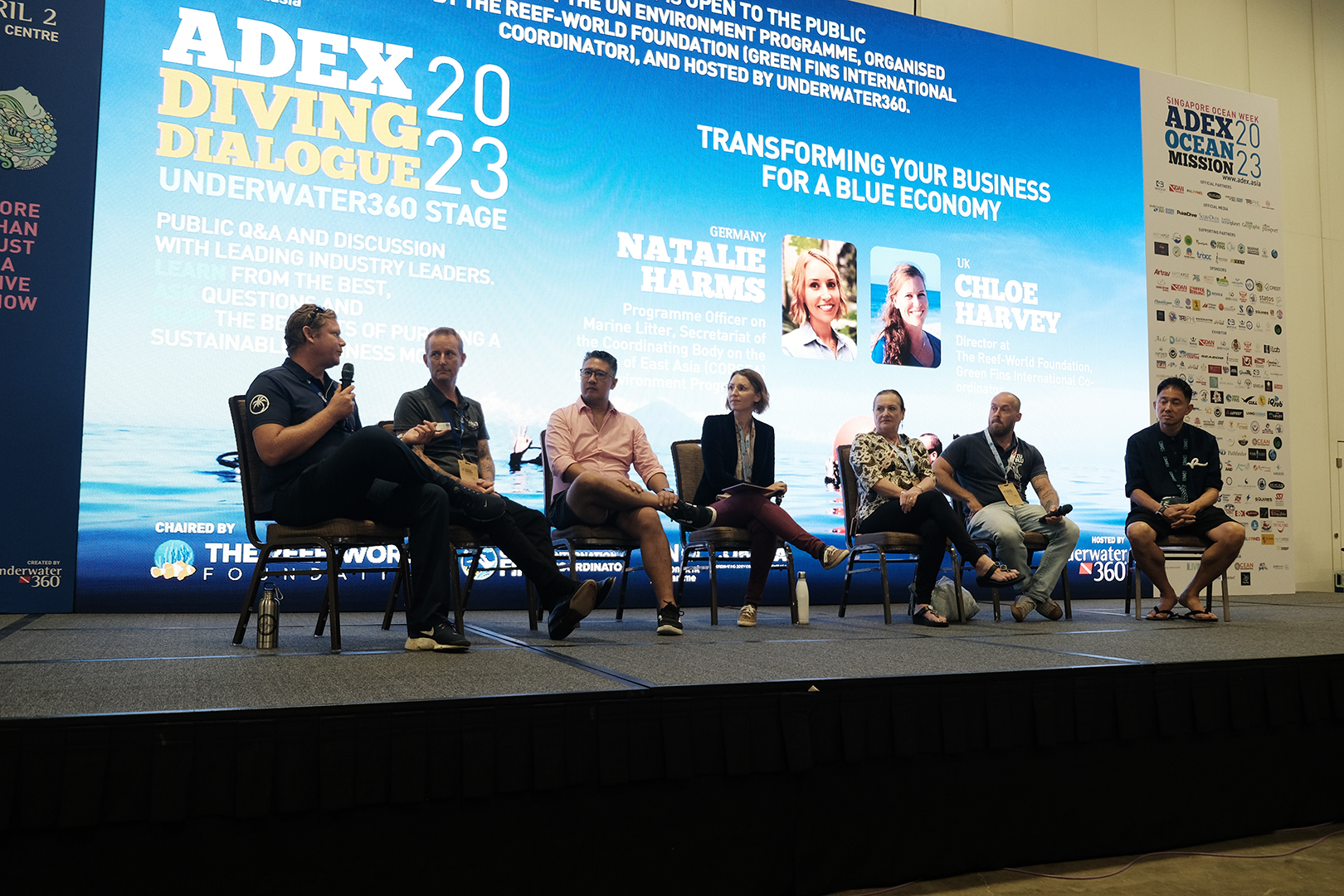 In conclusion, the dialogue highlighted the significant steps taken by the dive industry toward sustainability and conservation. Dive resorts actively engage guests in environmental initiatives while training agencies like PADI promote sustainable diving practices. The industry's involvement in protecting marine protected areas and empowering divers to act responsibly underscores the collective responsibility to safeguard our oceans. By integrating sustainable practices into dive experiences, we can ensure that future generations can continue to explore and cherish our underwater world's wonders. The diving community is charting a course toward a more sustainable future for our oceans and marine life through collaboration, education, and innovation.
Also, the dialogue revealed a profound shift in the travel and hospitality industry towards sustainability. Through responsible waste management, local sourcing, and eco-friendly initiatives, these pioneers inspire others to adopt similar practices. The dialogue highlighted the significance of collaboration, transparency and consumer awareness in driving positive change. As the industry continues its journey towards sustainability, these small steps taken by various stakeholders lead to a significant transformation for a greener and more responsible future in travel and hospitality.
These discussions don't have to end when the dive show ends. Sign up on the Green Fins Hub and continue the sustainability dialogue in the Community Forum with like-minded people such as yourself!