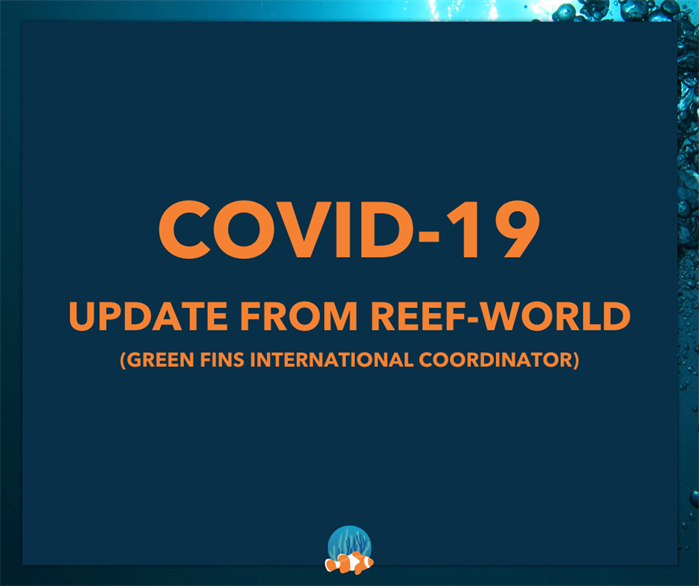 In light of recent developments regarding #Covid19, please see below for an update from JJ Harvey, Director of The Reef-World Foundation (international coordinator of Green Fins):
"We are aware it has already been a tough year for the diving and snorkelling industry and that it is only going to get more challenging in the coming weeks and months. We don't yet know the full implications of the pandemic for the travel industry as a whole. We're following updates closely to ensure we take the most appropriate action with regards to the implementation and maintenance of the Green Fins sustainable diving initiative around the world.
"Reef-World's international team continues to work remotely to support the Green Fins network and are taking steps to be part of the solution rather than the problem by avoiding travel, working from home and organising meetings online rather than face-to-face. Each of the Green Fins national teams will follow travel and social distancing recommendations as set out by authorities in their own country. This is to ensure their own safety as well as that of Green Fins members and their guests. Please be aware this may cause delays with upcoming assessments. If anything changes regarding an assessment you had planned, your local Green Fins assessor will be in touch so please communicate with them directly as you normally would.
"You'll notice our social media channels may be a little quieter than usual while members of the diving and snorkelling industry prioritise protecting their business from travel restrictions currently in place. If you would rather we keep posting tips and advice on ways to improve your environmental practices, please do let us know.
"This is going to be a tough time for your staff and your business. However, as the UNWTO said – "to stay home today is to travel tomorrow". As a collaborative network we need to work together to weather this storm as best we can. Resilience is key – not only for coral reefs but also for the sector. Taking precautions to prevent the spread of the virus now could help reduce long term impacts across the industry. While travel restrictions are in place, we want to pause and prepare; ready to come out stronger.
"So, let's stick together (virtually, with clean hands – as you know, we've always advocated a no touch policy) and please keep an eye out for your fellow Green Fins members and ask for help where needed. If you need support from Reef-World during this time, please let us know.
"Thank you and stay safe everyone!"
JJ Harvey, The Reef-World Foundation
---
download the green fins covid-19 cleaning guidelines today