Between the 9th and 11th September 2016, two (2) staff from The Reef-World Foundation hosted a Green Fins booth at the Diving Resort Travel Expo (DRT) in Manila, Philippines. This was the second year that DRT had generously donated a booth for Green Fins, joining over 100 other exhibitors from marine conservation organisations, dive centres, tour operators, scuba diving and snorkelling equipment retailers and many more.
The booth was visited by existing Green Fins members from all over the Philippines, dive centre managers, Philippines Government officials, underwater photographers, travel agencies, conservationists and members of the general public, all wanting to become a part of the Green Fins movement for sustainable diving and snorkelling. Visitors were educated on best environmental practices for divers & snorkellers and shown a list of the 141 Active Green Fins members who have recently been trained and environmentally assessed by qualified Green Fins assessors across Asia.
Reef-World staff were also able to test some of the new Green Fins materials that have been developed for the growing market of Chinese divers and snorkellers. Passionate individuals from dive centres in China, Taiwan and Hong Kong were able to share their expertise on suitable language, marketing approaches and the region's general level environmental awareness.
The event was an extremely valuable platform via which to spread the Green Fins message to a variety of audiences and develop collaborations with key representatives from the marine tourism industry.
Reef-World would like to thank the organisers of this event for hosting the Green Fins booth and all of the enthusiastic exhibitors and visitors who dropped by the Green Fins booth.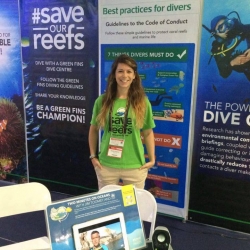 In 2016, the Diving Resort Travel Expo was held for the first time in Taiwan. In the same year, four exhibitions in Shanghai, the Philippines and Hong Kong were held in sequence. The total scale of the DRT SHOW exhibition exceeded 900 booths, serving more than 350 exhibitors a year.