In line with this year's World Environment Day theme – Small Island Developing States – and with the themes of the first-ever United Nations Environmental Assembly (UNEA), UNEP invited 12 selected journalists to El Nido, in the Philippines, to witness a successful example of sustainable production and consumption patterns in action – the Green Fins approach.
As part of the Green Fins Study Tour, these twelve journalists received a briefing by UNEP experts, Green Fins practitioners and representatives from the national and local government, local business community and stakeholders. The journalists had the opportunity to tour the El Nido area and engage with each of these partners – both on land and at sea – and wrote feature stories about the effects of sustainable tourism.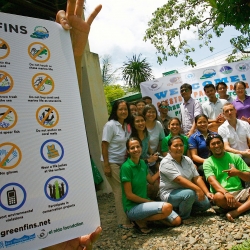 Green Fins awareness raising activities started in the Philippines in 2004 and the initiative was then officially launched in 2010. Green Fins Philippines is implemented by the Coastal and Marine Division under the Department of Environment and Natural Resources, Biodiversity Management Bureau (DENR-BMB) with support from NGOs including Batangas Community Divers, The El Nido Foundation and Marine Conservation Philippines.
About DENR
The Department of Environment and Natural Resources (DENR) is the primary agency responsible for the conservation, management, development, and proper use of the country's environment and natural resources, specifically forest and grazing lands, mineral resources, including those in reservation and watershed areas, and lands of the public domain, as well as the licensing and regulation of all natural resources as may be provided for by law in order to ensure equitable sharing of the benefits derived therefrom for the welfare of the present and future generations of Filipinos. Its vision is a nation enjoying and sustaining its natural resources and a clean and healthy environment. Its mission is "to mobilise our citizenry in protecting, conserving, and managing the environment and natural resources for the present and future generations."