The Green Fins Vietnam National team is formed by government representatives from the Vietnam Academy of Science and Technology – Institute of Oceanography. These dedicated individuals are responsible for coordinating site-level Green Fins implementation, including annual assessments, awareness raising activities and the strengthening of marine tourism environmental regulations.
During assessments, Green Fins assessors join member dive centres on a standard dive trip with guests. They follow a robust assessment protocol, which enables them to measure member performance against environmental criteria for the dive centre, its staff and its divers. A crucial element of this protocol includes observing the underwater interactions of dive staff and guests with the marine environment. Assessors follow a normal dive group and their guide to monitor the risk of environmental damage.
Previously, the range of dives that the Vietnam assessors could appraise was limited by their Open Water diving qualifications. The Reef-World Foundation funded the Advanced Open Water training of four assessors on the 10th-12thJanuary 2016. This extended their depth restrictions from 18m to 30m, increasing the conservation capacity of the national team by enabling them to visit a wider variety of dive sites. Thao, Quang, Linh and Khang had an extremely rewarding time honing their skills in peak performance buoyancy (PPB), underwater navigation, deep diving, search & recovery and underwater photography with active Green Fins member Sailing Club Divers.
Reef-World is extremely proud of the entire team's hard work implementing Green Fins in Nha Trang. In the area, the initiative aims to alleviate diving and snorkelling pressures upon the marine environment. Everyone at Reef-World would like to extend a special thank you to Sailing Club Divers for their support towards Green Fins Vietnam.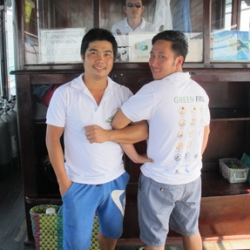 Green Fins Vietnam is overseen by the Institute of Oceanography (IO) under the Vietnam Academy of Science and Technology (VAST).