Recently, the Green Fins Vietnam National Team led by the Institute of Oceanography (IO) and The Reef-World Foundation conducted the second round of assessments and training for dive centre members in Nha Trang, with support from the Mangroves For the Future initiative (MFF). This allowed the team to support dive centers to reduce their impacts on the marine environment. Dive centers proved that they had listened from their initial meetings with Green Fins representatives in November 2013 as the assessments resulted in a 15% reduction in environmental threats posed by the diving industry! In addition, this allowed the Green Fins Vietnam team to incorporate the feedback from managers and dive staff into developing the initiative nationally, with great success.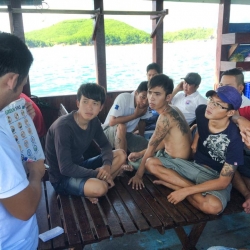 This process led to the decision of the National Vietnamese Government deciding to incorporate the Green Fins Code of Conduct into Provincial diving regulations nationwide. Through suggestions from the diving industry, Green Fins will be used as a platform for dive centers to get involved directly with more underwater clean-ups, coral reef monitoring and reporting and logging of illegal environmental activities to support better management of the local marine protected area.
Reef-World would like to thank the members in Nha Trang for their passionate advocacy for better environmental protection and hope that Green Fins will continue to serve as an effective tool for all stakeholders to collaborate for a cleaner, healthier marine environment in Nha Trang Bay and beyond.
For more information on the upcoming activities in Nha Trang, please contact the Green Fins team at vietnam@greenfins.net.