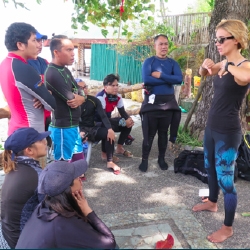 The final tranche of this year's Green Fins assessor training in the Philippines ran from 15-20 August 2018 in Moalboal, Cebu. The province of Cebu hosts some of the most popular diving destinations in the country, and through the Green Fins approach, Reef-World is supporting the local Department of Environment and Natural Resources (DENR) team to reach out to the diving industry. The aim is to help them manage their threats and start constructive conversations about how to tackle broader threats of the marine environment.
Over the course of the week, Reef-World trained six Assessors and four Coordinators who will split their assessment and awareness raising activities between diving locations Moalboal and Malapascua over the coming year. The new Green Fins team is a mixed group from the DENR Region 7 office, PENRO Siquijor, CENRO Argao, CENRO Cebu City and CENRO Talibon.
Over the years, Reef-World has worked closely with the Department of Environment and Natural Resources to institutionalise Green Fins through the legal instruments of the Coastal and Marine Ecosystems Management Program (CMEMP) and Technical Bulletin 2017-16. This has not only enabled the assessor training activity but ensures that time and budget are allocated for Green Fins on an annual basis. Reef-World looks forward to the positive changes the new team will be making by collaborating with the scuba diving industry for coral reef protection.
For more information about Green Fins activities in Cebu, please contact the team on cebu@greenfins.net
Green Fins awareness raising activities started in the Philippines in 2004 and the initiative was then officially launched in 2010. Green Fins Philippines is implemented by the Coastal and Marine Division under the Department of Environment and Natural Resources, Biodiversity Management Bureau (DENR-BMB) with support from NGOs including Batangas Community Divers, The El Nido Foundation and Marine Conservation Philippines.