Nha Trang, Vietnam, is classified as having one of the most beautiful 25 bays in the world and is home to a very rich coral reef with more than 300 species identified. The majority of these species are based at Hon Mun island, a marine protected area (MPA) that is situated within a short boat ride from the city. Due to this reason, the area attracts a large number of visitors each year with many coming to learn to scuba dive within the marine park.
As is often the case in areas of high tourism, there are many negative consequences and associated environmental impacts such as those from littering, waste water and impacts from other human activities. Coupled with a lack of knowledge among local populations, this continuous threat means that there needs to be continuous monitoring and action from the staff of the Marine Park Management Board who role is to ensure that activities that are conducted in the marine park are in accordance to the rules and regulations set out. The staff time is split between going out to the park itself and the office on the mainland but rarely have the staff had the opportunity to spend time under the water and see first-hand the impact from the tourism activities conducted there.
Green Fins member, Sailing Club Divers based in Nha Trang are very enthusiastic about caring for the environment and the marine park itself, and are constantly trying to minimise their impact on the environment and collaborate at every level possible. When the Marine Park Management Board contacted them to ask if they could provide scuba diver training to their staff, they immediately said yes! Offering a very special deal because this is beyond a "business only" matter, they were able to provide diver training to 14 staff allowing them the chance to see under the water and witness various issues related to the scuba diving industry. This has allowed led them to find better solutions and help to minimise negative impacts on the coral reefs and other marine life in Nha Trang Bay.
One example of this is they have seen the importance of having a good number of available mooring buoys to prevent boats using their anchors and damaging the coral reefs. They have also been able to better understand the need for a clear and effective zoning system for the bay. This is just the beginning and hopefully, by being able to scuba dive, the staff will now be better positioned to enable more action and better regulate the use of the MPA allowing a more sustainable use oif the area for years to come.
Sailing Club Divers will continue to support the Marine Park Management Board where they can and hope they get the chance to train more divers in the future.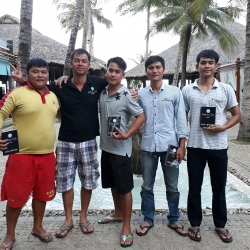 Nicolas Martin – Sailing Club Divers