We have a new two-minute video on sustainable diving titled "Green Fins for a Blue Planet". Reef-World and the UN Environment Programme (UNEP) produced the videos in partnership with cartoonist Jim Toomey. They were designed for the marine tourism industry, as well as local and national marine resource managers. Using clear and simple language, the video shows how divers, dive centre operators and owners, and governments can influence both the environmental and economic sustainability of the industry.
"The public is embracing dive tourism in a big way, and that's great," said Mr. Toomey. "However, now that we are taking to the water in such big numbers, there needs to be a set of guidelines that we can teach and follow as a dive community, if we're going to protect our delicate coral reefs for future generations."
Watch it on the Green Fins YouTube channel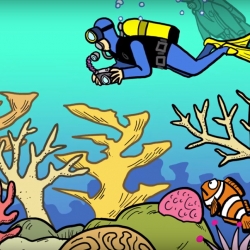 About Jim Toomey
Jim Toomey is the creator of the daily comic strip Sherman's Lagoon, which is syndicated to over 150 newspapers in 20 countries and in six languages. Sherman's Lagoon combines two of his lifelong passions – art and the sea. Jim's cartoon books have sold over half a million copies worldwide. Jim has recently repurposed his cartooning skills into animation and has completed a series of short films in partnership with the United Nations Environment Programme (UNEP) on the topic of ocean conservation. He has given talks at a variety of venues, from his April 2010 TED Talk, to the Royal Society in London, to Harvard University to his children's kindergarten class. Jim has been featured in many of his client newspapers, as well as Wired Magazine, National Public Radio, and Discovery Channel's Shark Week. Two Ocean Minutes with Jim Toomey was the winner of the BLUE Ocean Film Fest's Short Animation category in 2014.