A new structure for
Green Fins Certified Members
The Reef-World Foundation is revolutionising the Green Fins certified membership structure to continue to meet the needs of the industry and the sustainability demands of tourists.
Highlights
Historically Green Fins certification was a recognition of a commitment to improving environmental performance.
This is no longer enough – members want to be differentiated from other members based on their performance.
As of 13 September 2022 there will be a minimum threshold for becoming a Green Fins Certified Member (assessment score of 200 or less).
Operators that qualify as Certified Members will be ranked according to their performance, as Bronze, Silver or Gold.
New Digital Membership is also available for operators who do not have access to Green Fins assessors.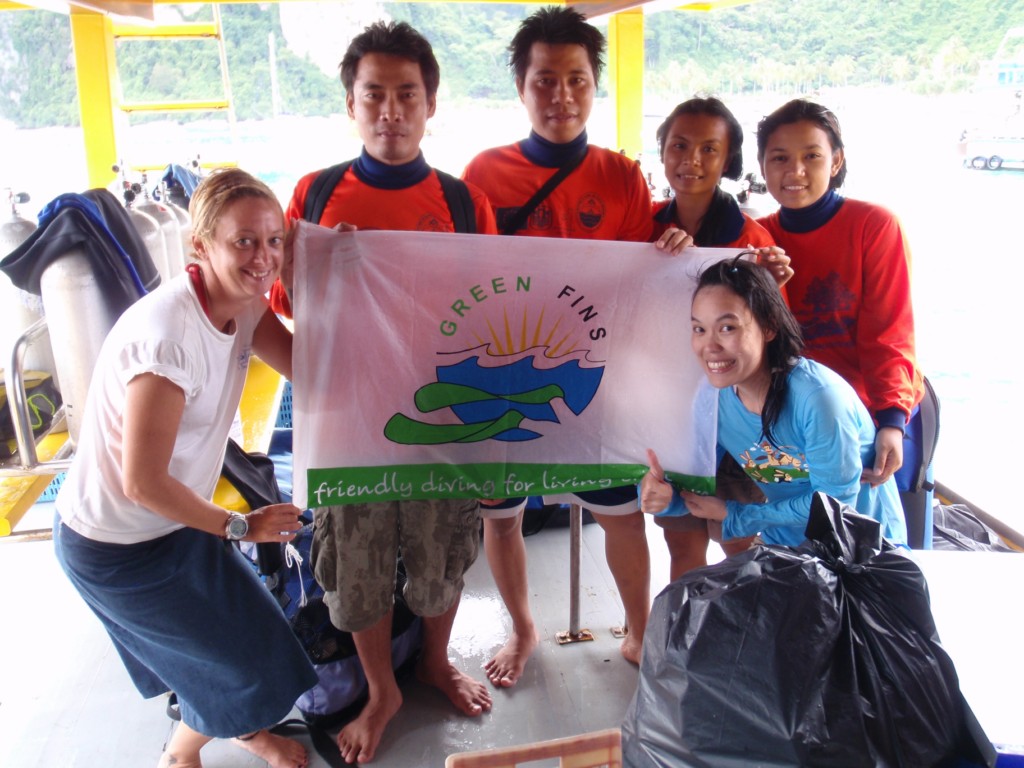 A bit of History …
In the early 2000s, marine tourism was starting to emerge as a potential threat to marine ecosystems. Governments started recognising that coral reefs and other marine environments were being impacted in areas of high-volume tourism. There was concern over direct contact (think fins on reefs) with corals and how that can affect their resilience to other threats.
In 2004, the United Nations Environment Programme (UNEP) initiated Green Fins as a simple environmental Code of Conduct for diving and snorkelling. The standards listed in the Code of Conduct were adapted from the environmental points of the CORAL Voluntary Standards for Marine Recreation in the Mesoamerican Reef System. It was the first time the marine tourism sector had a guide specifically for environmental best practice in all aspects of their operations; not just tourist behaviour but the day-to-day practices of running a dive shop or snorkel operator.
Adjusting for assessments
When UNEP invited The Reef-World Foundation to help implement the Code of Conduct alongside the Thailand government in 2004, we wanted to go further than just promoting uptake, we wanted to measure how well the Code of Conduct was understood and used by tourism operators. In 2008, we wrote a criteria for the assessment and applied a scoring system (0-330 point system) which is weighted by environmental risk – the lower the score the lower the impact the businesses have on coral reefs. With this, we could easily identify which operational activities were posing the highest environmental risk and monitor improvement over time.
The managers and owners of these dive shops started asking for feedback from these assessments – they liked the idea of having an extra pair of eyes to see where improvements could be made. From this, the idea of a Green Fins Member was born! These operators invited Reef-World to return annually and do these assessments and feedback sessions, as well as supplement the Code of Conduct with staff training so they could continue to improve over time. The effect was substantial and the assessments showed improvements year on year, successfully reducing the operators' environmental impacts.
After piloting with the Green Fins Thailand team, Reef-World began to look at expanding this impact by training up Government teams as Green Fins assessors to work with more and more members. We wanted to maintain the inclusive and collaborative nature of working with marine tourism operators whilst on their journey to environmental sustainability. That meant trying to work with the worst offending operators whilst learning from the best.
Being a Green Fins Member meant you were committed to improving, and that you showed progress in the annual assessments no matter where you started on the sustainability journey. It meant being part of a network of like-minded operators and learning from others, without shaming anyone if they weren't perfect.
Looking forwards
This worked well over the years, Green Fins has expanded into 14 countries, and over 700 operators have signed up for the Code of Conduct over the years. We've seen an increase in the tourist demand for Green Fins Members, a greater recognition of the brand as well as people calling out operators or tourists for not following the Code of Conduct. But even before the pandemic, the landscape had shifted.
It is no longer enough to be recognised for improving, members wanted to be differentiated from other members based on their performance and tourists wanted more information than a simple Green 'stamp' of approval. Since the start of the pandemic, this cry for transparency and sustainable services has only increased!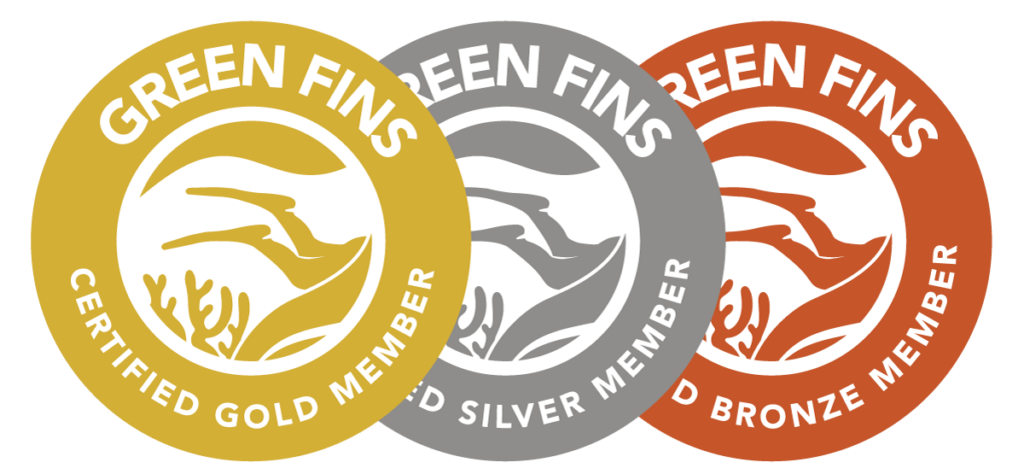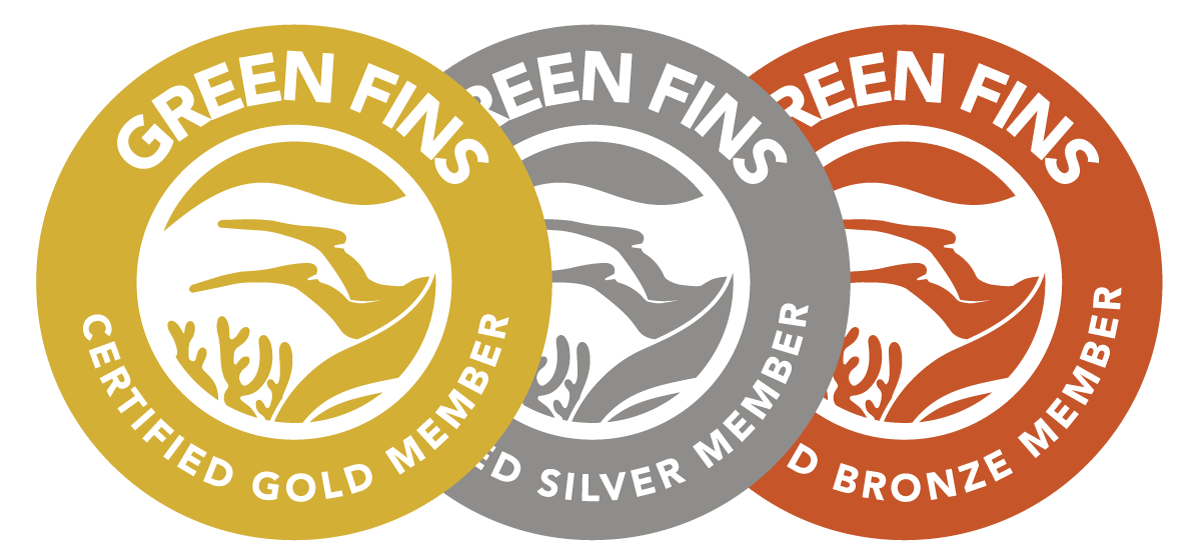 A new chapter for Green Fins certification
Here at Reef-World and in consultation with our stakeholders, we've taken this opportunity to evolve the way Green Fins manages its certification.
Marine tourism operators that receive in-person assessments and training from Government assessors are now called Green Fins Certified Members. This differentiates the on-the-ground assessment that Certified Members must undergo from the self-evaluations conducted by Green Fins Digital Members. 
All Green Fins memberships will be managed through a new centralised system – the Green Fins Hub. This will also provide easy access to a library of solutions as well as connection to other operations and conservation experts through the community forum.
Green Fins certified membership will remain free where there is government support to cover the cost of the annual assessments and training. Certified Members are now being asked to pay what they can through the Green Fins Hub to support Green Fins' growth and expansion around the world.
There will now be a minimum threshold for becoming a Green Fins Certified Member. Operators found to have high environmental impacts in their assessment (200 or more) will have a "restricted" membership meaning they will not be able to call themselves Members and will not be listed on the Green Fins website. They will, however, be invited to repeat the training and assessment process until they've sufficiently reduced their major impacts. With these changes, Reef-World seeks to –

Create a global minimal acceptable standard of environmental operations for marine tourism.
Avoid naming and shaming – sustainability is hard and there needs to be a clear path for marine tourism operators to improve.
Operators that qualify as Certified Members will be ranked according to their performance, as Bronze, Silver or Gold Certified Members. This will –

Provide greater transparency for tourists to understand where an operator is on their sustainability journey.
Provide members with a better understanding of where they are on the sustainability scale.
Keep assessment scores confidential, but members will be able to use Green Fins ranked branding, and will be listed according to rank on the website.
The business benefits of being a Green Fins Certified Member are scaled according to the rank – Gold Certified Members will receive the most opportunities for promotion and marketing.
The Green Fins initiative is a tool for the marine tourism industry and has always evolved from input, suggestions and feedback from the network. Here at Reef-World, we're excited about how these changes will be used by the industry to meet the rapid shift in demand for sustainable tourism and the mounting threat towards the marine environment.
If you have questions, we'd like to hear from you! Please email the Reef-World team at info@greenfins.net.