The last year has shown us how vulnerable the diving industry is to uncertainty and that sustainability is the key to resilience.
Covid-19 has changed travel, brought new economic challenges, and added more rapidly increasing threats to the environment. The pandemic has proven that the health of our planet is unquestionably connected to our way of life, as much as it is linked to our individual health. For the diving industry sustainable growth is the best way forward. In fact, 58% of consumers say they are thinking more about the environment since Covid-19. Divers are more eco-conscious, and businesses must be too.
As a successful international liveaboard diving fleet, we asked Explorer Ventures how they have balanced sustainability during the pandemic.
Clay McCardell, Owner & Operator, Explorer Ventures Liveaboard Fleet
Through the last 34 years, we have overcome many economic, societal, and environmental challenges. Now, in the face of one of the biggest obstacles of our history, we're proud that we've been able to remain focused on our dedication to the health of our oceans. It's been difficult to balance, but necessary. We have both the obligation and the responsibility to act as stewards of our environment, so that future generations will be able to enjoy the ocean as we do.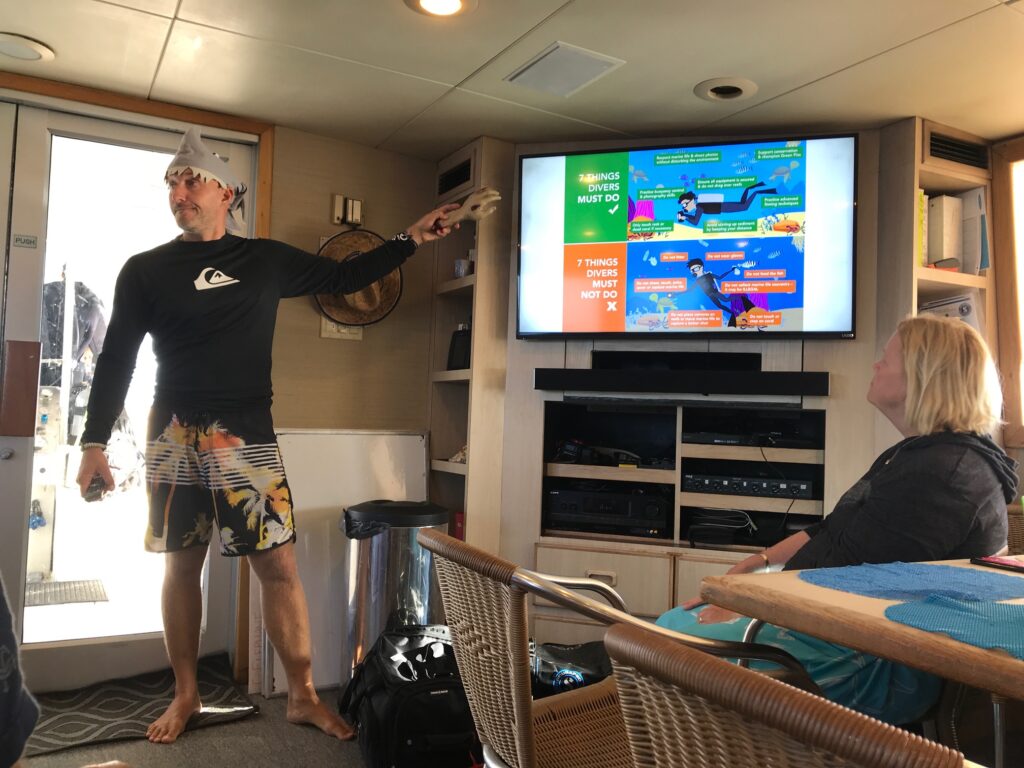 As the very first liveaboard company to become a symbiotic partner with The Reef-World Foundation in 2018, Explorer Ventures has worked alongside the Green Fins initiative to develop new environmental guidelines for liveaboards and other operations. The aim is to drive the industry towards sustainability. Like most travel businesses during Covid-19, the company was impacted by border closures, the loss of visitors and all vessels were shut down for 3-6 months in 2020.
However, they saw this loss as an opportunity to focus on sustainable operations while not running charters. Throughout the pandemic closure, Explorer Ventures revisited their policies and continued to work behind the scenes towards the best eco-options to address coronavirus hurdles. They continued to educate the public on sustainability through social media, pursued green health and sanitization solutions, and have made ongoing collections and donations in support of The Reef-World Foundation and other conservation initiatives.
Rachel Huber, Sustainable Operations, Explorer Ventures Liveaboard Fleet
Although we ramped up operations with many new Covid-19 procedures, it did not disrupt our ability to manage our sustainability program. Our Dive Green Program and the Green Fins initiative were already heavily integrated into our day-to-day operations. They are second nature.
Explorer Ventures put environmental consciousness at the heart of their business model starting back in 1987 before "sustainability" was an operational buzzword. This strong foundation has helped them navigate the changing tides of the pandemic. Read an interesting chronicle of their eco-history in this infographic.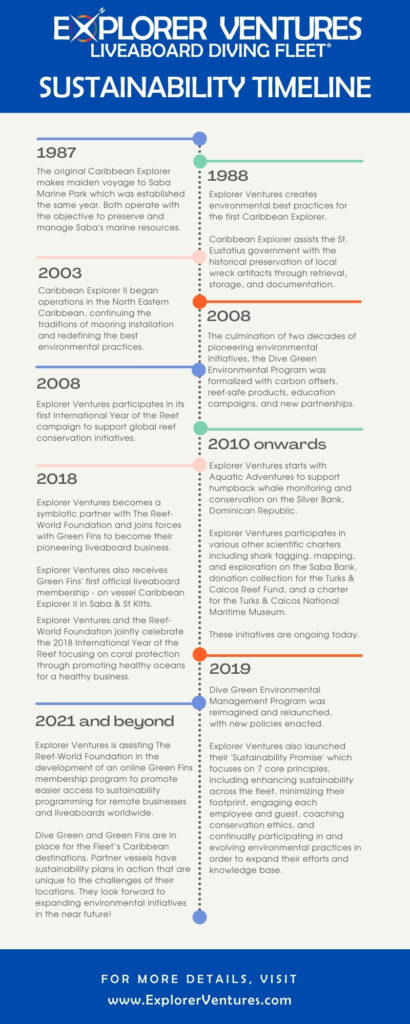 Over the last 30 years, Explorer Ventures has continued to develop creative solutions where there were no sustainable options available and evolve their environmental commitments as global initiatives progressed. Some of the developments included partnering on new mooring programs, participating in scientific charters, requiring sustainable cleaning policies, providing in-depth environmental dive briefings, sourcing eco-friendly products, ordering greener provisions, developing recycling programs, reducing water use and waste, and sourcing reusable supplies and products.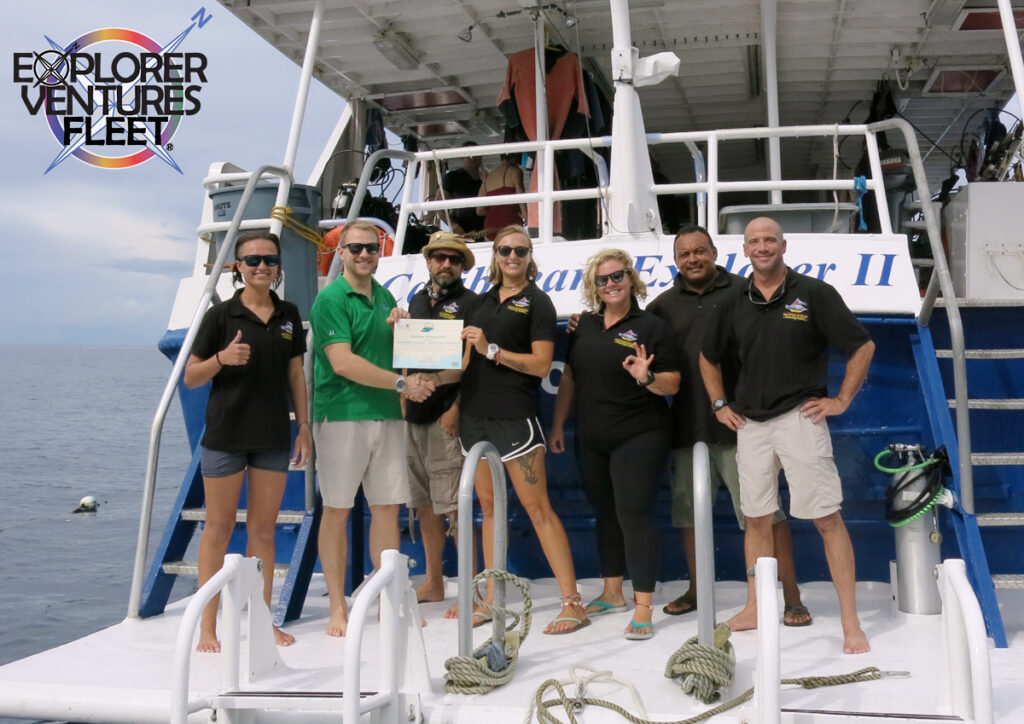 In addition, all crew on their Caribbean vessels are now required to take the Green Fins Dive Guide e-course teaching dive professionals how to prevent diving-related coral reef damage. Explorer Ventures involves guest in conservation efforts even before their arrival aboard with the unique pre-trip info 'Know Before You Go.' These information packages encourage divers to limit their own environmental impacts before and during their time onboard the liveaboards, and encourage divers to maintain eco-friendly efforts long after their gear is dry.
Over the next 5 years, the company's goal is to expand Dive Green and Green Fins to their international fleet and continue to look for new ways to protect coral reefs and the oceans.
From pandemic recovery and beyond, Explorer Ventures has proven that it's possible to be a successful business and keep the health of the oceans a priority. After all, a healthy ocean means a healthy business.
---