As Reef-World Programmes Manager, Chloe Harvey leads a formal collaboration which enables the sharing of lessons learnt and case studies between the brains within the Green Fins and Green Bubbles initiatives.
Green Bubbles is an EU funded research project on sustainable diving which considers the three pillars of sustainability, namely environmental, social and economic, and applies them to the diving industry. Up until recently all of this partnership building, sharing of knowledge, ideas and updates has been done remotely through the wonders of the internet. But on the 26th September all this changed when Chloe travelled to Santa Margherita in Liguria, Italy. She had been invited to give a Key Note speech on Sustainable scuba diving and labels at the Green Bubbles Mid Term Open Workshop. The workshop brought together the key movers and shakers from within the Green Bubbles consortium, as well as being open to any additional interested stakeholders including the local dive industry. We were updated on the vast research which has taken place to date into subjects such as scuba diving economies and systems, ocean literacy, citizen science and of course sustainable diving.
Portofino is a popular diving destination in Italy and is one of two pilot sites for the Green Bubbles project
Chloe shared the successes already met through Green Fins implementation in Asia, a deeper look into the systems making up this unique management approach as well as sharing how the programme can be replicated. Green Fins was recognised by the Green Bubbles consortium and partners as a proven approach, and one that could be applied to improve the environmental sustainability of the diving industry in the Mediterranean. Other experts are working to develop similar standards and labels to promote safety and public engagement, and it's hoped that this collaboration will pull these all together to provide the diving industry and resource managers with a meaningful system to further drive sustainability within the diving industry.
Chloe found it fantastic to meet like-minded people who are passionate about the diving industry; reducing the associated environmental pressures while maximising the potential for learning and building awareness. What's more, they were a pretty awesome bunch of people too!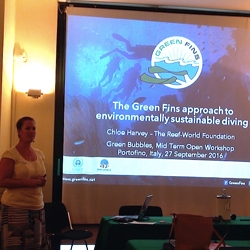 For more information and pictures from the event, visit http://www.greenbubbles.eu/?p=993.