We are happy to announce that The Reef-World Foundation will be representing Green Fins at this year's Asia Dive Expo (ADEX) in Singapore, 11-13 April 2014.
Each year ADEX has a different conservation theme, and 2014 is dedicated to Coral Reefs, a perfect match for Green Fins! Come and join us in Singapore at Marina Bay Sands (Halls B & C) where we will have a talk, showcase the new Green Fins videos and are hosting a booth with lots of exciting information and goodies for dive centres and divers alike!
We hope to see you there!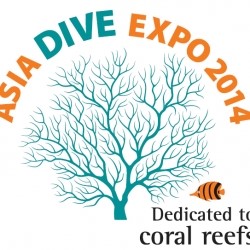 About ADEX
Since its inception with the first edition in 1995, ADEX has been the largest, and the longest-running dive expo in Asia, thus becoming one of the "must-attend" events in the industry. Since its handover to the Underwater360 (UW360) group in late 2009, ADEX has seen significant growth and expansion in size and variety in its Singapore, China and its recent addition, India.
An established trade-show and a trusted name in the industry, ADEX has since evolved, edition to edition, and further positioned itself to be "more than just a dive show"; opening its doors to welcome divers, non-divers, families and students with its specially curated programmes and festivities to grow beyond its current community. The show serves as an invigorating platform for the diving community – giving them a voice and providing a space they can meet, foster relationships, exchange ideas, and receive recognition for their achievements.
Every year, ADEX focuses on a theme dedicated to an endangered marine species with the aim of raising an awareness of the threats these marine species face and encounter.This has transformed the show into the "go to" platform to heighten conservation awareness. Dedicated to a different species each year, visitors are always treated to fresh and exciting content delivered by industry leaders and experts. The event is proudly endorsed by major organisations in the industry such as the Diving Equipment and Marketing Association (DEMA), Singapore Tourism Board (STB), and the China Underwater Association (CUA). It has also been appointed as the "Sustainable Ocean Ambassador" by the Agricultural and Food Marketing Association for Asia and the Pacific (AFMA) – the inter-government non-profit organization in association with the Food and Agriculture Organization (FAO) of the United Nations.