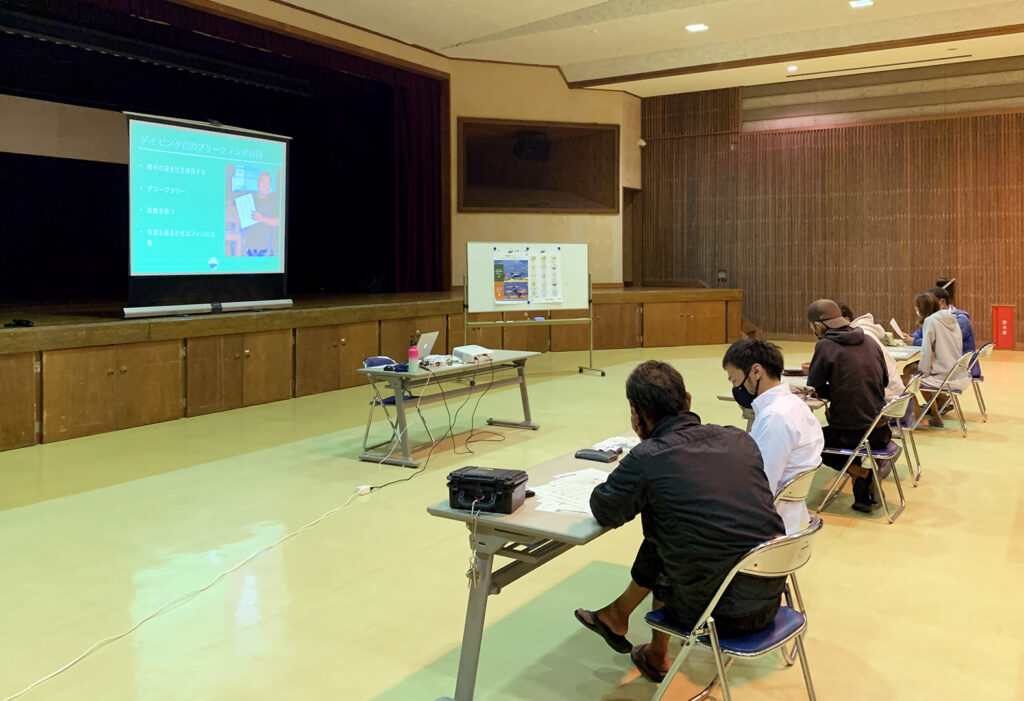 After Reef-World's successful scoping trip in 2019, Reef-World quickly put plans in place to launch Green Fins Japan in June 2020. As we know, the Covid-19 pandemic has put many projects on hold, and the launch is no different. Due to strict travel restrictions, the launch couldn't go ahead.

However, the Green Fins Japan team has not been disheartened by the delay of the launch. During this time, they have been busy preparing Okinawa's industry to improve its sustainability practices by conducting study sessions and actively promoting Green Fins to local dive centres and hotels.

We spoke to Suika Tsumita from Ocean+α, the National Team supporting Green Fins implementation in Japan. Read on to find out more about what they have been up to:
Where are you piloting Green Fins Japan, and why is it an important area for coral reef conservation?
We are piloting Green Fins Japan in Onna village in Okinawa prefecture. There are around 800 species of reef-building coral in the world, and about 400 species are in Japan, and most of them live around Okinawa prefecture. Conservation of coral reefs is important for protecting the biodiversity and Okinawa Prefecture's major industries such as tourism and fishing.
In fact, the beauty of the coral and the sea in Okinawa Prefecture attracts many tourists to this region.
Onna Village is one of the leading resort areas. With a population of about 10,000 and about 3 million tourists yearly (pre-pandemic) making tourism the largest industry. Fishermen are also active in cultivating seaweeds such as mozuku and green caviar, and the health of corals is greatly related to the catch of these seaweeds.
Therefore, Onna Village has set the goal to protect corals as a village to protect major industries and improve the lives of residents.
What are the challenges you've faced while keeping Green Fins going during Covid-19?
The number one issue is that we cannot officially certify a Green Fins member yet because we have not done the assessor training. Another problem is that we have not been able to have Reef-World's team over to investigate the local situation and we have not been able to actively promote the introduction. Another challenge is that it is difficult to gather people for activities such as study sessions.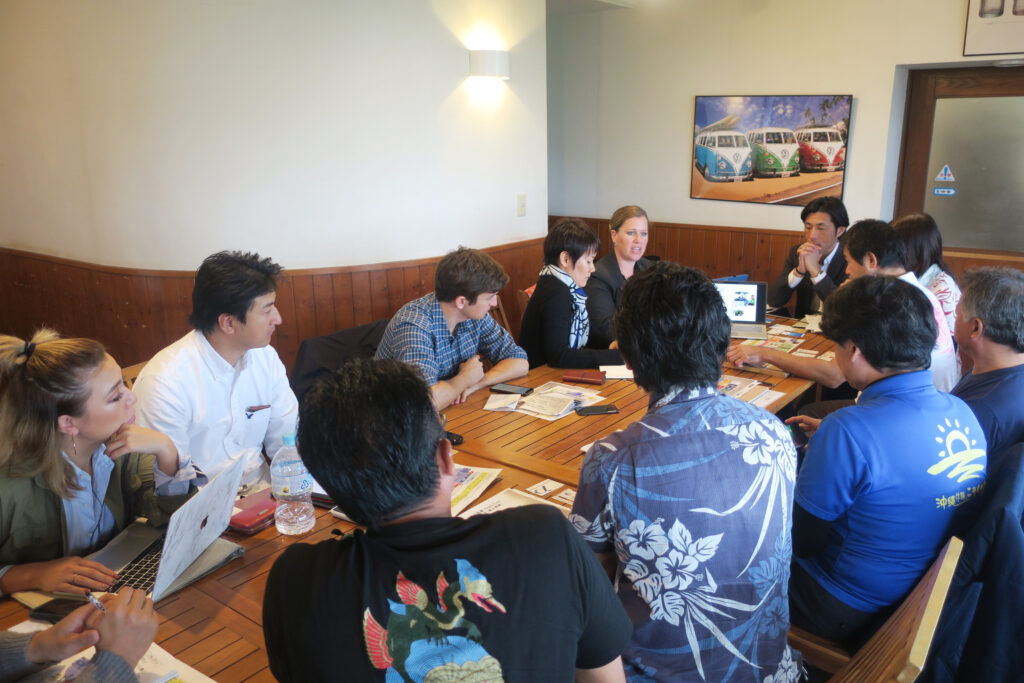 How have you adapted your approach due to Covid-19?
First of all, we have selected 10 pilot dive centres to introduce the Green Fins management approach. We have them work on that in advance. Beginning this year, we held study sessions at dive centres and hotels. We are actively introducing the Green Fins initiative and promoting it.
We did what we could do; translated posters into Japanese, distributed posters not only to dive centres in the village but also to businesses such as restaurants to make Green Fins known and put up posters on major tourist facilities in the village. There was also the release of Japanese translation versionsFins'he Green Fins' videos.
How have the participants responded to the study sessions?
We held study sessions for the Onna Village Diving Association, hotels and fishermen. Most of them were positive, and many wanted to cooperate to make the ocean in Onna village sustainable. Some people said they would like financial assistance because the number of customers would decrease if they stopped feeding fish as a service. However, there would still be centres that will not stop feeding, and they are concerned that customers will flow to such centres instead.
What have you noticed as a result of the study sessions?
I felt that it was difficult to tell whether the introduction of Green Fins would lead to attracting customers or that there were not many expectations. Most centres say it's not difficult because it's something they do all the time. However, some find it challenging to implement no gloves and no fish feeding policy. The awareness varies from centre to centre. I also felt that the recognition of Green Fins itself is still low in Japan.
Are there many dive centres/resorts interested in being Green Fins certified?
There has been interest from about half of the dive centres of Onna Village Diving Association. However, there are more than 100 dive centres in Onna Village, and less than half of them are in the association. I hope there will be more interest from dive centres to be Green Fins certified even if they are not part of the association.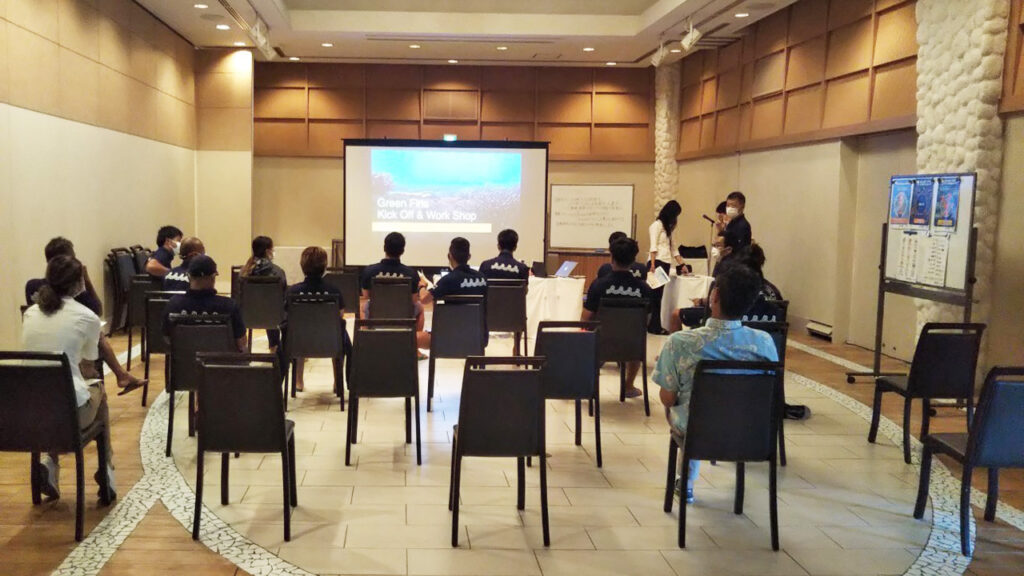 Why do you think it is important to be Green Fins certified?
Being a Certified Green Fins member means the dive centre has been assessed and evaluated according to a high standard. The certification will show consumers that the dive centre is committed to following environmental standards. That's why I think it is important to be Green Fins certified.
How do you think the implementation of Green Fins will benefit Japan's tourism?
The implementation of Green Fins will lead to acquiring high-quality tourists such as the wealthy and educated ones. Also, with the upcoming 5 to 10 years in Japan, the younger generation who are highly conscious of environmental issues will make up most tourists. I think they will choose to go with the Green Fins dive centres.
In addition, Japan is surrounded by the sea, and coral reefs on the coast cover about half of the area. I don't think there is any other country where you can enjoy a wide variety of dive sites in a tourist destination that is so safe and hygienic. I believe Green Fins plays an important role in making the sea sustainable.
What are your goals for Green Fins Japan?
Our goal is to extend this initiative from Onna village to the entire Okinawa prefecture and eventually the whole area of Japans's coral reefs.
What are your plans to achieve these goals?
In the first few years, we would like to promote the introduction to Onna village and areas in Okinawa prefecture that are active in coral reef conservation to build a track record. From there, we would like to involve the whole of Okinawa Prefecture and the Ministry of the Environment to expand the introduction area.
FOR MORE INFORMATION ABOUT GREEN FINS JAPAN,
VISIT THE JAPAN COUNTRY PAGE.
Onna Village piloted the Green Fins approach as part of the national Sustainable Development Goals project. Onna Village local government and Diving Association and Ocean+α are supporting the work. NPO Okinawa O.C.E.A.N. supported the initial scoping trip in 2013. The Japanese Ministry of Environment has included Green Fins within its national Coral Reef Action Plan 2016-2021.
THE GREEN FINS MATERIALS In Japanese CAN BE DOWNLOADED HERE…