As you may have heard, Reef-World – the international coordinator of the UN Environment Programme's Green Fins – recently announced the winners of the Green Fins Award 2020. While there's usually only one winner, competition was so tight this year that three dive shops came in joint first place. They were: Bubbles Dive Centre, Pulau Perhentian, Flora Bay Divers and Tioman Dive Centre.
We've already heard from Bubbles Dive Centre in this Sustainability Interview series. Today, we're speaking to Flora Bay Divers about their environmental and sustainability work as part of the Green Fins programme. 
Based in Malaysia's Perhentian Island, Flora Bay Divers was founded in 1994 and is the island's first PADI 5 Star Instructor Development Centre and Dive Resort. Flora Bay joined Green Fins in 2015 and has since taken fantastic strides to improve its sustainability. To find out more, we spoke with Instructor Kelvin Lim.
First of all, congratulations on winning the Green Fins 2020 Award alongside Bubbles Dive Centre and Tioman Dive Centre. How does it feel to have won?
We are proud to be acknowledged for our efforts to inspire sustainable diving. Our focus remains on cultivating informed and conscious divers with good diving skills and habits.
What changes have you made to improve sustainability at your dive centre since joining Green Fins and what are you most proud of?
We switched from normal detergents to eco-friendly detergents, we are encouraging divers to bring their own water bottles to reduce plastic and came up with a general waste bin and a bin for plastic bottles in front of our dive centre. This helps tourists and locals to place thrash that's been found on the beach easily and conveniently since there are no proper bins along the beach.
As a dive centre, what do you feel are the main benefits of actively working towards sustainability?
To educate people about our beloved ocean and remind them how fragile & important it is to us.
What have you noticed as a result of your Green Fins membership?
Since putting up Green Fins posters, we have seen many customers and by passers actually reading them. We also love the Green Fins presentations as it helps to educate our crews and divers. Please continue that.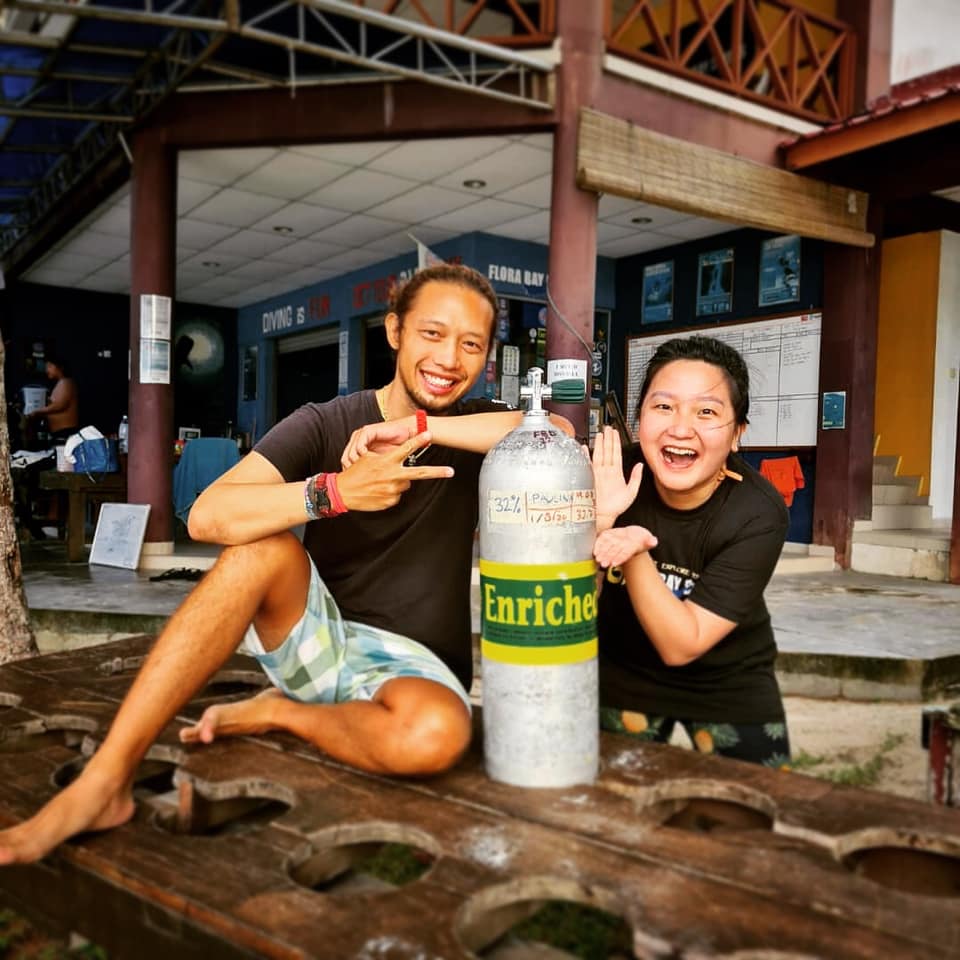 How have your guests responded to your sustainability efforts?
Customers became more aware about sustainability and they love it when we actually care about the ocean and the environment.
What are the biggest sustainability challenges you've faced?
Trying to get people to use reef safe sunscreen and not wear gloves. We give suggestions and options to our customers to explain why we recommend these things.
What are you working on improving now?
We are trying to use less plastic and getting customers to bring their own water bottles/tumblers for water refills.
Thanks for your time Kelvin – it's been great chatting to you and well done again on winning the Green Fins 2020 Award. Keep up the great work!